Hey Sunshines,
Going gluten free can be a stumbling block especially when you think
What the heck am I going to eat now without pasta, cakes, bread, pizza
and the gluten-free packaged options aren't that appetising either.
The majority of people that are now going gluten free is due to either sensitivity to gluten, bloating, stomach pains/ cramping, autoimmune disease (which is about 100+ different diseases where quite a few of diseases can become a little bit better with opting out of gluten).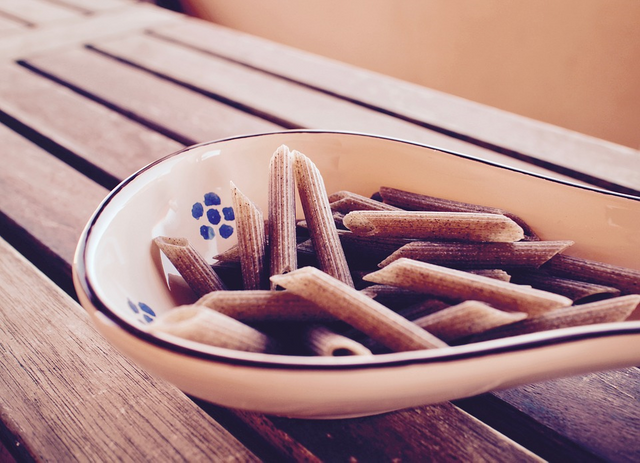 Picture Source: Buckwheat pasta a Gluten-Free pasta option
There are many different options in the packaged departments for Gluten-free trying some myself some either taste like a gluey starchy taste or taste either stale or like a cardboard (nope haven't tasted glue or cardboard before they are my description of what they might taste like.)
In many of these that I have tasted they have processed white flour options like rice flour, potato starch, and others, I have tried these delicious crackers that did have tapioca flour which is from the starchy vegetable called cassava root which is also known as yuca root, some other crackers that had millet, buckwheat, quinoa, and amaranth.
It also come down to products that aren't so processed also, and the way they are grown, handled and processed. As a lot of the factory's have big bulky machines that process lots of produce's at a time, but with that is loses a lot of it's goodness, like the best olive oil is stone crushed produced apparently as it get's the most good oil out with the less damage but the off set is it is time consuming.
Like most foods apart form fermented and dried foods and maybe some others that food tastes the best either freshly prepared or eaten in the next few day's of preparing like a soup tastes more flavourful when heat a few times, and a caramel cake takes great sitting in the fridge for a few days letting the flavours infuse.
Fried Sweet Potato, Fried Zucchini lightly coated in cornflour, Coleslaw, Fermented vegetable salad. Photo taken by @biglipsmama.

In a fast pace world where everything is faster and life is shorter where we need things to happen in a instant , where as in parts of the lay back world that do things the way they have for hundreds for years live longer, healthier, fitter lives preparing and cooking off the land and sea than down a supermarket idle then going home and nuking something for dinner.
When I started going gluten free it was hard as in the way of what to cook and how to cook all these new ingredients that I mostly hadn't heard of let alone was about to pronounce and find in the stores, it was like I was speaking a total different language and some of the store keeps just gave me funny looks as they didn't themselves know what the heck I was trying to say or ask for even when giving them the written down word.
Tip
Look on line before you go to a store and look up the product your looking for and find a local store that may store it, as they may stock other products you may want down the track also. You also may want to find out if there are any local either cafes or even cooking classes that do gluten free to give you an idea of what ingredient's they use, how it tastes and how it can be presented.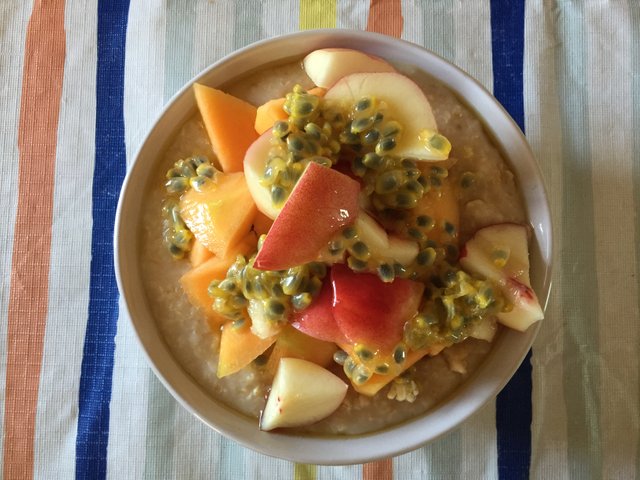 Water Based Rolled Oat Porridge with fresh fruit: Have used this picture in another post before. Picture taken by @biglipsmama.
Gluten Free Options
For flour options you may like to try: Buckwheat, Tapioca, Oats, Coconut, Chickpea's, Almond, Cornflour - (Oats maybe on that grey line with gluten free, as it is apparently gluten free but contains gluten as it is normally produced in factory's that do wheat products that contain gluten which can contaminate the oats to containing gluten - so this option would be a personal choice and how it affects your body.)

Grain like options you may like to try: Millet, Quinoa, Amaranth, Rice (now this is another grey line as apparently rice doesn't have gluten but apparently its more the procedure of the rice, with brown rice being the more premiant choice over white, again a personal choice on how it affects your body).

Fresh fruit and vegetables, herbs, legumes such as lentils, chickpeas, beans, peas, pulses, black beans, pinto beans, garbanzo beans, fava beans, navy beans, nuts and seeds, soya- (what doesn't agree with your body don't eat it). Meat and dairy if that's what you eat also.
Gluten Free Meal Idea's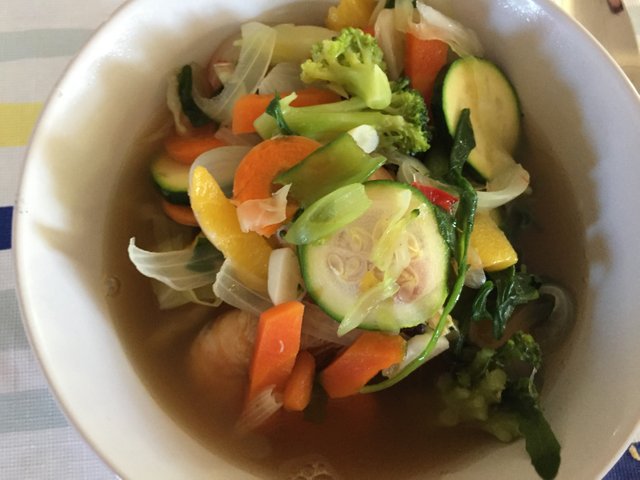 Vegetable soup with prawns. Photo taken by @biglipsmama
Having some go too recipes that can be adapted makes it a little easier, then you can start adding in some more recipes when you gain some confidence on flavours and ingredient's.

Soups, Stirfry's, Salads, Pasta - buckwheat, zucchini or other vegetables, Noodles - Buckwheat soba noodles, Vegetable fritters, Roasted vegetables.

There have been some amazing dishes we have made at home being Gluten free, but have unfortunately forgotten to take pictures, so below will only be a couple of dishes, one that wasn't taken was a Zucchini pasta dish, where we peeled two massive zucchinis, fried onion, garlic in a pan, added a tomato can and cooked off some of the juice, then added the zucchinis, and a can of rinsed off chickpeas, covered and let it simmer, we may of added herbs also, but is was simple quick and really nice it was a recipe that was out of a supermarket catalogue.

Looking through websites can give you ideas also, finding a few that I'll share that may have a mix of gluten recipes also, may need to scan through them, but the majority are gluten free and may give some great food meal ideas to whip up.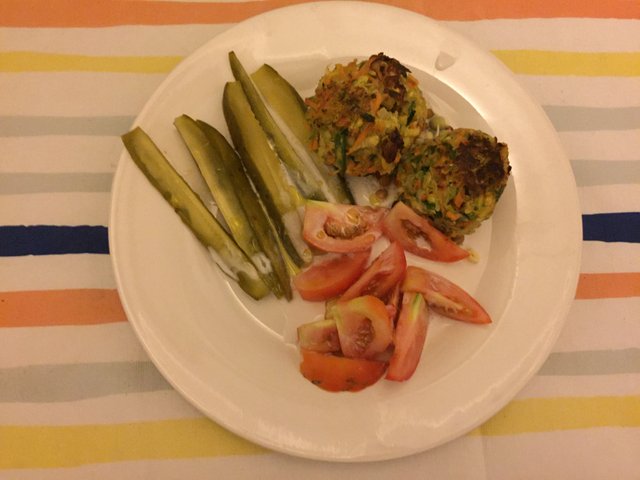 Vegetable fritters - used a little bit of corn flour to keep them together with eggs, tomato's, pickles with coconut cream drizzled on top. Photo was taken by @biglipsmama.
It was hard but decided to narrow it down to three websites: -
If you like Asian inspired meals and or crackers this website maybe one to check out which leds to buckwheat inspired meal ideas.

Want a range of recipe idea's then [this website doesn't disappoint it has many ideas to mull over from snack idea's to main meals and desserts.] ( https://www.medicalmedium.com/medical-medium-blog-recipes.htm)

The last but not the very least, Why leave Steemit there are so many recipe idea's right here on this website so I narrowed it down to one tag and one post not to overwhelm.
Tag: fruitandveggiesmonday where there are many great steemians sharing fruit and veggie recipes, some may contain gluten which you maybe able to alternate, you can ask questions, everyone is very helpful and very knowledge and may be able to suggest an alternative
Post: After realising what Soba Noddles where and that I have eaten them multiple times and so enjoy... that I wnet looking to make them from scratch and landed on a Steemit post Soba Noodles from scratch sharing how to grow the buckwheat grouts to making the soba noodles with tips and tricks from @reddust.
What's your favourite gluten free dish?
---
Thank you for stopping by really appreciate it, have a fabulous Day/Evening!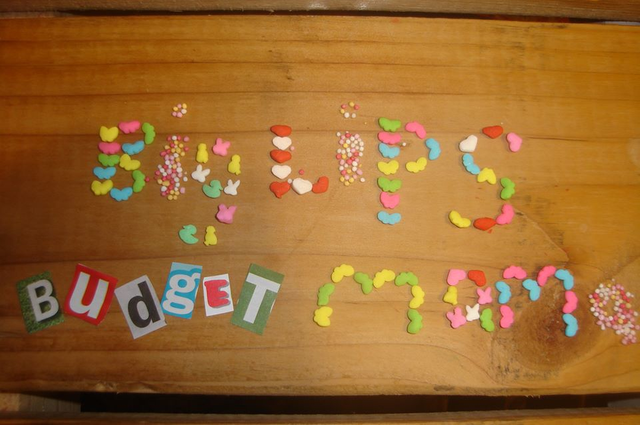 ---
Steemit if full of great community's here are some you may like to check out: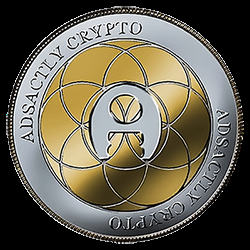 The @adsactly society is fabulous - Don't take my word for it check them out on discord if your interested in the crypto sphere, society.
---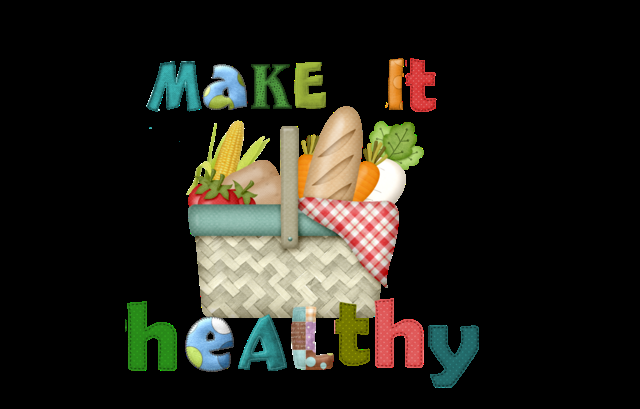 #makeithealthy project is being held by the fabulous @woman-onthe-wing so you don't need to go healthy by yourself.
---

Thank you @teamnz for the personalized banner
---

New to Steemit or a bit lost what to do,Steem Savvy (Full disclosure that is a Refferal link to Steemsavvy you can check them out on their main page if you don't want to use a Referral link. ) is a great place to start with beginners guides, guiding you on your new journey into the world of blockchain social media.