Okay...so, an old wiseguy like me ain't supposed to be pussy-footing around in his backyard planting petunias and talking to fluttering little butterflies...
Well...I Don't have any petunias, but I have been caught by nosy neighbors talking to pretty little butterflies, so I can't deny it...they got videos of me doing it.
Since today was a nice quiet day in the neighborhood, my jaunt into the garden was especially rewarding; no gangstaz to contend with...no dodging of bullets being caught in the crossfire of misguided youths at war with one another.
Take a gander at my fine looking tomatos just hanging out, profiling themselves like a bunch of gaggling, young folk addicted to selfies on Facebook or Instagram...Don't they look juicy???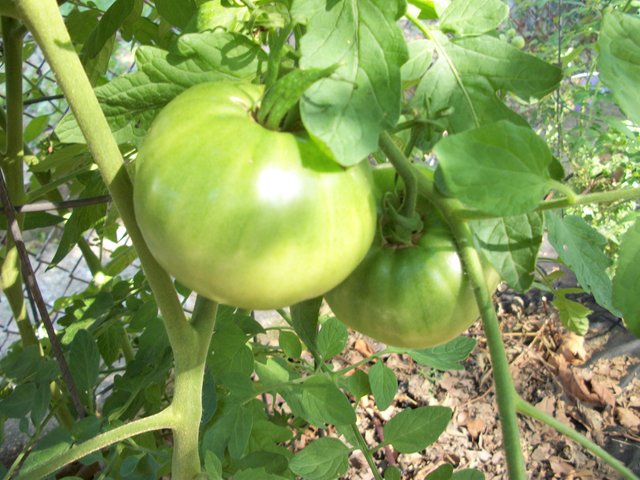 I must admit...I'm sort of proud that I seemed to have done something right by them this year; last year was a disaster for my tomato rearing...most turned out to be dry and tasteless. 
Actually, they weren't tasteless...they tasted like mushy newspaper...which, wasn't quite the result I'd been hoping for.
Don't ask me what variety the three tomato plants are, because I bought them as seedlings outside a discount Food Market, and it seems that some grubby little fingers played some kind of switch-a-roo childish game with the plastic inserts stuck in the pots...Bastards...
Check out my thriving little Grape-ish type tomatoes? They're bigger and more round than Grape tomatoes, but I don't know what kind they actually are. All I know, is that they are looking really happy hanging out there in the garden...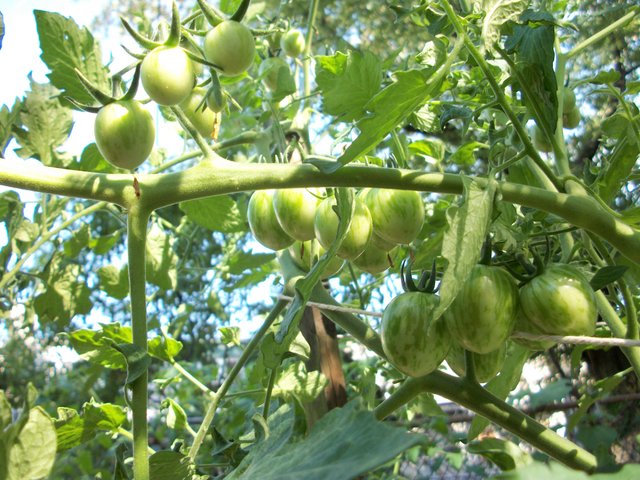 The 8 ounce variety has sprouted tiny little green orbs that look to be about half an ounce at best; and, the damn plant is only about two feet tall after being in the ground since mid-May...??? Cherry tomatoes...perhaps...but, that is NOT what the tag indicated...!?!?!?!?
But, hey...they taste pretty good; I was able to find three red ones so far, and popped them into my yap for sampling :>) They're tender and juicy too. 
I'm such a lucky old soul.
Have a look at my (in the ground) Red potatoes. The leaves and stems are flourishing above ground at least...who the hell knows what's going on down in the dirt??? This is only the second time I've planted potatoes...the first time, I dug them up too early (not knowingly) and had baby ones the size of marbles and golf balls.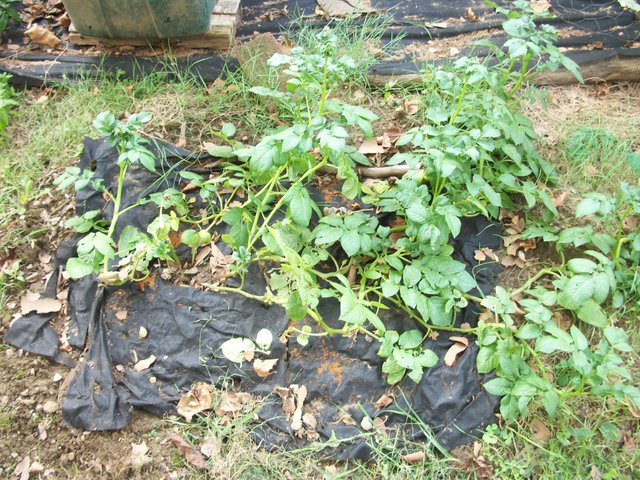 They were tastey and tender though, which tempered my flaming tongue, having cursed the Gods prematurely... Don't worry...I made amends in the confessional booth at the Church I had to break into, because it was closed at three o'clock in the morning.
Anyway...Here's a shot of my beans looking happy and healthy. There aren't any string beans yet, but the flowers are starting to pop like crazy, so any day now, I should be seeing some little babies smiling up at me from the stalks.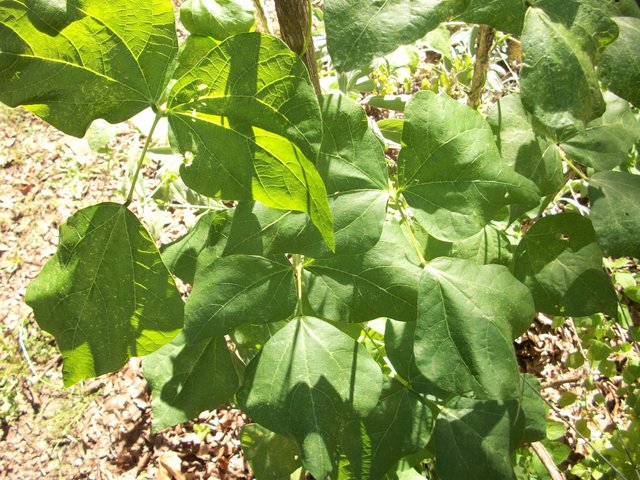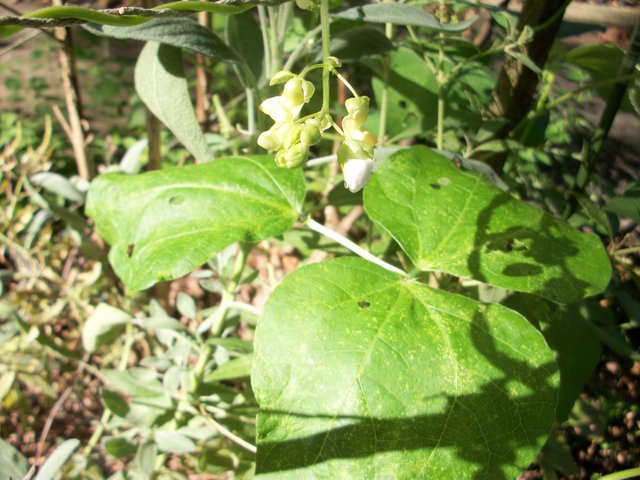 One last thing...I decided to do a second planting of potatoes in a bucket; using a kind of Ruth Stout type method. I first laid some small sticks, crushed leaves and compost on the bottom, then threw about three inches of soil on top...laid in the potatoe, then topped it off with another three inches or so of dirt.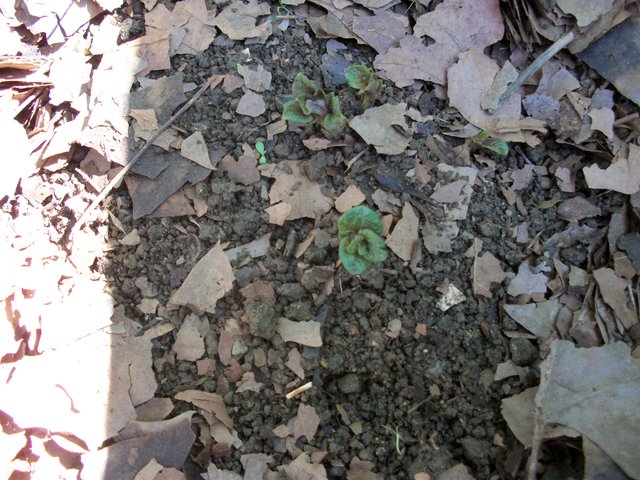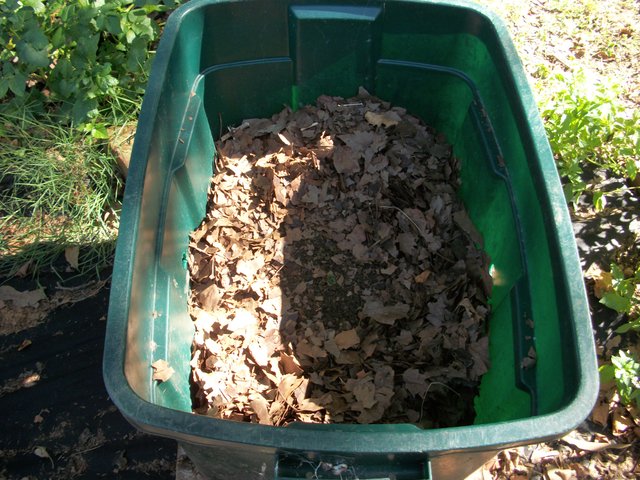 As you can see...it's working...I've got the tiny, cute green potatoe buds poking their heads up through the terra firma staring at me...Now, I'm gonna start covering the little darlings with about six inches of leafy mulch. When they pop through that, I'll add more mulch that I made myself.
I'm having fun...Don't laugh...I might have become just a wee bit softer in my old age, but I can still kick your ass if need be...
I'm outta here for now friends...see ya again sometime.
Ciao
---
Another Epic Excursion into the Life of @AngryMan on Steemit, August 12, 2019
Images: From my Old 12 mp Digital Camera