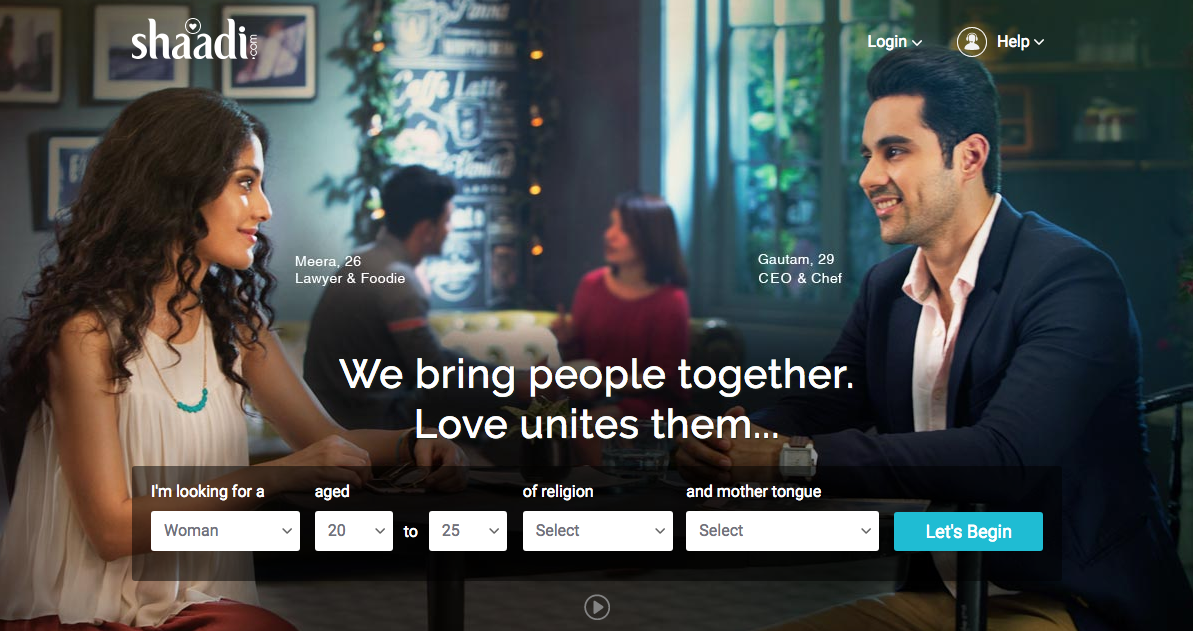 Image Source
There was this group that come to me seeking guidance on building a project for their diploma in engineering. They wanted to build a matrimonial site. I had heard of matrimonial sites getting popular in those days however, I had never seen one. We always made sure that every project we deliver had something unique and interesting to amuse the examiner and score with him with just the idea. Every project started with research on what can be feasible in the time we could allocate for the group. The project had to look complete and would have to work flawlessly. We had become adept in using technology to work on these projects and the only thing we needed was the understanding of what needs to be built.
As soon as the project group paid advance I started figuring out what matrimonial sites offer and how they were laid out. For exploring the features I had to sign up and so I did on shaadi.com. I filled up some personal info, my hobbies and what I was looking for in my partner in a section called as partner preferences and noted the fields meticulously into a requirement sheet for the first feature "registration". Once done I was asked to verify my email address and I verified. Email verification could be skipped in the project that we were going to build as it would add additional complexity. We only did things that were simple, extremely necessary or highly impactful. Then there were other features like search and filters and personal requests. I got lost for nearly an hour in the beautiful girls that were showing up one after another advertising their availability for marriage. I sent some personal requests as well which was called as expressing interest.
After I was done with capturing all the requirements I started thinking on what would make the project different. For diploma projects investing time in learning and introducing new technology was not worth it from business point of view.
As a child I had accompanied my maternal grand mother for visiting a marital prospect for my cousin who according to my family was about age of marriage. We were served poha and tea. And the talks did go well. I could sense that the marriage was arranged but for my grandmother one thing was remaining.
She asked my cousin to stand next to the to be bride. She was shy and he was uncomfortable too. But my granny insisted. When they finally did she stood right in front of them and looked at them curiously and then her looked changed to one that expressed satisfaction and finally affection and then she expressed her consent.
I told the project group that I had visited many matrimonial site and have come up with features that were common in all of them. However I could not find a site that would have allowed my granny to do the same that she did for my cousins marriage. All the search results were lists of girls with their photos and no site offered to show how we looked together before expressing interest if I have made a selection. I also suggested that we provide a feature to compare how me and Seema looked together verses me and Jaya - Seema and Jaya being two random search results matching my preferences. The group liked the idea and we worked on that project and it was successful.
Then came the era of social networks and I was on Orkut, Facebook and Twitter. And I am one of those guys who has his lucky click once or twice in a year and rest of the pics I do not want to put as my profile picture and one day my friend clicked a picture of me in a eureka moment. I wanted to update that picture everywhere so my friend mailed me that picture after connecting his mobile to his computer in office.
I then went to my mailbox to download it. Just below the the mail with my picture there was a mail from shaadi.com that said "New Matches" and opened up shaadi.com and quickly reset my password to get in. I spent some time with all my matches and then opened up my profile page. In the last five years so much had changed about me and the site itself. What didn't change was the information that I had put about me on that site. So I updated my preferences, profile picture and about me section. I left the site and updated my profile picture on Orkut, Facebook and Twitter. A month after that a notification arrived in my mailbox stating that Smita (my wife now) has expressed interest in me. From the expressed interest to my wedding is a one year long story that goes from an attempt to arrange a marriage to a love affair and beyond which I shall tell you in a later post.
Thanks for reading. Let me know how you met your partner in comments.