Epiphone AJ-220S Guitar Review 2019
 The Epiphone AJ-220S Guitar is a joy to play. The Vintage Sunburst is an acoustic wood guitar with six strings designed with a mahogany neck, back and sides. Pricing for about $299, it has a sunburst design that stands as a wise investment. It is known for bridging the gap between great sound quality, astonishing looks and price. The loud sound chamber model is loud enough to be heard by all when played as a result of being made with the best of industry materials. Music lover or not, here is exactly all you should bear in mind before getting (or recommending to someone) your next guitar to produce that superb musical sound you desire.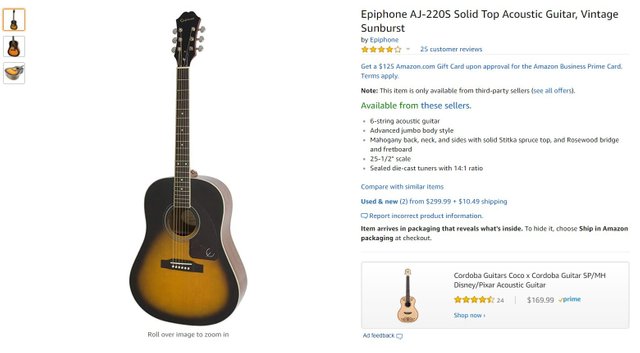 • Affordability - This quality guitar is affordable for advanced guitarists and most beginners. Its solid construction and fantastic features similar to premium guitars makes it an exceptional product for such price range (one for beginner), hence affordable. Apart from its solid construction, this guitar features a premium tonewood which plays any genre of music without crashing one's bank account. Convinced yet? The AJ-220S has a top made of solid Sitka spruce absent from guitars of such prices makes it worthy of any guitarist investments. You are surely getting the value of something that is worth more than you are putting into.   
• Super Feel and Easy to Play The Epiphone AJ-220S has a superb feel with such playability that you will surely enjoy. The guitar has a strong and durable neck which is made of mahogany. Its neck and body are kept stable as it is designed with a dovetail joint at its neck, glued in place and does not lose tone with such in place.  Its jumbo structure enhances its playing feel, making users comfortable when in use (a feature new users will do well with) irrespective of the performance length and playing position   
 • Full Voice What does this really mean? Your music genre may be rock, country, jazz or any other. Regardless of the genre, this guitar produces the full voice required by you in solo sessions or during ensembles. The full voice of the AJ-220S projects a full range tone (from the highest overtones to lowest bass notes) with solid and rich sounds.   
• Spruce Top The AJ-220S has a well appreciated solid Sitka spruce top. The top wood of a guitar is a parameter to measure quality and the AJ-220S doesn't fall short in this regard. It adorns an excellent look to cap its amazing sound projections.   
The Epiphone AJ-220S is not only a beginner's choice but one for the ages. Although its quality is not in doubt, adjusting it may be tight initially. At purchase, there are no strings or guitar case in the package and this guitar model has a warping chance in dry climates.  For such astounding features at such price range ( which can easily fool someone into thinking it costs more) this guitar is a fantastic choice especially for those on a budget, every penny worths it.  
https://www.acousticguitarsreview.com/
https://plus.google.com/+AcousticGuitarsReview