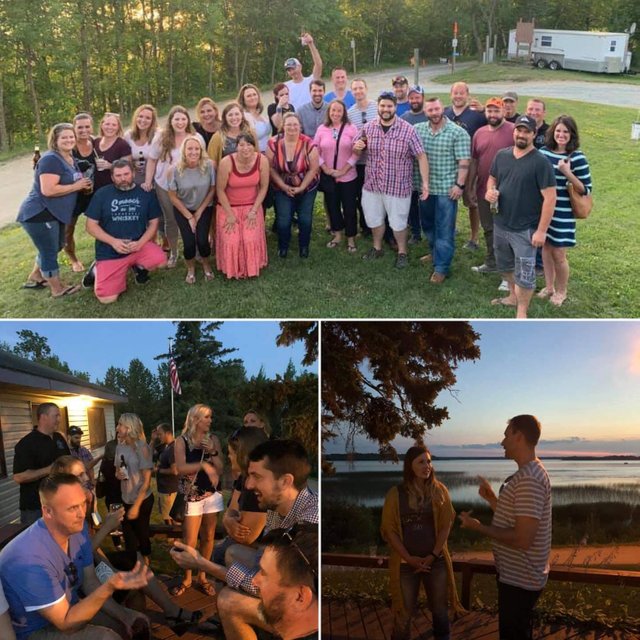 Saturday night I drove my car along the bumpy, dirt road. The restaurant overlooking the glistening northern Minnesota lake neared. Inside the cabin-style supper club, 28 old faces gathered—many for the first time in 20 years. My 27 peers and I graduated from our small town high school in 1999.
Before dinner, we mingled out on the deck overlooking that lake and setting sun. Expressive faces in small groups played catch-up and settled back into relaxing, spirited social roles established decades earlier. (Pic lower left)
Compared to my well-ingrained recollections, I noticed some of my former classmates had grown bellies; some had different colored hair (or receding hair, or facial hair). Having provided glimpses over the years, social media had softened the shock of these changes. Yet pixels merely depict reality. (Pic lower right: Myself catching up with old classmate Cheryl; yes, I was one of the belly-growers).
So to see tattoos on someone I'd cemented in my mind as reserved; to learn of another I took as a rebel to actually be a proud conservative. Such necessary adjustments to my perspective were refreshing and enlightening. At the same time, it was warming when realizing some leopards don't change their spots. Good ol' Wayln, as real and grounded and positive as I remember—even working in the same profession.
I know of no other setting than a reunion to better observe and embrace the realities of growth and change (and consistency) in our lives—especially being from a small town. My 20-year-old recollections of last night's 27 former classmates are so well-ingrained, because these individuals also happen to comprise some of my earliest recollections in life, period. I have known many since grade school. Thus, as I established my understanding of the world, there they were as part of that establishment.
Then, we have perhaps the most profound sense of growth and change: that which we detect in ourselves.
I did so in my reactions to those at the reunion I recall being intimidated by in high school, to whom I had feared looking inferior.
Yet an uncle's words would ring true this night. He said a 10-year class reunion isn't as fun as a 20-year. At 28 years old people are still trying to impress, he said. At 38, people aren't as worried about looking cool or being accepted. Maybe that played into my enhanced ease with which I floated about the night from group to group. It is more enjoyable not caring so much about being cool.
Such intimidation in high school was especially so toward certain females. I held in uniquely high regard their thoughts of me. Makes sense, right? As I grew into a teenager and realized the significance of female approval, there they were as my first judges.
So to sit with them eye-to-eye this night (not looking up to their judicial bench) and to hear them share their paths and accomplishments, their thoughts and beliefs, and yes, their challenges, difficulties, uncertainties, and even their regrets, I saw in these individuals all the humanity my tunnel-visioned teenage self missed. And in shattering such static recollections from high school, by hearing of all my former classmates' careers and families of their own, I learned of experiences I've missed—namely, the family aspect.
This isn't a contest, of course. My unique experiences and accomplishments are worthwhile and precious on their own. This is about learning from one another. And such peers of many years hold up before you a mirror of unparalleled clarity to reflect how you are living your life, how you might have made different choices—for better or for worse.
Would I have been better to pursue a family earlier in my life? Might such a consideration alter my path moving forward?
The point is that this is something I now consider, that I assess in my life, and that I reflect upon thanks to the mirror that was my 20 year class reunion.
Thanks for being my teachers, Blackduck class of '99.