UPDATE
The planned maintenance has been reschedule once again by our administrators. It's been scheduled for 3PM EST FRIDAY MARCH 3 (8PM UTC) to 3PM EST SATURDAY MARCH 4 (8PM UTC).
Another notice will be published in time for the next window.
---
Since last weeks update appear to not have been successful and was put on hold to a week after we will now experience a slight downtime of Cryptocointalk.com, our official forum for communications.
As announced on the forum
Cryptocointalk.com will be offline from 3PM EST MONDAY Feb 27th (8PM UTC) to 3PM EST TUESDAY Feb 28th (8PM UTC) for site maintenance. Cryptocointalk.com will be offline during this time frame.

The time frame listed above might be shorter. Check back often.

Thanks!
---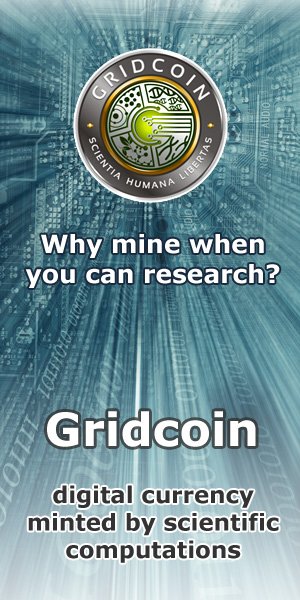 A cryptocurrency that rewards real research
Gridcoin rewards real research on a decentralized and distributed platform. With several different projects to select from you can contribute your computer power to more than hashing mathematical algorithms. Anything from partical physics, mapping the universe and curing diseases.