Hi everyone,
November is already over, and I'm happy to report a new weekly status of my Gridcoin Mining project. This week I had both computers fully connected, and I have been awarded 39,735 BOINC credit points. As usual, my main contribution was going towards the World Community Grid initiative (70.97%), while the other 29.03% were awarded for my GPU work on the SETI@Home project: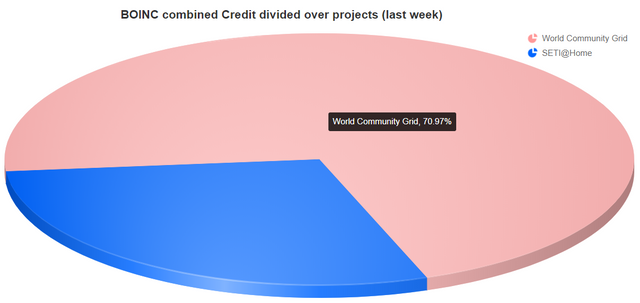 My wallet holds now 6,137.58 GRCs, about 650 GRCs more compared to the previous week. This big increase is coming from the conversion of my ByteBall awards for November. I'm a big fan and believer in the future of the Gridcoin network, and I'm using every opportunity to increase the value of my wallet. How great would be to be able to bring more people in this amazing initiative...
Happy crunching, everyone!
Posted using Partiko Android