Hi everyone,
Today, I'm proud to announce the release of Gridcoin Faucets v1.1 for Windows. This software allows you to easily visit a faucet and be reminded when you can get more Gridcoins. You can minimize it to the task bar and when time comes, you'll see a taskbar notification letting you know that you can visit the faucet again.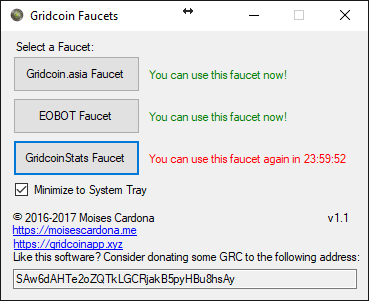 v1.1 removes the now dead Cryptospout Hourly and Daily faucets and adds the EOBOT and GridcoinStats faucets.
The software is written in Visual Basic and was compiled using the newest version of Visual Studio, Visual Studio 2017.
The software is also Open Source and the source code is available in GitHub. Check it out by clicking here!
You can download the software and start using it right now by clicking here.
Enjoy!