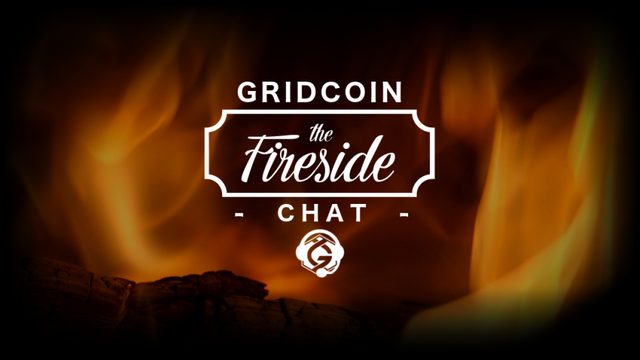 The Fireside Chat 36 - Gridcoin for Beginners: The Basics of Gridcoin
Tonight! December 6th, at 8:00pm EST, 1:00am UTC
---
Join us every Thursday at 8:00pm EST, midnight UTC on the Gridcoin discord server for discussions on Gridcoin, cryptocurrency, blockchain, and DELTA.
---
This Week (Tonight!)
---
Backlogged Episodes (They will be edited and uploaded... someday):
33 - CBR Economics
34 - Magnitude Economics Revisited
35 - Gridcoin Voting System: Vote Weight, Active Vote Weight, Poll Creation, Proposal Requirements
---
This week we provide an overview of Gridcoin, its terminology, its protocol and mechanisms, and how it operates. We've been taking questions and comments on discord this week and we have a nice list of topics to touch on. If you have any ideas on what someone new to Gridcoin might want to hear, or if you are new to Gridcoin yourself, join us and let us know!
See you soon!
---
Like what we do at the fireside? We happily accept GRC donations.
GRC: SKEwHBTJ7REcT5AwewpJi6uH9S5TjtJmcR
---
---
What is Gridcoin?
Gridcoin is an open-source blockchain that mints and distributes cryptocurrency in relation to the processing power a network participant directs toward data-driven analysis and scientific discovery. Currently, the Gridcoin blockchain is secured through a proof-of-stake protocol and monitors processing contributions to the distributed computing infrastructure, BOINC. BOINC, the Berkeley Open Infrastructure for Network Computing, hosts major institutional computing projects such as IBM's World Community Grid, SETI, and data from the Large Hadron Collider, alongside projects developed by students, enthusiasts, mathematicians, researchers, and citizen scientists.
Want to Learn More?
Website: https://gridcoin.us
Twitter: https://twitter.com/GridcoinNetwork
Discord: https://discord.me/page/gridcoin
Steemit: https://steemit.com/created/gridcoin
White Paper: https://gridcoin.us/assets/img/whitepaper.pdf
-- Github --
Codebase: https://github.com/gridcoin/Gridcoin-Research
Community: https://github.com/gridcoin-community