January 3, 2019.
Do We Really Need Straws?
Hi, Steemheads!
Since last year, I have been planning to blog about how we can minimize our use of single-use plastic. The problem with garbage or pollution is something everyone must be aware of and everyone must do something about. It's our future, our children's future that is at stake and we only have one Earth. We need to reverse and stop the damage that WE ARE DOING TO IT, NOW! And we should start with plastic.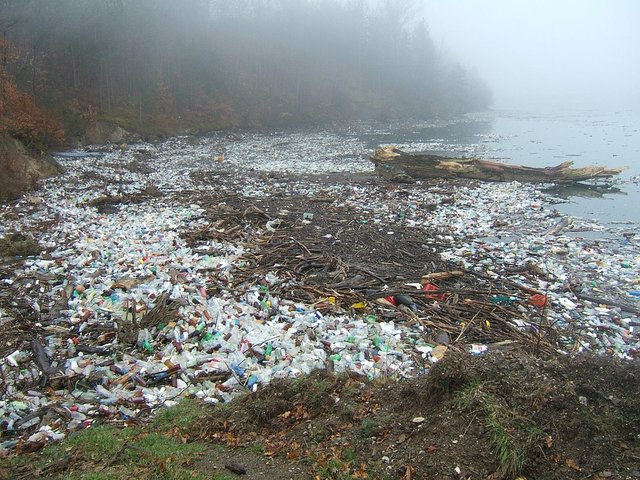 Image Source
People and groups are now coming together to help educate about the dangers of accumulated plastic trash that are not disposed properly, they end up in our oceans and break into microplastics and damage our marine life. One of the common thing they see in the oceans are straws thus some groups are calling for banning of straws or having alternatives such as paper straws, bamboo straws and stainless steel straws.
I do not want to be selective, plastic and single-use plastics must be minimized and disposed properly. It should not just be straws that we need to focus on. However, let us dig into the straw issue. How bad do we need straws? Is it a necessity to have straws?
I don't think we need straws. I appreciate people trying to come up with alternatives like paper, bamboo and stainless steel straws but for me, straws are unnecessary for most of us.
I believe the only people that need straws are the people that are paralzed from the neck down. People who can sip from a glass, a cup, a mug, a bottle, need not use a straw. A physically able person can help reduce plastic waste as easy as sipping directly from a beverage container. STRAWS ARE UNECESSARY FOR MOST OF US! Paper straws, bamboo straws and stainless steel straws aren't solutions either, the solution is to use no straw at all!
This fact is so simple, yet people don't see it. I hope we can do more than just talk and blog. The next time you are out please do not take straws from food courts and fastfood or wherever you dine. Please sip direct from your cup. Although this is not the major solution to this issue, because really it needs legislation of banning plastics and systematized proper waste disposal but doing a small role in avoiding the use of UNNECESSARY PLASTIC WASTE is a step towards helping the environment.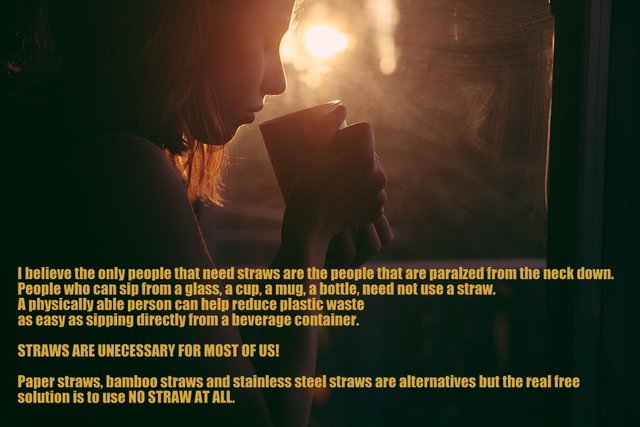 Image Source
This post is just 3rd of 365 posts I will do the whole year, dedicated to going Green and sharing Humanity. If you think you wanna make a similar challenge to yourself, of course, you can join and do the same thing, too!
Join me, in my 2019 journey. Thanks for reading and I hope we all can share in Steemit the little things we learn in life as we go along. I wish you all to have a meaningful and prosperous new year!
Love and Peace,