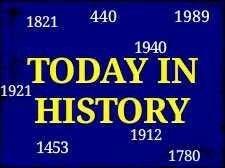 1788: Greek Chieftain Athanasios Diakos is born.
1887: Parliamentary elections take place in Greece. Charilaos Trikoupis' 'New Party' wins 90 of the 150 seats.
1924: Eleftherios Venizelos returns to Athens following 38 months of "self-exile".
1930: The Agricultural Bank of Greece begins operating.
1956: Konstantinos Karamanlis establishes the National Radical Union (EPE).
1965: Turkish authorities bind the total income of Greek nationals permanently residing in Turkey, meanwhile persecution of the Greeks of Imbros and Tenedos islands continue to intensify.