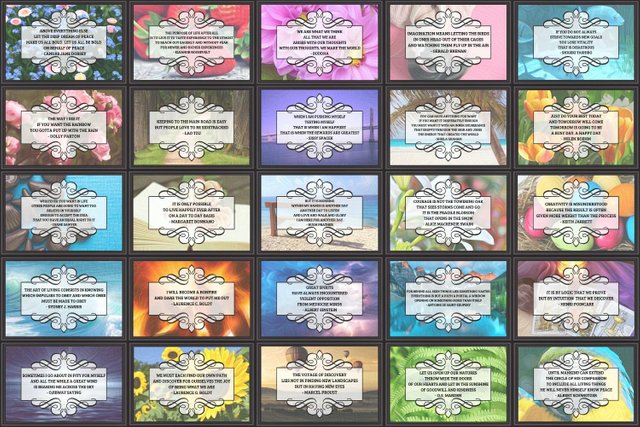 ---
This post is the introduction to an upcoming and soon to be released series of one hundred daily quotes and free graphics that can be used as steemit cover images...or on any of the other front ends...within the body of blog posts...or within your own websites and social media accounts.
This collection will be free to enjoy and otherwise distribute anywhere you like but only for personal use!
I do not claim ownership of the quotes themselves...but I did spend a few weeks designing the underlying graphics and choosing the best ones to share. When you do see them available...please remember to respect my wishes and make use of these for their intended purpose only. Linking back to the original posts will not be required but it would be very much appreciated.
Update: Please read my note at the bottom in regards to the these being daily.
All of the liquid steem earned from these posts will be used to purchase sponsorship shares for the steem basic income program...and much like the previous series you can easily earn these through leaving quality comments. As long as you haven't commented on a particular post before...any number of entries will be possible even after the blog posts have gone well past the seven day mark. Additional entries can also be earned with verified resteems and these will be accounted for on the weekly leaderboard for the random sbi draw.
With the creation of this series...I needed a long running and well thought out excuse to sponsor some sbi shares to those who seek them and earn the steem in order to do that too. The best...and basically the only way that I know how to effectively do this...is through providing something useful and free.
Today...I mostly wanted to tell you more about the book that inspired this collection. Onwards & Upwards has something like one thousand total quotes...but only one hundred with personal significance were handpicked and included. For awhile now...times have been hard. This was the best and the only christmas gift that I received while standing in line at the salvation army two years ago. It brought me happiness to finally gather up my favorite ones and do something creative with them...placing them onto vibrant artistic backgrounds. Going back through and seeing them as a whole...I was surprised to find how so many of them have been unknowingly woven into my life and into my psyche. They echo back to me like mantras in times of confusion...stress and pain. But there are also the ones that are just good old snarky reminders of what really matters.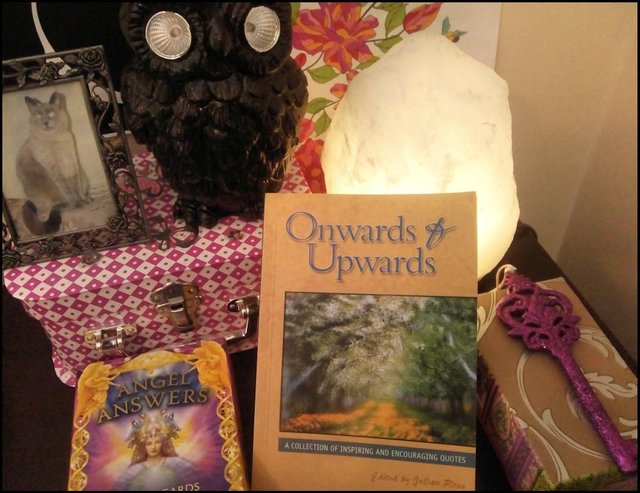 All of these quotes can be found online of course...but reading things digitally never really compares to holding something in your hands. Someday...I will write some articles on the history and lives behind many of the more notable authors. Katherine Mansfield and Helen Keller are at the top of my list. Albert Einstein is the figure whose words that I most closely connect with though. I wanted to include way more of his thoughts in this collection but didn't want to go overboard with my borderline obsession with Albert Eintein sayings. His personal life was on the strange side...but he was also one of the most soulful and kind...generous and genuine...creative and enlightened people to have lived. He remains kindred in matters of universal truth....religion and philosophy.
"I feel myself so much a part of everything living that I am not in the least concerned with the beginning or the ending of the concrete existence of any one person in this eternal flow". - Albert Einstein
For an uninterrupted one hundred days starting sometime next week...the 'creative quotes' series will be scheduled on esteem. Sadly...I had a lot more planned to explore and accomplish during this time...such as entering some free read contests...participating in actifit and lending my blender skills to decentraland...but life seems to have other ideas for me. Some projects will still be worked on behind the scenes for as long as I have computer access...but moving is extra stressful with chronic pain and mobility issues and even more so when you don't have anywhere to go. Depending on how things end up...it could take months to get back on my feet. Apart from replying to comments on my phone and using a premade template to complete the weekly draw...you probably won't see much variation in available content going forward. Unless by some strange miracle...my life isn't going to be as turned upside down as anticipated. That remains to be seen...but right now things look like they will be slowing down...when I just want them to speed up.
I don't know about having a lot of energy to spare during this transition but refuse to let my account here go silent for another three months. Around the same time the quote collection is going live...you will also be able to find these graphics on my twitter account. The thumbnails will be cropped...but if memory serves me correctly...you will still be able to click or tap to view the whole image. It's a long story...but starting this year ill be taking active baby steps towards overcoming the more irrational aspects of my aversion to mainstream social media. An outside presence will obviously be rather critical for successfully selling my art...setting up Patreon and building up that coveted e-commerce business of mine.
Update: As of last night...it occurred to me the quotes could probably become a lot more reflective in having just one to focus on for the coming week instead of being slammed with seven. So...I am leaning towards making this a weekly post instead of a daily one. Instead of earning up to seven sbi draw entries across seven different posts...you could potentially earn close to that many with just one post. Between the optional resteem and early bird trivia questions this will spread your attention a little less thinly. What do you think about this idea? Have I just been overthinking things again?
---
I really wanted to get this whole thing out as soon as tomorrow...but hopefully my estimate of early next week will prove to be accurate enough. Thank you for reading my rambling update and stay tuned!