Don't just float through life hoping this or that may happen. Perhaps and luck has nothing to do with it!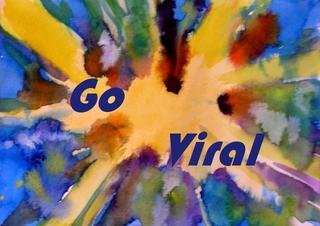 Your purpose for living:
Even though we care for others, or what they may think of you.  YOU personally, can't survive if you don't set your mind on what's important to you in this life. 
So what do you intend to do with your life? Play around and get nowhere fast!? Working in a drudgery job, year in and year out?! Or have fun doing what you love doing most?! 
To make it work for you:
You must have a good reason to wake up in the morning and get excited about going to work on your project. 
       And… Oh, yes… you want your project or website to go viral! 
Know what your objectives are, to go viral:
What are you intentions? What do you propose to do? And what will help you go viral with that?
What do you think will be the possible outcome? And how will you handle that? 
Things must be well thought out and planned, before a decision is made and taken. 
How will the world take to what you do?
It's no use doing something, if people out there don't appreciate it or really need it. 
So know… what is really happening out in the world? 
Watch the news:
Be aware of what is happening around you and out in the world. Watch and concern yourself with the signs of the times (Matthew 16:3) and be prepared with the reality of it all.
How will you handle it? 
What are people doing? What do you think they need most? 
What is the hottest news at present? Check the Google search ratings, and #hashtags on Twitter.
How do people re-act to what's happening or been said? Will that help you to know how to write your article? 
Put your own spin on it:
Take the reality of it and go wild with it. Say it your way. Use powerful jargon that grips people's attention. 
Illustrate and draw a simple cartoon image, title it and post it on the most active social media platforms. 
Take a photo you have of what happened, and give it a dynamic caption that says it all. 
Always have your cellphone charged and with you for sudden activity or drama. Even the police would like to have the evidence it will reveal. 
If you were lucky (or perhaps unlucky) to be at the scene of the event, post your cellphone video of it! You will be the revered person for been right there, to have seen the event and have taken a video of it. Every TV broadcaster will want you talking about it and how it all happened. 
Be genuine and authentic: 
It's important to build trust. Add facts and statistics where ever possible. Providing evidence puts logic and reasoning into play.  
People like to have the true facts when they gossip! They like been the cool dude that has all the facts. 
Feature well known personalities in your content. Be wise and careful how you word it, you don't want them to sue you either! 
… The last touch! 
Extra awareness:
Can you add a quip or antidote to what's in the news? Perhaps in the middle of an event there was a silly or ironic thing that happened that you could take and expand on, and run with it?