Ed Sheeran deletes Twitter account after Game of Thrones backlash
Show was criticised for putting the singer-songwriter in plain sight on the show
Ed Sheeran has deleted his Twitter account shortly after criticism over his cameo appearance in Game Of Thrones.
The singer has removed his entire presence from the site, a month after claiming that he planned to stop using it.
He had later retracted his comments in an Instagram post where he said: "I haven't quit anything" and said he simply wasn't reading Twitter comments.
However since the first Game of Thrones episode of season 7 aired, where Sheeran appeared in a scene with Maisie Williams as Arya Stark, GoT fans have taken to social media to complain about his performance.
Much of the criticism was around the fact that there seemed to have been little attempt to disguise his cameo - whilst other artists such as Coldplay drummer Will Champion and Gary Lightbody of Snow Patrol were more difficult to spot in their scenes.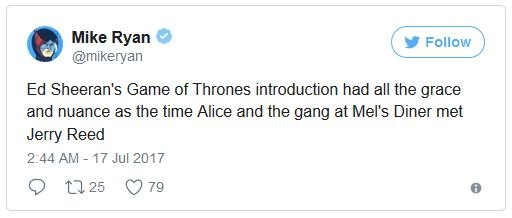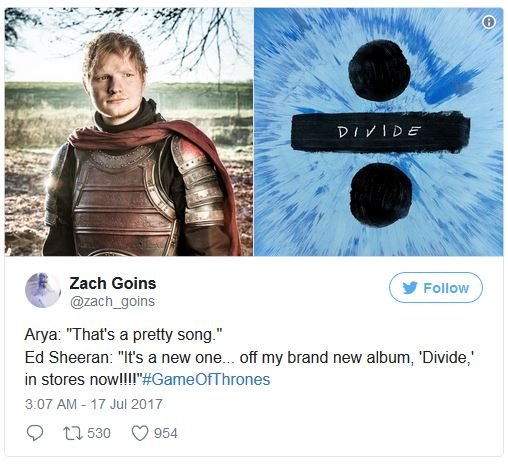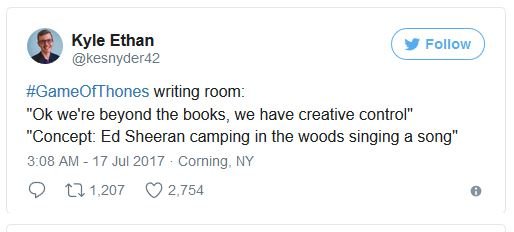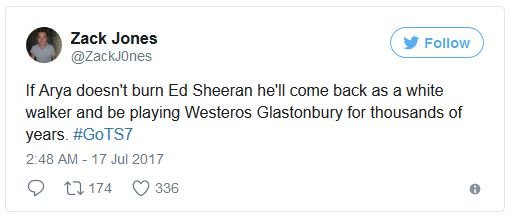 Sheeran's scene also left an opportunity for him to return in the next episode, although he did not appear in the trailer.
Co-showrunner David Benioff previously explained: "We knew that Maisie [Williams] was a big fan of Ed Sheeran, and for years we've been trying to get him on the show so we can surprise Maisie. This year we finally did it."
It was recently revealed that Sheeran will next make a cameo in The Simpsons, as a character caught up in a love triangle with Lisa Simpson.
Game of Thrones season 7 continues on HBO, Sky Atlantic and NOWTV next Sunday.