---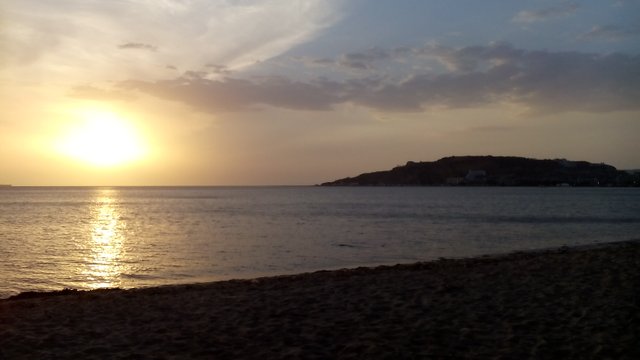 A la derecha el cerro El Morro

---
¡Hola amigos de #OnePhotoEveryday!
A casi todos nos gusta presenciar un hermoso atardecer y si disponemos de una cámara, aunque sea la de tu celular, tratas de inmortalizar esa imagen que, muy probablemente regreses a observar cuando no puedes ir a presenciarlo nuevamente. Bueno…. Eso hago yo…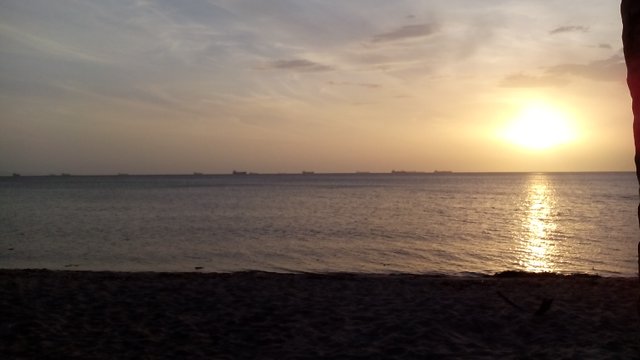 En la línea del horizonte, los buques tanqueros esperando ser cargados

---
En la tarde de ayer salí a hacer algunas diligencias y no quise regresar a mi casa sin antes pasar por Playa Mansa, también conocida como Playa Muerta, en la ciudad de Lechería. Quería disponer de unos minutos de relajación y disfrute frente a nuestra playa y su generosa brisa.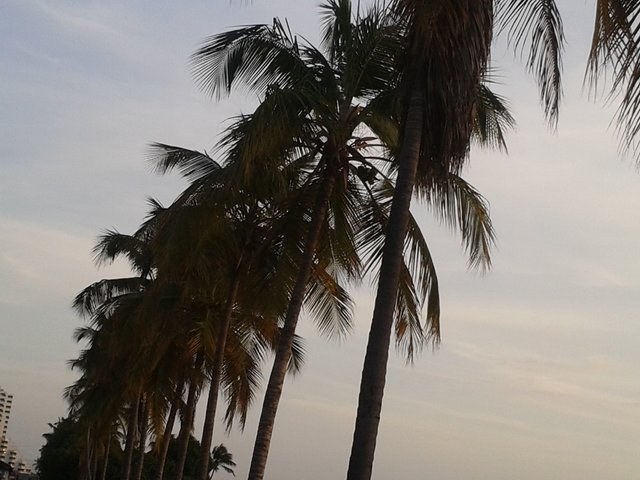 Hilera de Palmeras bailando al son de la brisa

---
Hoy quise probar la diferencia, a partir de las imágenes, entre las cámaras de los teléfonos celulares que utilizo regularmente para obtener mis imágenes. Las dos primeras las tomé con el BLU Dash 5.0+ y las restantes con el SAMSUNG S3 Mini.
Todas las fotos fueron tomadas a las 06:30 p.m. con la ayuda de mi querida sobrina Carolina en el Samsung.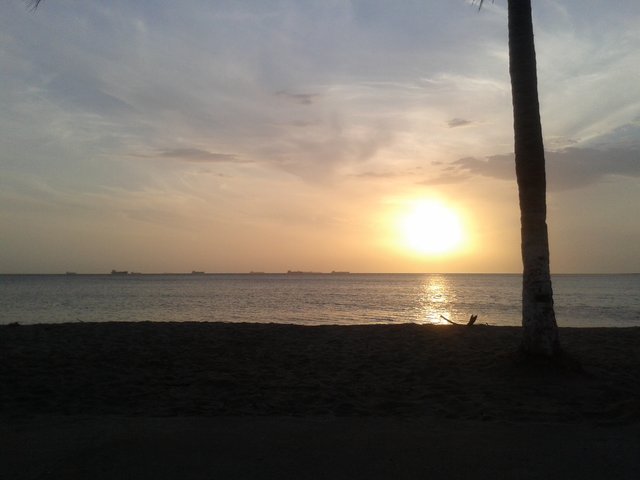 Aquí también los buques tanqueros en este atardecer

---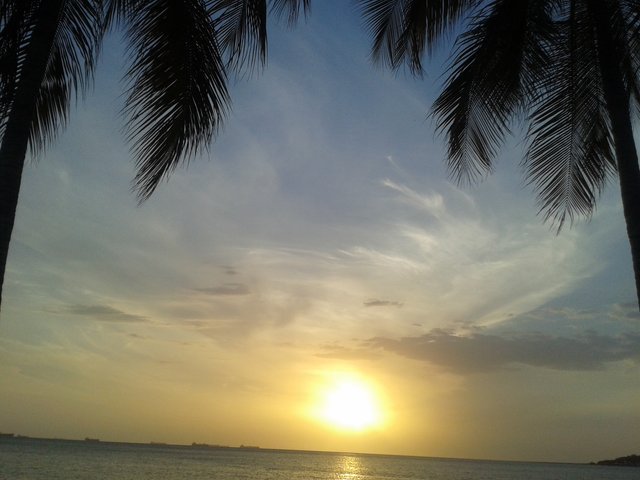 Un poco movido la línea del horizonte pero me gustaron las diversas tonalidades

---
Así que aquí una muestra del atardecer de la tarde de ayer. Espero lo disfruten también.
Saludos amigos….
Soy sólo una aficionada a captar imágenes que me gustan y me atraen, con la única herramienta que poseo que es mi teléfono celular o el de algún familiar. Deseo aprender sobre este maravilloso mundo de la fotografía, por ello, he decidido iniciar este interesante viaje por el #OnePhotoEveryday.
Espero que mis imágenes hablen por sí solas y cuenten sus historias, y que logren llegar a ti.
Anuncio público del proyecto OPED:


One Photo Everyday no es sólo un desafío ni sólo una serie de publicaciones sobre Steemit, sino que es nuestra manera de proporcionar valiosas imágenes a nuestra comunidad cada día para promover la narración de historias a través de la lente de las cámaras.
---
I am just an amateur to capture the images I like and attract me, with the only tool I have that is my cell phone or the other one of any member of my family. I want to learn about this wonderful world of photography, for that reason, I have decided to start this interesting journey through #OnePhotoEveryday.
I hope that my images speak for themselves and tell their stories, and that they manage to reach you.
Public OPED Project Announcement:



One Photo Everyday is not just a challenge nor just a series of posts on Steemit but it's our way of providing valuable pictures everyday to our amazing community in order to promote the storytelling through the lens of the cameras.
Public OPED Project Announcement:
---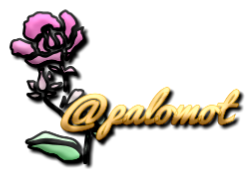 Cell Phone: SAMSUNG S3 Mini Camera Model: GT-I8190
Cell Phone: BLU Camera Model: Dash 5+
Location : Lechería, VENEZUELA.