Gold nudges up, but set for biggest weekly fall in 15 months
 A stronger dollar makes greenback-denominated gold more expensive for holders of other currencies.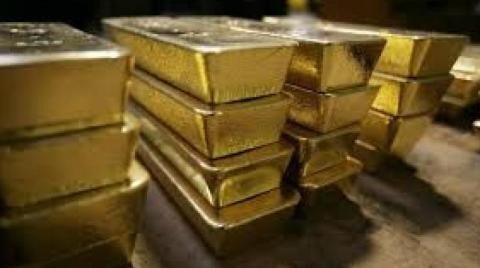 Bengaluru: Gold prices edged higher on Friday as the dollar pulled further away from more than one-year highs, but the metal remained on track to post its biggest weekly decline since mid-2017. Spot gold rose 0.2 per cent at $1,176.29 an ounce, as of 0356 GMT. US gold futures were little changed at $1183.30 an ounce.
For the week, spot gold was down 2.9 per cent and headed for a sixth consecutive weekly decline, as the metal dropped to a 19-month low of $1,159.96 in the previous session on some aggressive stop-loss selling.
"Mainly because of the low prices, people are buying... Investors, businesses and perhaps a lot of people are looking to pick up gold and that's why we're seeing some support," said Brian Lan, managing director at dealer GoldSilver Central in Singapore.
A slight correction in the dollar, after the currency gained against most peers this week, was also lending support to the gold price recovery, Lan said.
The dollar was subdued against major currencies on Friday, edging away from 13-1/2-month highs hit earlier in the week, as risk aversion eased after China agreed to hold lower-level trade talks with Washington this month, offering hope that they might resolve an escalating tariff war.
Trade talk hopes boosted Asian stocks, which also drew confidence from a sustained recovery in the Turkish lira after it plunged to a record low earlier this week.
Finance Minister Berat Albayrak assured international investors on Thursday that Turkey would emerge stronger from its currency crisis, insisting its banks were healthy and signalling it could ride out a dispute with the United States.
Weakness in emerging markets currencies, amid the Turkey currency crisis and the US-Sino trade spat, has seen investors pour money into the US dollar, leading the greenback to serve as a safe-haven asset during uncertainty.
A stronger dollar makes greenback-denominated gold more expensive for holders of other currencies.
Spot gold looks neutral in a range of $1,173-$1,182 per ounce, and an escape could suggest a direction, Reuters technicals analyst Wang Tao said.
In other precious metals, silver rose 0.3 per cent at $14.64 an ounce but headed for its biggest weekly decline since early February.
Platinum inched up 0.1 per cent at 777.99 an ounce, but remained to track for its biggest weekly drop since November 2015.
Palladium was steady at 889.50 an ounce but also stayed on track to post weekly losses.