I love Gold and Silver, they are the best stores of value in this crazy world right now, and they have always been real Money. I constantly look at charts of Gold to try and work out what will happen to the price, and i do often make the mistake of looking through rose-coloured glasses. But we must be realistic.
Here, i am going to show you, rightly or wrongly, why i am bearish on Gold right now. Yes, this is going to upset some Gold people, but i always tell it how it is. Take a look at this chart of Gold below. It is a monthly chart, giving a long term view of price movement.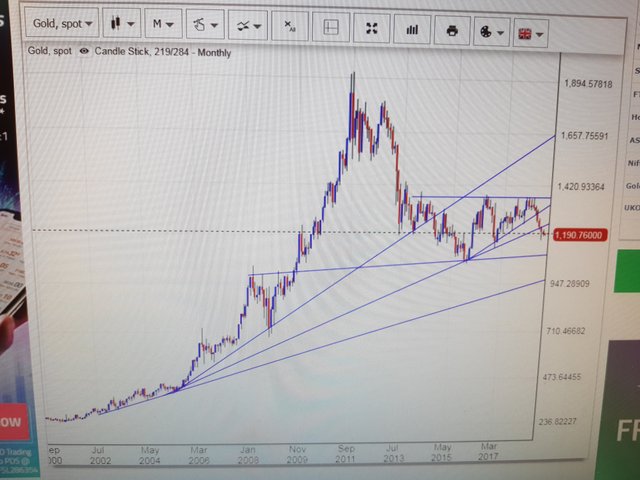 Chart SOURCE ; netdania.com
I have drawn 5 main trendlines on the chart. The first one is a parallel line showing that over a period of about 4 to 5 years, the Gold price could not break through the $1360 level , even though it tested it about 11 times. Now the price is much lower. The first of the other two lines, going upward from right to left , is following the price from 2005 to the present day. While i don't consider this to be a perfect trendline, it is never the less signalling a lower price , because it has been broken to the downside. In the short term,we can possibly expect the price to go up and return to this trendline without breaking back through , so this trendline which will now act as a resistance level, and thereafter Gold should resume it's decline. The next near - horizontal line is showing where Gold could bounce upwards. If this support breaks it will confirm that even lower prices are on the way.
The fifth and lowest trendline runs from 2002 to the present day. If the trendline described above fails as support , the Gold Price will hit this line sometime around mid 2019, or possibly sooner if there is a sudden drop. This means a sub- $1000 Gold Price is on the cards. I must stress that this scenario is a possibility, not a certainty.
Keep in mind that we are talking about the manipulated Paper price of Gold here, not the price which would apply in a free market determined by supply and demand. WE HAVE NO FREE MARKETS !! With the risks to World economies today, massive debt, bankrupt Governments, hugely overpriced paper assets, and many Emerging markets with huge Economic problems, Gold should be much, much higher. The reality is that for the moment, the Gold Price is determined by corrupt forces that seek to defend the value of the US dollar.
On the bright side, there are forces emerging that could change all this, but that's a subject for another day.
Note ; This Post reflects the opinion of the Author and is not Investment Advice.