The Marketplace is finally ready and open for business. I've been waiting for this quite some time now. Regardless of the fact that it took a bit longer than expected, their team created more NFTs in regards to any other ETH based projects. It's remarkable work and I hope it'll gain more traction between general public.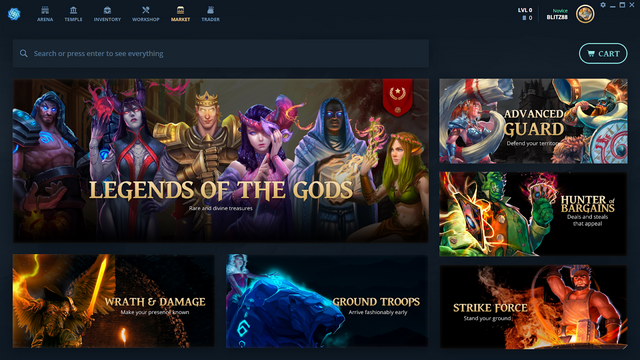 The game is smooth and fun to play, however what gives it an edge over traditional games is an open Marketplace where people or businesses can trade, sell or buy cards. I actually believe one might make a real business buying and selling such digital asset. Some of the cards are pretty expensive and if demand for such continues to increase so will the price.
However i can't find a match ever since I woke up, not sure if there's any issues with the client or players are exploring and seeking for chance to make some money haha.
Trading
I assume that trading is the best part of it as some of players want to make lucrative deals while selling their digital assets and on the other hand some players simply want get rid of cards they already possess.
Found yourself with a bunch of duplicate Genesis cards that you're looking to offload? You've come to the right place.
The Trader will be your very own storefront for listing cards and have its own icon on the navigation bar.
Note: Trader will initially be empty on your first visit, prior to listing items by clicking the "+".*
source
This is how it'll look.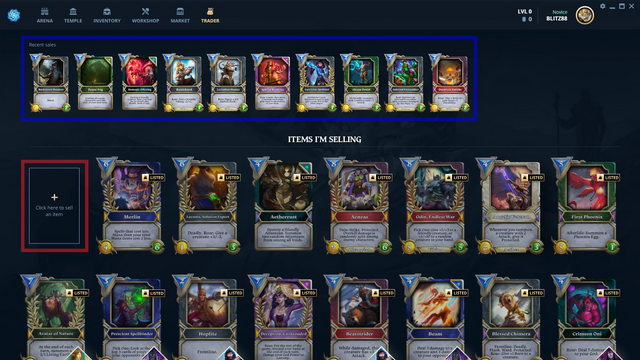 While pricing will be completely at the discretion of the seller, it would be advisable to check the Marketplace to see if you're in the rational price range.
I'm really looking forward seeing how thins will turn out. Keep the hustle alive boyz