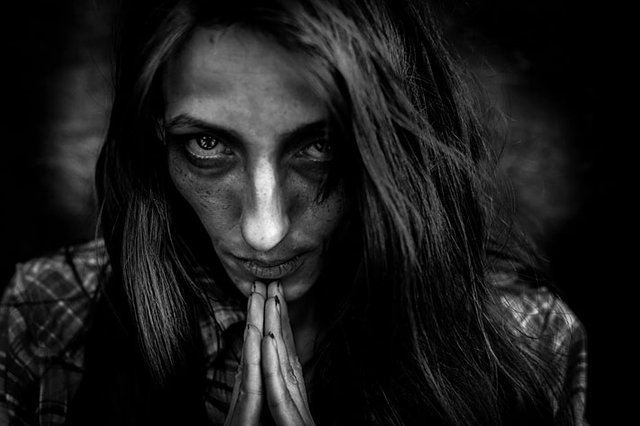 Source
The previous part of this series
A little over a month ago I wrote this post called "Human Kindness | A homeless person touched my heart", and because this post is going to be very related to that one, I decided to also call this post part 2. I've spoken about the homeless people several times before in my posts. You see them everywhere, and it doesn't matter what time it is, if you actually look around you, there will always be a person searching through the garbage bins for food/cans/drinks. It's hard not to see it, if you don't want to see it, you have to close your eyes, which is pretty much impossible walking outside. And you shouldn't want that either, because this is the reality. Those people are here and those people have a hard life. You see homeless people by themselves, or sometimes they are with a few or even a bunch of people. Most of the times the ones alone are those that are disabled, or old or maybe ill. The ones in groups are usually those that are alcoholics and you see them share their soda bottles that are filled with some kind of wine or other drink. Of course, there are exceptions but this is what I see most of the times.

Another very old and homeless couple
Very often I see this couple walking in the neighbourhood, they are both old, I would say in their 70's. The man is pretty long, and he is always holding his wife while walking, as she has very bad disabilities. Let me clear this up a bit, because I don't even know how to exactly explain how bad her condition is. While the man is old and has the "normal" physical challenges walking around all day, trying to support his wife. The woman he on his arm is heavenly deformed in her bones. Not only is her spine bending to one side, but her neck and head are hanging on the level where normally your breast should be. I don't know how to explain it better because of course, I will not take a picture of the woman as this would be highly unrespectful to do. It's painful to watch them stumbling around while holding her, fishing through the garbage for food or drinks. This man must be in pain himself too, looking at the way he walks and the heavy lifting he has to do all day, carrying his very disabled wife.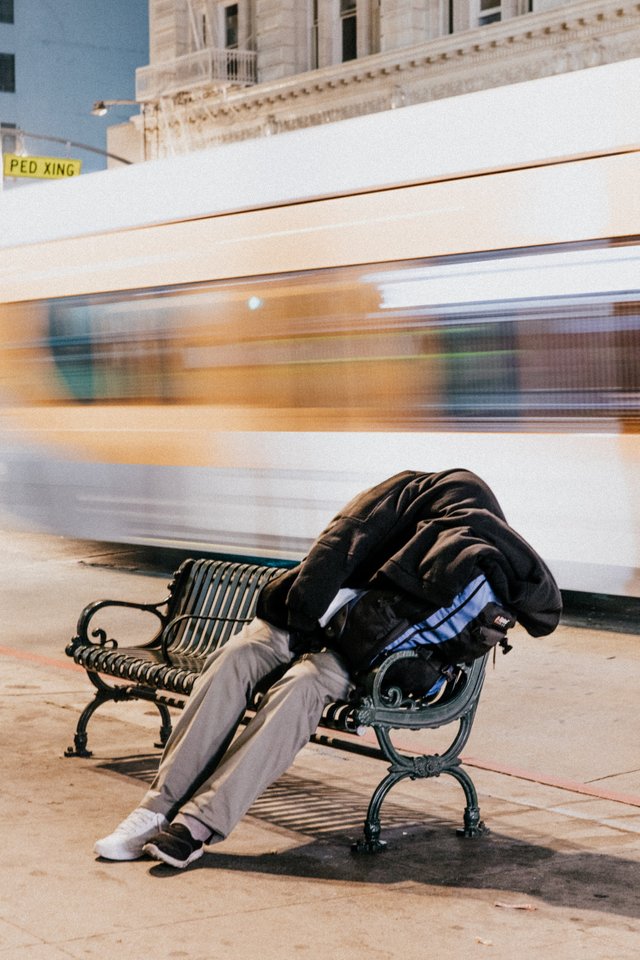 Nathan Dumlao on Unsplash
To show you how much pain the lady must have, I tried looking for a picture online similar to her disabilities, which was pretty difficult to find. If you look at this picture but ignore the fact that this person is probably trying to lay down resting on his/her backpack, look at where the blue part of the backpack starts. That's about where the head of the lady I'm talking about is in reality. Can you imagine a bit how difficult her life must be to even stand/walk/sit/lay down? And how hard it must be for another person to be holding her up while walking? The poor woman can barely sit, let alone stand on her feet.

A few weeks ago I saw her alone
Barely able to sit on a bench in our street, she was there by herself, and she was sitting on a garbage bag that someone must have put there in case she maybe had to pee. That's the only thing I can think of why someone would have put it there. The fact that she was alone concerned me, but maybe her man was trying to get some food somewhere, so my daughter and I continued our walk to the bakery. But the poor woman didn't leave my mind for a second, and I decided to buy one extra croissant for her and give it on the way back. I hoped her man would be back by then, unfortunately, this wasn't the case. We came back and the woman was still in the same position when I wanted to give her the paper bag with a croissant. She had trouble to even move her hand, and her head was in a position that she could not even look up. She moved her fingers, and I took it as a thank you because this was the only way she could communicate. I told my toddler that the woman could not walk and she was hungry, that's why I gave her something to eat. She felt my sadness clearly because she kept repeating in Dutch that the lady could not move and was hungry.

I cried when I got home
Because the only thing I could think of was that her partner, that is her only support may be gone. I hoped I was wrong, of course, but it was something that could be actually true. I told my boyfriend, who was working, what I saw and asked him to check if she was still there when he came home. If so, I would try somehow to contact someone that speaks Hungarian to see if we needed to call an ambulance. Because this woman clearly needs medical care, and that was the only thing that I could think of to help her out. When he came home, she wasn't there anymore, so I hoped the man had returned. Until yesterday I didn't see either of them anymore. I didn't forget about them, but yesterday we were on the tram and we crossed a square when I saw her. She wasn't alone, but she was with another man. This man tried to help her up from a bench, but he clearly didn't have that much strength himself. I saw how the man was struggling to help her sit down again. It made me so sad to see this woman probably had lost her husband, but I was "glad" to see that another person had stepped up to take care of her.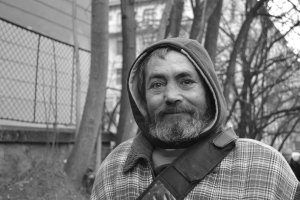 Source

I'm frustrated
Because I have no idea how to help this poor woman, because of her medical condition. I have been thinking about her a lot, and I can't think of anything. There must be something that I can do, but I don't know what. I know, that when I see them again I will give them food/drink or maybe even money. I will at least try to talk to the man that stepped up to help her (if he still is with her the next time, because of course,l I can't know this for sure). This man at least has a heart for other people in need, and maybe if he needs clothes or other hygiene stuff, and we are able to talk with my translating app, I will offer to buy something to make their lives a bit easier. In these situations, I really wish I would speak their language, so I can communicate with them to ask what they need. Maybe they need something that I didn't think of and can provide them quite easily.

I can't let go of the feeling I get when I see this
And they actually affect my mood for days usually, while I'm fully aware of the fact that I can't help everyone in need, these sad cases make me wish I could. If this woman is to be left alone, like she sat on that bench in our street, she'll probably die there alone, waiting for that moment to happen. No one deserves that, not even people that may have made mistakes in the past. Because they are all still human beings with feelings.

Hopefully the triple H project will be a success
I'm working hard behind the scenes trying to organize the project, and I have some lovely ladies thinking with me. Hopefully, we can start helping people before winter arrives in his full glory here, because being homeless and disabled in the harsh cold Hungarian winter must be terrible. Writing down this story makes me sad, but it also is a reminder that I have to try to do everything that is in my power to help others. Many people close their eyes to them, but I can't and I refuse it too. I will not close my eyes to the people that have been let down by the system. I didn't do that in Holland when it happened to us, and I won't do it in Hungary when it's happening to others. Even a small gesture from my part can be of great help to another person.

I asked it before in my posts, but once again I would like to remind everyone reading this, that whenever you see a homeless person in your hometown, please don't treat them like they're not human. I know not everyone is able to help others with money or even donations. That's ok, but you can give them your kindes smile, so they feel human. And so they see they're still seen. Some of them probably wish they could disappear and get invisible because they feel like a burden, some of them may be in the situation of being homeless not even by their own mistakes. The least they deserve is for others to see them, let them know they still matter by being kind. Please.

Latest update of "The triple H project" Humanitarian Help for the Homeless in Budapest can be found on WhaleShares by clicking here or on Steemit by clicking here