Hello there, Welcome to the 14th edition of my giveaway initiative post.
I had earlier announced the result of the 13th edition of this giveaway and you can check it out here
This post marks the start of the 14th edition, whose results I will announce next week Saturday or Sunday.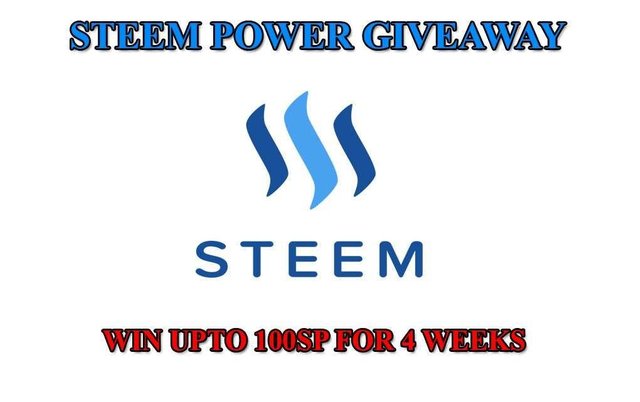 Created by me
Lets go through how this giveaway works;
The Rules
Your account must have less than 100SP (any current delegation is taken into consideration).

You must not be delegating Steem Power to another account.

You must have never powered down.

I should be convinced that you have long terms goals on Steem.
How to Participate
Leave a short comment about your intention to participate. Do so on or before Saturday, 6 am UTC/GMT.
How it Works
This giveaway post will come up either on a Saturday or Sunday of every week.

There will be one winner each week and you can either win 50SP or 100SP to use for 4 weeks.

50SP will be prize if the winner has less than 100SP and 100SP will the prize if the winner is active on the blockchain but has less than 50SP. The SP is only considered at the time when the prize is about to be giving out.

The winner will be an entry account that I find to be overall best in these categories; producing the best content, the best interaction and the best behavior on Steem.

I can equally choose to give some SP to other participants at my credit.
List Of All Previous Winners
@nassimal - 50SP
@chwaqas - 50SP
@goodguymate - 100SP
@mzsocialssmit - 100SP
@rawbirdtoe - 50SP
@skrjifen - 50SP
@dragonblades - 100SP and @steem-diva - 25SP (bonus)
@banterwords - 50SP
@komoniok - 100SP
@hungryharish - 50SP
@maxwellmarcusart - 100SP
@extractum-lunae - 100SP and @dkkarolien - 20SP (bonus)
@deantonio - 50SP
Recommendations
Gentle Reminder
This giveaway is in correspondence to the @contestking rules 👊 thus, no follow, upvote or resteem is required to enter the giveaway. Feel free to do these at your will.
Tags
Participants from previous giveaways: @tega-utos heliophoeli @indian033 @kufray @tita-annie @kendrawing @theatheia
Tag on request: @edgarare1 @jeanlucsr @simplymike @brittandjosie
PS: if you would like me to tag you along with subsequent giveaway posts, do tell me in a comment.
Get your entries in!
@akomoajong 25/05/2019