I kind of eluded at it in the past but I have made a choice when moving to Chiang Mai to live a life where I get all things in my life done without having any sort of mechanized transport. I used to live in the city center area of downtown where, of course, this was as easy to accomplish as is is for anyone living in a major metropolitan area. The stores are all around you. However, I have now moved to a suburban area where acquiring things can be a bit more problematic.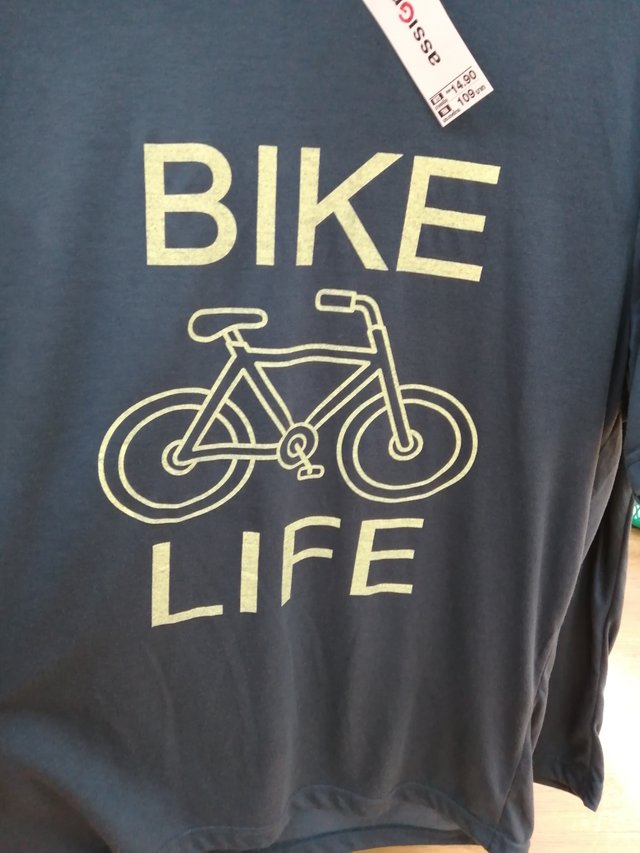 Now my reasons for wanting to do this are multiple. The first one being health. About 2 years ago I was as unhealthy as I have ever been in my life. I weighed nearly 110 kg (240 lbs), got out of breath easy, and basically just looked like a well-fed homeless guy; now I am down to 87 kg (191 lbs) and would like to see my way down to around 80kg. I figure this will be much more easy to accomplish if i have to get on my bicycle in order to do almost anything.


The second reason is that the roads in a city like Chiang Mai, which is much better and well-equipped / managed than many other large Thai cities, are pretty packed and prone to traffic jams. I have in many situations been capable of getting down the road faster than the cars and motorbikes because of the small areas that a bicycle can fit into and also because it is perfectly ok to not obey certain aspects of road laws such as riding on the sidewalk to bypass traffic, and even using the crosswalks to navigate a busy stoplight intersection. Chiang Mai is actually the most bicycle-friendly city I have ever been to in Thailand.


Thirdly (is that a word?), I don't feel like jumping through the hoops associated with obtaining a Thai driving license. I have a USA driving license and that is valid in every other part of this country that I have been in (and it likely is in a legal sense) however, Chiang Mai police have devised a wonderful method of stealing money from foreigners and now only accept international permits (a truly silly process that I should have just done when I was in the States) and Thai driving licenses.
This does introduce some problems though. I have a pretty limited capacity for carrying items on my bicycle. Yesterday I went to buy a fan and it was just about as big a thing as I can possibly transport in the future.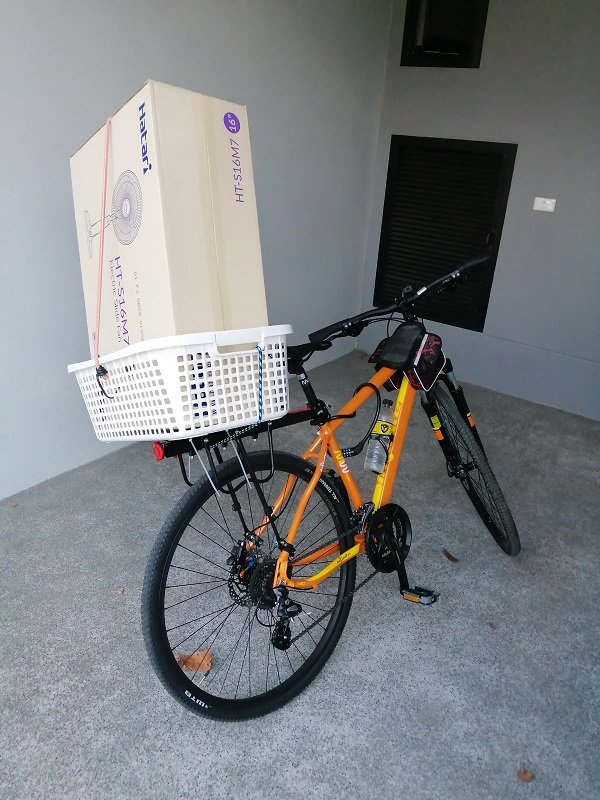 The problem isn't the height or size of the box, the problem is the strength of the basket I have attached to my bike. This will be something I am going to have to try to improve upon in the future. I had to go very slow because if a "lean" got started on the box it would simply break the weak plastic hamper that I bought for the back of my bike. It wouldn't fall because it is cable-tied onto the frame at a bunch of points.
I get some looks from Thai people but they aren't making fun of me: They actually think that what I have done is a good idea and for the most part it has been wonderful. I have had multiple locals ask me "what do you sell?" because i accidentally made exactly the sort of thing that a traveling salesperson would have on their bike.
All and all this choice in my life has been a good one. In just over a month I have gone 350 km on the bike and i would imagine that is a lot of calories. I may end up not being so enthusiastic about my choice during rainy season, but since I had no intention of getting a car anyway, i think there isn't really much difference in how wet you will get in a motorbike vs. bicycle type situation.