Hello!
This is an attending to @Anomadsoul's
GET TO KNOW ME challenge.
There are 50 Steem in Prizes and what you have to do is
make a compilation of 5-10 of your old high quality posts
that received very little attention
---
¡Hola! Esta es una respuesta al desafío propuesto por @Anomadsoul "GET TO KNOW ME". Hay 50 Steem en premios y la invitación es a hacer una compilación de tus 5-10 antiguos y muy buenos artículos que recibieron muy poca atención.
---
---
---
THE CHALLENGE
You most have more than 6 months in the platform or more than 100 posts made.
You can only include posts of your authorship.
Avoid crypto, politics and religious posts.
Think of this challenge as your Steem blogging "resume or CV"
---
EL RETO: Siendo un usuario con más de 6 meses en la plataforma o con al menos 100 posts publicados, realiza una lista, a modo de Resumen Curricular como Creador para Steem, en el cual puedes solo incluir posts propios, exceptuando aquellos que tocan tópicos de religión, política o crypto.
---
---
---
THE RULES
---
LAS REGLAS: En tu post nomida a 3 usuarios, usa la etiqueta #gettoknowme. No es obligatorio rebloguear ESTE POST, pero sería útil que todos los participantes lo hicieran para lograr que participe la mayor cantidad de gente posible.
---
---
---
One of my first entries for Open Mic: Original Song based on "A Room Of One's Own" (Virginia Woolf)
---
---
---
SUBMITTING IN ENGLISH
One thing I did when I entered the platform was testing what type of content received more attention, using every resource I knew I could to make my work more attractive. What I discovered was that posting English versions of my content I could reach to be read for a bigger amount of users.
It took me several attempts to discover, but in the process I could learn and make improvements, and meeting new users from places where I never thought my content would be read.
Algo que hice desde que entré en la plataforma fue probar qué tipo de contenido recibía más atención, usando cada recurso posible para hacer lucir mi trabajo más atractivo. Lo que descubrí fue que publicar versiones en inglés de mi contenido me permitía alcanzar a ser leía por una mayor cantidad de usuarios.

Eso me tomó varios intentos descubrirlo, pero en el proceso pude observar y hacer mejoras, y conocer usuarios de lugares en los que no pensé que podían leerme.
---
---
1) THIS IS A POEM I SHARED PREVIOUSLY IN ITS ORIGINAL VERSION IN SPANISH.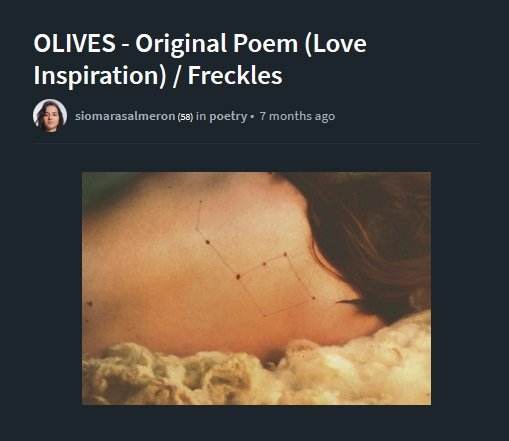 ---
---
2) I HAVE BEEN STUDYING VENEZUELAN TRADITIONAL MUSIC AND WORLD MUSIC ALSO, SO I WANTED TO SHARE PART OF THOSE EMPIRICAL KNOWLEDGE WITH STEEMIT COMUNITY. I WROTE A SORT OF ESSAY IN SPANISH WHICH I ALSO TRANSLATED. THIS WAS A REALLY GOOD POST.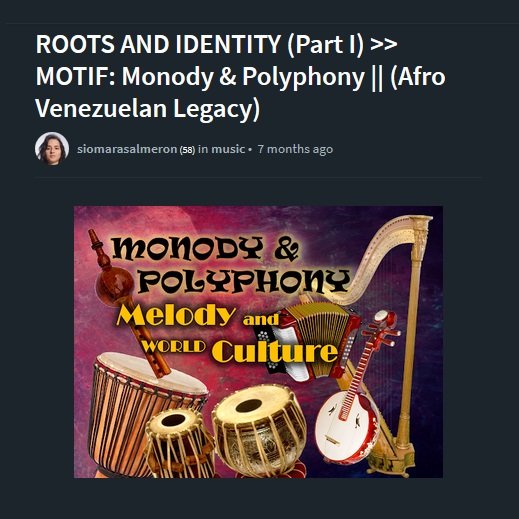 ---
---
3) I DECIDED TO DEVIDE THAT CONTENT IS TWO PARTS (I AND II). AS YOU CAN SEE I HAVE WORKED IN DESIGNING MY POSTS SINCE THE BEGINNING.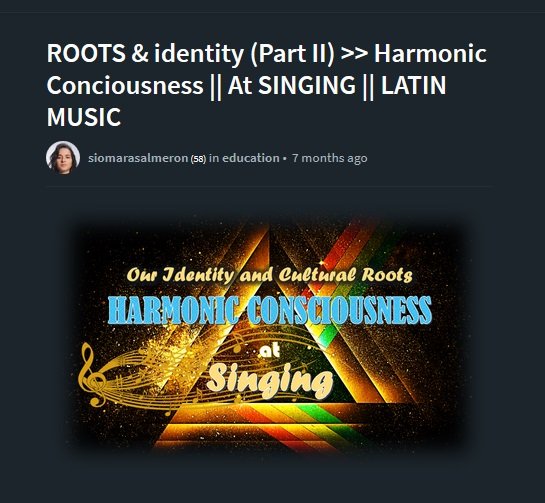 ---
---

PARA LA COMUNIDAD HISPANA
Obviamente mis mejores intentos los hice todos primero en español. Muchos de ellos fueron valorados en sus versiones para la comunidad anglo. Igualmente esta oportunidad es perfecta para que muchos de ustedes los conozcan y pasen a leerlos.
---
---
4) ME GUSTA REDACTAR TEXTOS ANALÍTICOS Y DE OPINIÓN CON BASTANTE CARGA SOCIAL Y CULTURAL, DE TIPO EDUCATIVOS. ESTE POST LO DEDIQUÉ A LA COMUNIDAD VENEZOLANA DENTRO DE STEEMIT, Y EN ÉL CONTRASTÉ LAS POSIBILIDADES QUE ESTA PLATAFORMA OFRECE A LOS VENEZOLANOS, CON EL DEBER DE TENER UN ENFOQUE DE INVERSIÓN Y MUCHA PACIENCIA. EL SENTIDO DE ESTA PLATAFORMA ES EL APORTE DE VALOR. NO ES MINERÍA DE EXTRACCIÓN SINO DE CULTIVO.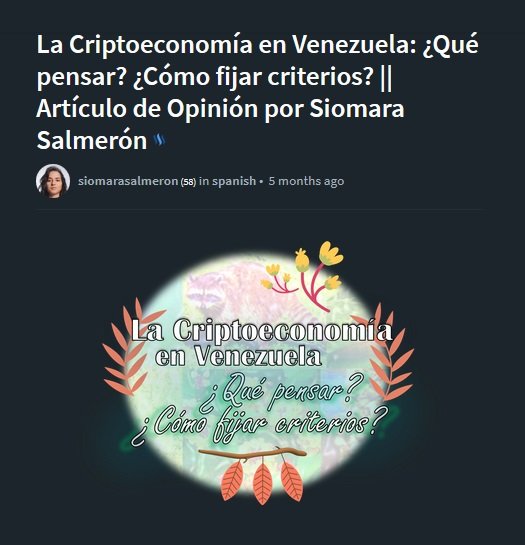 ---
---
5) ME GUSTA ESCRIBIR ENSAYOS REFLEXIVOS. ESTE POST TRATÓ SOBRE LE RELACIÓN ENTRE NUESTRAS ESTRUCTURAS FAMILIARES Y LA COMPRENSIÓN DE LA DINÁMICA SOCIAL QUE TENEMOS. DESTACO EN ÉL LA RELEVANCIA DE FORJARSE UN BUEN CRITERIO PARA ESCOGER MEJOR A NUESTROS LÍDERES. PARECE TENER SUBTÍTULOS, PERO REALMENTE ES UN TEXTO CORRIDO CON ALGUNAS FRASES DESTACADAS QUE DICTAN DE ALGUNA MANERA EL RITMO DEL DISCURSO.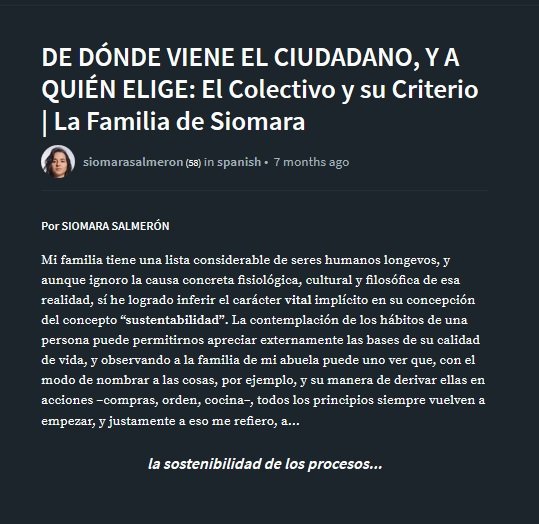 ---
---
6) CUANDO TIENES LA OPORTUNIDAD DE ESTUDIAR MARKETING DIGITAL Y PRODUCTIVIDAD PERSONAL EN LA ERA DIGITAL DESARROLLAS BASTANTE INSTINTO PARA SACAR EL MÁXIMO PROVECHO A LAS HERRAMIENTAS WEB. POR ESO UNA DE LAS COSAS QUE HAGO DESDE QUE ENTRÉ EN STEEMIT ES AYUDAR A LA COMUNIDAD A IDENTIFICAR ESAS OPORTUNIDADES DE PROYECCIÓN QUE ESTA PLATAFORMA OFRECE. ESTE POST ES LA SEGUNDA PARTE DE UN CONTENIDO SOBRE CÓMO EMPLEAR EFICIENTEMENTE LAS POSIBILIDADES QUE TENEMOS AQUÍ COMO USUARIOS.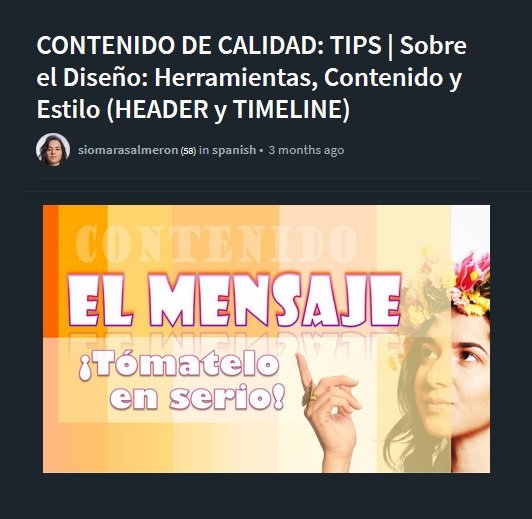 ---
---
7) HAY UNA HERMOSA CONEXIÓN ENTRE LAS RAÍCES CULTURALES DE LOS PAÍSES DE AMÉRICA, Y ESA MEZCLA QUE LA HISTORIA HIZO DE NOSOTROS ES DE INMENSA RIQUEZA. COMO CANTANTE HALLO MUCHO SENTIMIENTO E INSPIRANCIÓN EN CASI TODO LO QUE ME HACE SENTIR ESE VÍNCULO, Y EN ESTE POST COMPARTO, MIENTRAS ECHO UN CUENTO SOBRE MI CUATRO ROTO, MI EXPERIENCIA PERSONAL MUSICAL COMO CANTANTE, COMPOSITORA Y ESTUDIANTE PERMANENTE DE LA MÚSICA Y TODO LO QUE AMO.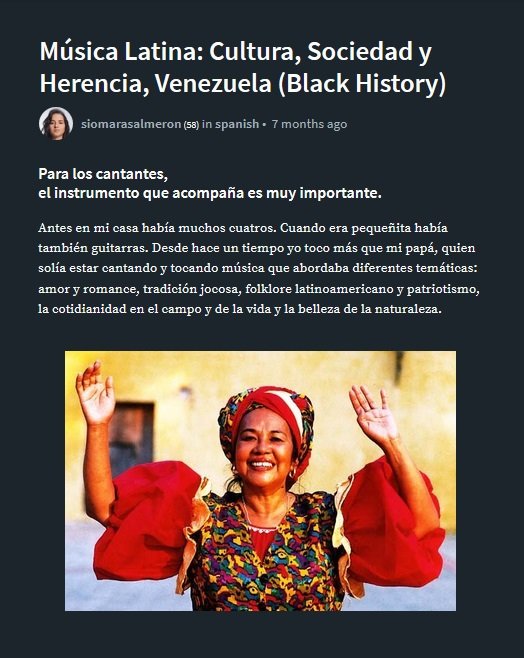 ---
---
8) EL AÑO PASADO HABÍA LEÍDO POR PRIMERA VEZ SOBRE LA VIDA Y OBRA DE VIRGINIA WOOLF. SENTÍ HABER APRENDIDO MUCHO DE ELLA LEYENDO UNO DE SUS ENSAYOS SOBRE LA LITETATURA Y LA MUJER LLAMADO "UNA HABITACIÓN PROPIA", QUE INSPIRÓ ADEMÁS UN TEMA MUSICAL QUE ESTÁ AL INICIO DE ESTE POST DE ESTE POST.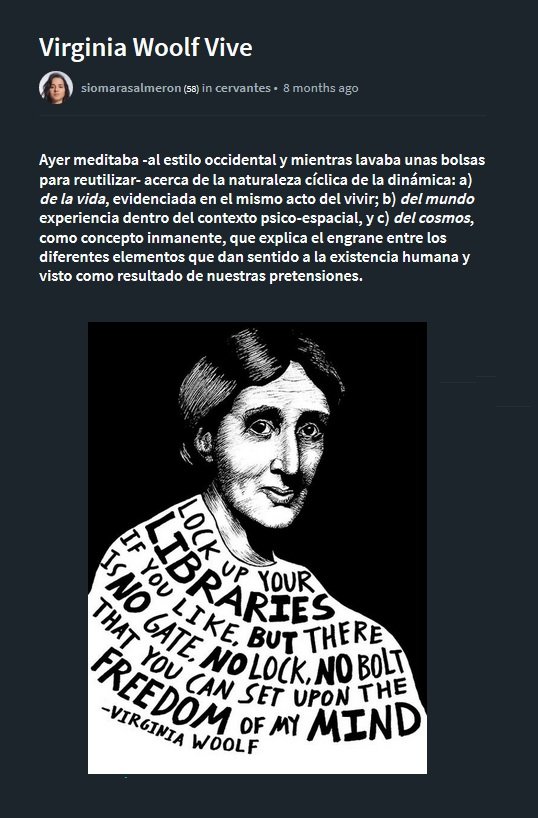 ---
---
9) NO SOY CRÍTICA NI RESEÑADORA DE CINE, PERO CUANDO VEO UNA PELI O UN CORTOMETRAJE QUE ME DEJA PENSANDO PROFUNDO ME HA GUSTADO COMPARTIRLO POR ACÁ. LO HE HECHO UN PAR DE VECES. ÉSTA FUE LA ÚLTIMA. ES UN CORTOMETRAJE ESPAÑOL PREMIADO, ME PARECE, Y EL MENSAJE ES GENIAL.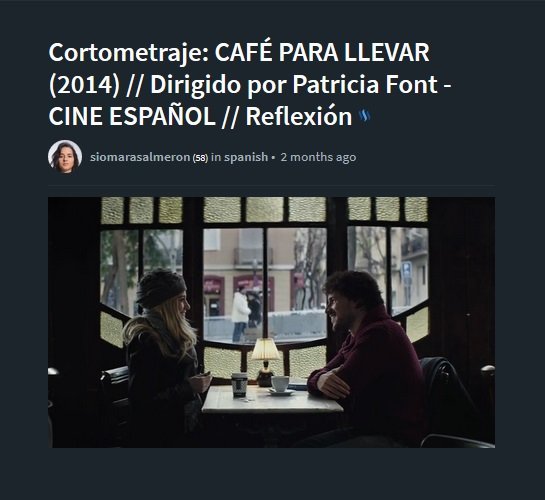 ---
---
10) LA VERDAD LA ESCRITURA ES UNA DE MIS PASIONES. HOY ESTÁ VOLCADA TODA EN LA COMPOSICIÓN MUSICAL Y LA POESÍA, PERO ANTES ME GUSTABA HACER NARRATIVA, Y ESTE POST ES UN CUENTO QUE ESCRIBÍ HACE MÁS DE 10 AÑOS, EL PRIMERO QUE HICE TAN LARGO. PERO LA HISTORIA ESTÁ PRECEDIDA POR LA ANÉCDOTA QUE DIO ORIGEN AL CUENTO.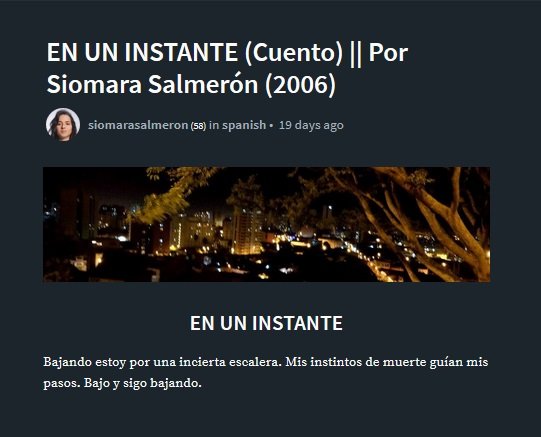 MY NOMINATION
MI NOMINACIÓN: Yo nomino a estos tres usuarios del @EquipoCardumen.
---
---
---
Our witnesses are working
towards getting our blockchain ready for blogging,
but let's not put more work in their hands than what we used to do.
Don't spam or stress the blockchain unecesarilly.
Think twice before leaving a comment that doesn't add any value.
Try voting with a higher percentage and give less votes.
Don't post more than what you were used to before this Hardfork.
CONSEJOS DE @ANOMADSOUL: Nuestros testigos están trabajando en nuestra plataforma para que esté lista para usarla normalmente, pero debemos evitar poner en sus manos mucho más trabajo del necesario. (No hagas spam ni estreses la plataforma innecesariamente. Piensa dos veces antes de dejar un comentario que no aporte ningún valor. Intenta votar con tu mayor porcentaje y da menos votos. No publiques más de lo que solías antes del Hardfork).
---
---
---