Today there was an election in a German State localde in the former East-Germany called "Thüringen"
The interesting part is that the most extreme parties have won most of the votes and a majority together.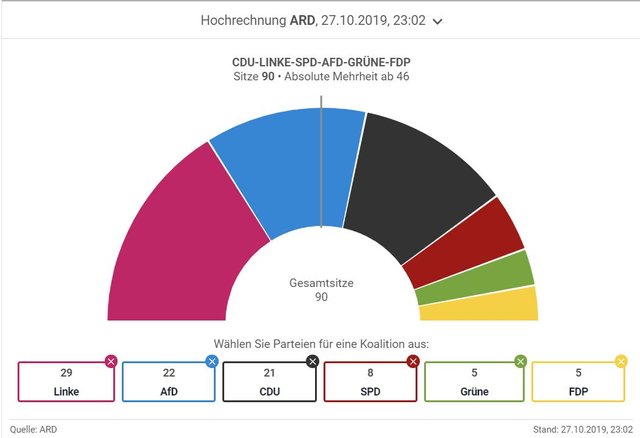 Protest against establishment
This is an absolut protest against the existing middle of the road political powers - those would be the CDU (right side or christian democrat party) SPD (left Social Party of Germany) and maybe even a the Green Party .
The Linke literally means Left and they are absolutely hardcore Socialist. They believe that enough stuff has been made and just needs to be distributed better. The AFD are the newly emergent extreme right party. They were formed as an anti - EUR party and were basically taken over internally by right extreme fractions to become the new national party.
People want Nazi
Nazi is literally the abbreviation of National Socialism and comes from the German word "NAtionalsoZIalismus" and essentially that is what is going on in Germany but really everywhere in the world.
Left and social voices are rising and more national movements are rising as well.
Even in the US we have this happening. Big capitalist are calling for social ideas such as increasing taxes and re-distributing wealth and then we have guys on the throne who admire Dictators and call for "America First", strength etc.
Ray Dalio has pointed to this phenomenon a few times and compared times to 30's of last century.
German Parties must learn and adjust
Back to Germany it's pretty ridiculous how the existing powers have reacted to what the people want. The AFD and the Linke are constantly being ridiculed. I get why but that is not the point.
The point is that people have real issues that are not being addressed.
If these problems do not get addressed there simply will be a similar radical solution as we had last century.
I hope we find better solutions