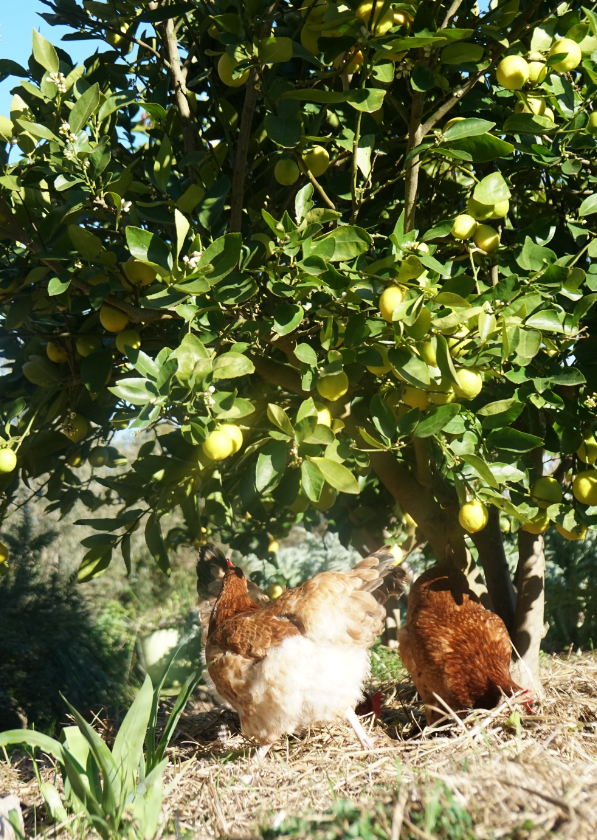 Strawbum: Hey! It's Strawbum here, ready to take you for a walk around @riverflows garden. You might remember me from such posts as 'Living in a Gated Community' and..
Riverflows: No, that's it.
Strawbum: What? You didn't publish any of my other eggscellent musings? Baaagggguuurrkk urk urk!!! Well, I hope you post this one, because it's SPRRRINNNGGGG and I have a LOT to bagggurk about! I'll start with this lemon tree. Goddess of all The Hens it's a good 'un. Glad it didn't cark it in the frost like it did in the Great Frost of 2015. The lemons are limes are literally FALLING from the trees. I'm not that - hang on are you taking a photo of Demelza's ASS??
Riverflows: Well, it's a cute ass. Look at that buttfluff. You all cheer me up, you do. Despite the lip you give me. Carry on. What else do you see in the garden to show @simplymike and the #gardenjournal2019 crew?
Strawbum: Well, this fennel's pretty cool. There's a lot of self sprouting fennel, but you weren't that organised to plant it properly, were you? Nevermind. I love that you made all these little garden areas for us to play around in. I mean, I get confused a lot so if you could stop opening and shutting gates that'll be cool. But I'm loving weeding in the kohlrabi, broadbean and purple sprouting broccoli forest.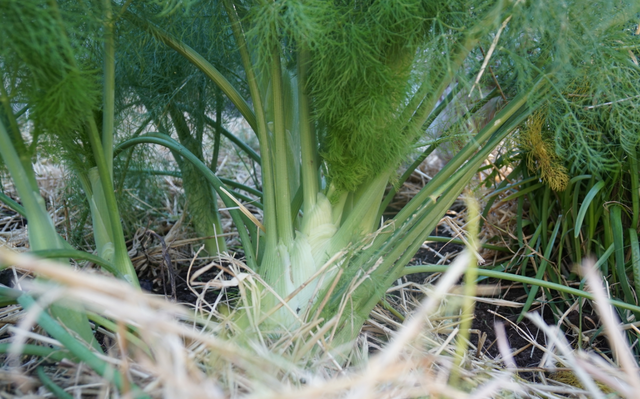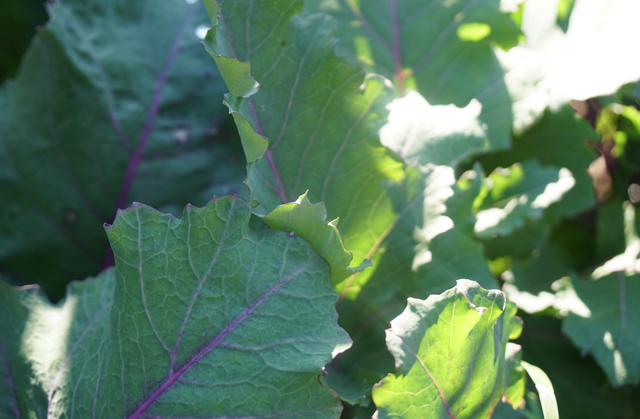 Riverflows: Oh yeah, so excited about the broad beans! The inside fluffiness reminds me of your butt, Strawbum! Plus, this poem.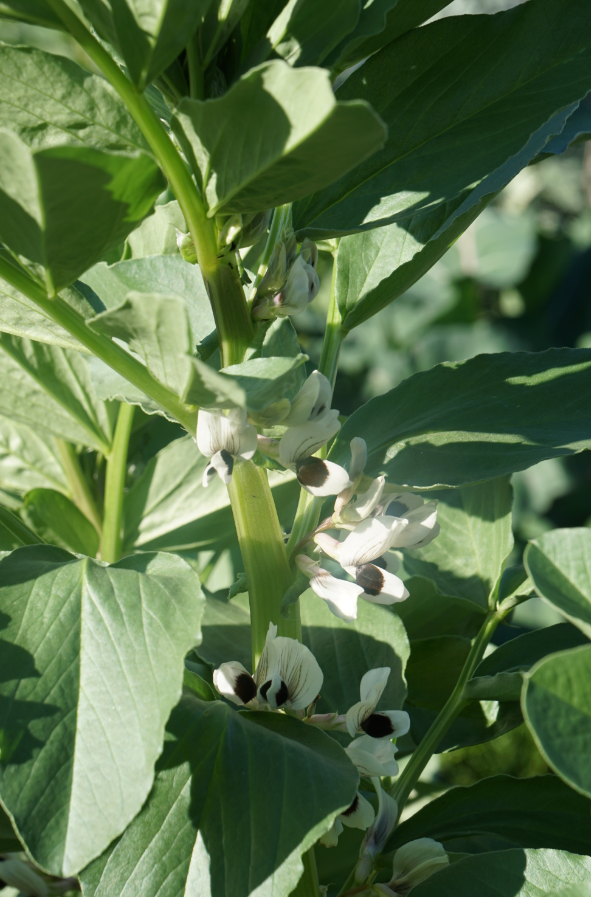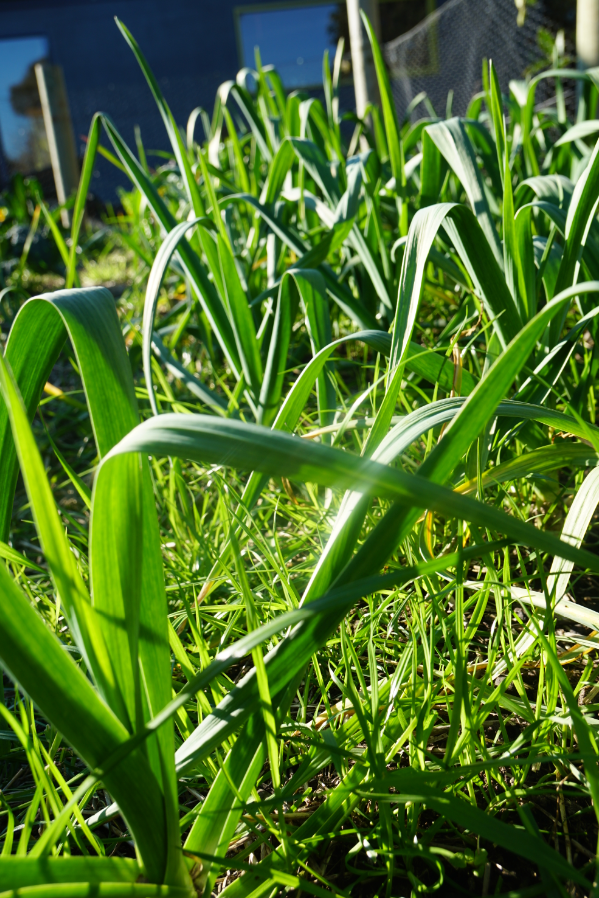 ---
The Broad Bean Sermon
Beanstalks, in any breeze, are a slack church parade
without belief, saying trespass against us in unison,
recruits in mint Air Force dacron, with unbuttoned leaves.
Upright with water like men, square in stem-section
they grow to great lengths, drink rain, keel over all ways,
kink down and grow up afresh, with proffered new greenstuff.
Above the cat-and-mouse floor of a thin bean forest
snails hang rapt in their food, ants hurry through several dimensions:
spiders tense and sag like little black flags in their cordage.
Going out to pick beans with the sun high as fence-tops, you find
plenty, and fetch them. An hour or a cloud later
you find shirtfulls more. At every hour of daylight
appear more than you missed: ripe, knobbly ones, freshy-sided,
thin-straight, thin-crescent, frown-shaped, bird-shouldered, boat-keeled ones,
beans knuckled and single-bulged, minute green dolphins at suck,
beans upright like lecturing, outstretched like blessing fingers
in the incident light, and more still, oblique to your notice
that the noon glare or cloud-light or afternoon slants will uncover
till you ask yourself Could I have overlooked so many, or
do they form in an hour? unfolding into reality
like templates for subtly broad grins, like unique caught expressions,
like edible meanings, each sealed around with a string
and affixed to its moment, an unceasing colloquial assembly,
the portly, the stiff, anf those lolling in pointed green slippers ...
Wondering who'll take the spare bagfulls, you grin with happiness
– it is your health – you vow to pick them all
even the last few, weeks off yet, misshapen as toes.
Strawbum: Isn't that Les Murray?
Riverflows: Why, yes, it is. You clever chook chook chook chook.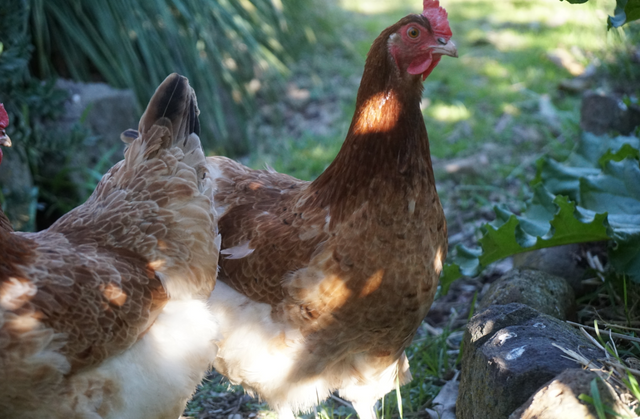 Strawbum: Don't patronise me. I'm busy weeding the garlic patch.
Riverflows: Well, at least you're good for something!
Strawbum: Cough cough. Um, eggs? Plus we do an amazing job at planting tomatoes!
Riverflows: Dude. If you call shitting seeds from your butthole an amazing job, by all means. Carry on. You don't even know what type of tomatoes they are. This year I've started about ten different varieties in my little greenhouse, including a cherry tomato called 'Ice', which is meant to be white!
Strawbum: Whatever!!! Baaaaaaaggggggguuurrrrrrrrrrrrrrrrkkkkkkkkkkkkkkk!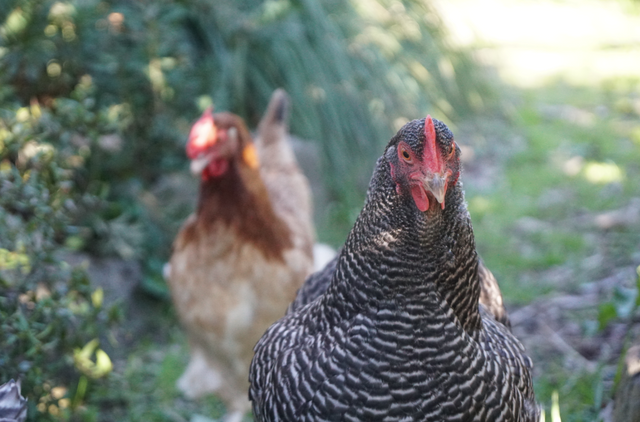 Riverflows: Did you just fly across the garden because you were scared of Demelza? She's your head hen - you oughta mind her.
Strawbum: No, no, I was just showing you I could fly. Besides, check out these snowpeas! Good huh? See what a good job I do of fertilising the garden for you? You can be so ungrateful sometimes.
Riverflows: Yep, well, I did plant them. Plus, you may have noticed I've been busy planting herbs around your coop? To keep the bugs and insects out? I've been putting oregano in your nesting boxes, and I put oregano oil in your drinking water to keep the viruses at bay.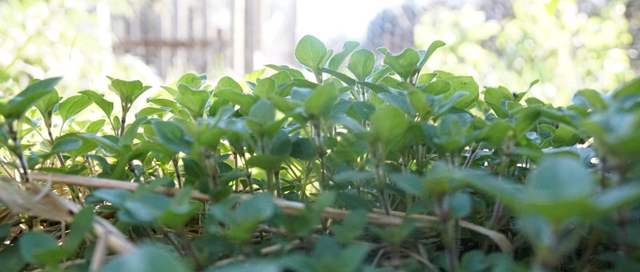 I transplanted the sage, made a new garden bed - a kind of hugelculture thing where I put a heap of pigface cactus under the dirt so supply water to the roots, reckon'd work really well. I got some borage from a guy in town that's super into permaculture and Korean Natural Farming. He actually knew what crypto was and I'm trying to get him onto Steemit. I'm so excited about meeting him - we're going to put our heads together to see if we can't get more people in the community swapping produce and growing food. I've planted about thirty trays of vegetable seedlings ready for the garden swap at the end of October. By then it'll be proper Spring!! But I'm pretty lucky to have a lot of greens coming out of the garden right now. Hey, Strawbum - are you listening?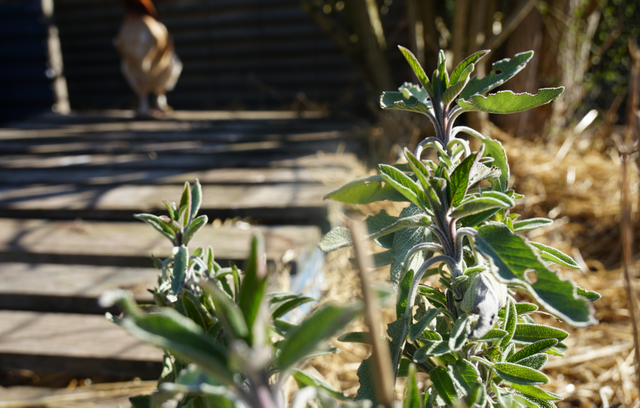 Strawbum: Baarrgurrrrkkkk..... sorry, know you were there but you moved an inch and scared the bejeezus out of me. Can you stop doing that? Gotta any of those sunflower seeds for me? I can show you how I can plant them by spitting them out of my butthole.
---
---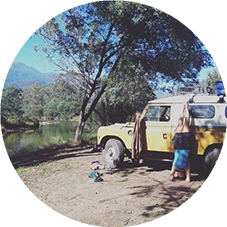 @naturalmedicine II Discord Invite II #naturalmedicine



Discord 🧘About




Ò