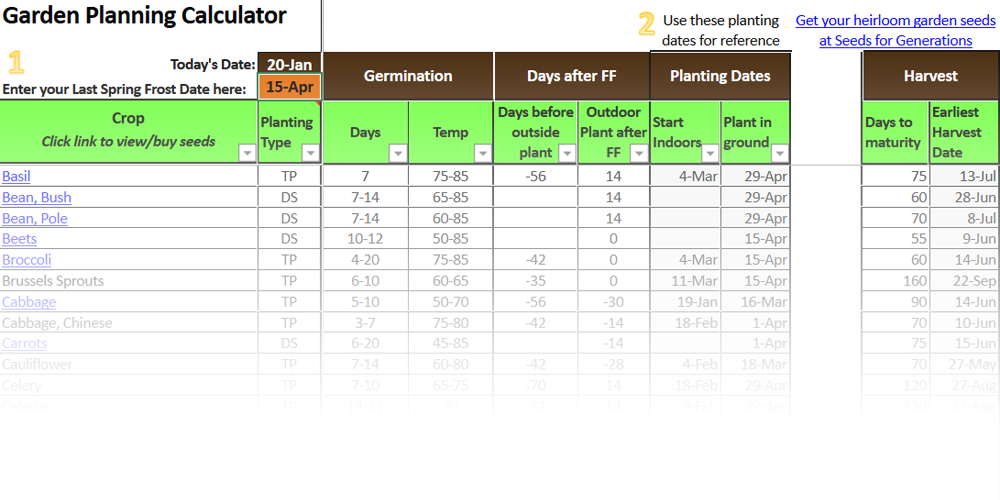 Source
Who is giving this away?
https://seedsforgenerations.com/
Seeds for Generations
Our family business sells organic heirloom vegetable seeds and related gardening products.
This is a way for my kids to learn hard work, diligence, and teamwork, and is a great supplement to their homeschooling curriculum.
What it is:
It has most popular vegetables and some herbs
It tells you things like

📅 when to

start your seeds indoors (if it's not a direct in the garden type of plant...)
transplant or direct sow in the garden.

If you should direct seed or start seeds and transplant.
Days to germination and recommended temp (in Fahrenheit).
Days before or after First Frost to plant.

You will need to click on the gold date to enter your last spring frost date.

Days to maturity and Earliest Harvest Date
Why I'm sharing this info
I like to garden.
Store bought 🍅 tomatoes taste like cardboard!
I start seed indoors, buy transplants and direct sow seed in the garden.
This calculator takes all the guess work about when to do each of the above.
I thought some of you fellow gardeners might find it useful, as well.
How to get it:
Go to this web page
Give them your email.

They will email you a link to the FREE online planting Garden Planning Calendar
NOTES:
This may only work in the United States,

or maybe the entire northern hemisphere.

We are opposite of you who live in the southern hemisphere...

You can sort this table.

Click on the little box with the down arrow (carat).
Pick ascending.

I'm doing this with both the "Start Indoors" & the "Plant in ground" columns so I can see if I've missed a date and when the next date is I should be doing something.

I just discovered I should have planted my bunching onion seed last month. OOPS. Better get on that!
Enjoy & God Bless,
WizarDave
🌽 May you have an abundant harvest this year! 🍉