These beautiful azaleas were not included in my recent post about
azaleas
because they had only begun to bloom, just a little. For some unknown reason, this particular species is always the last of the azaleas to bloom in our neighborhood. In the last day or so, however, the bushes are really beginning to fill with flowers!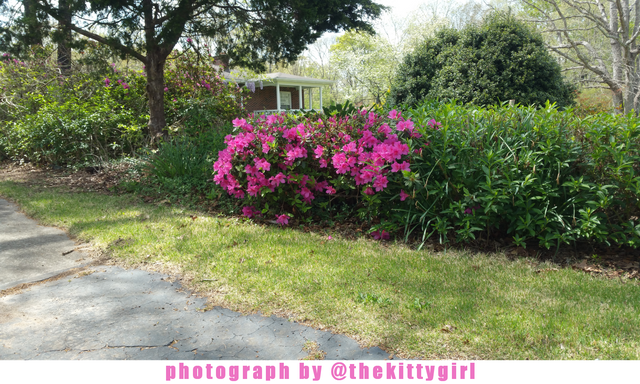 This hedgerow of azaleas is along the driveway, and the bushes to the right have not yet bloomed. In another week or two, there will be a long "wall" of fuchsia-colored blooms there!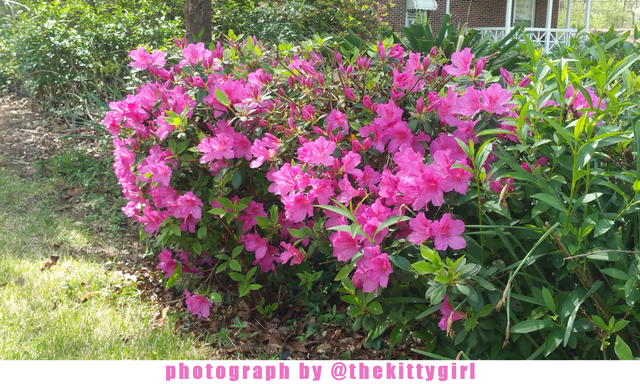 I was told that these particular azaleas came from my grandparents' property — that belonging to my father's parents. According to the story, someone (we don't remember who it was) visited Formosa (an old name for the island commonly known today as Taiwan) and brought these back for my grandmother. My guess is that it might have been my Uncle Ray, who was in the navy and traveled extensively during his career in service. I think it more plausible that "cuttings" were taken from the plants in Formosa, rather than entire bushes brought back.
The name Formosa dates from 1542, when Portuguese sailors sighted an uncharted island and noted it on their maps as Ilha Formosa ("beautiful island"). [source]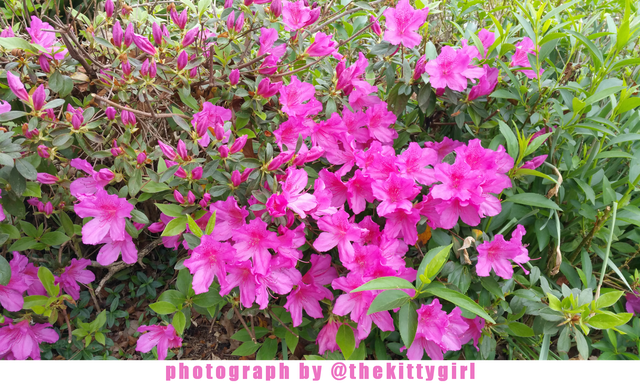 Anyway, my grandmother came into possession of them, which were planted beside her house and they thrived. Years later during a visit, my parents accepted an offer of some cuttings/plants, and brought them here. Because of their provenance, I refer to these as the "Formosa Azaleas."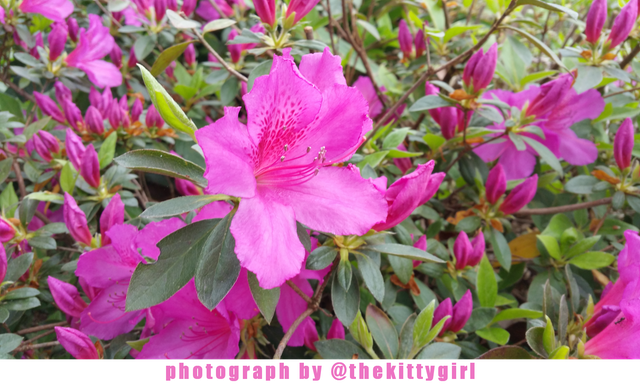 This species can grow quite large, unless pruned — taller than I am, which is amazing because I am 5'8" (172.7 cm). Behind the house, there's another hedgerow which I never prune, so they make quite an impressive sight when they are blooming! Here is my bicycle parked in front of them a few years ago when they were in full bloom: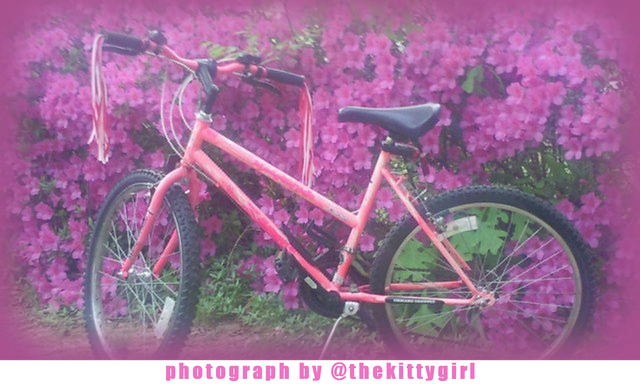 The flowers are big, too, so that keeps the bees happy! I had one bee, buzzing in an annoyed manner while I was photographing his flowers... 😂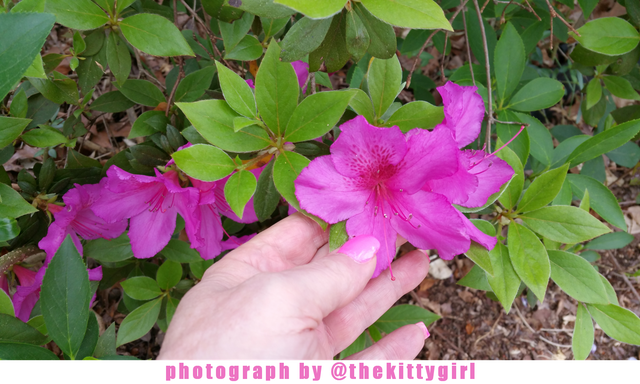 While out admiring the pretty flowers today, I noticed that the Chinese Wisteria (Wisteria sinensis) flowers are also blooming now, too, right in front of one section of these azaleas!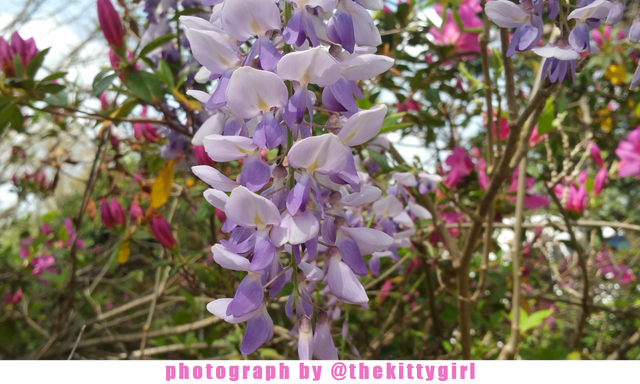 If you are curious to know how I determined which exact genus and species of Wisteria this is, read the post I made last year on these flowers; you can see additional photos of them in that post, too. But first, more photos from this year!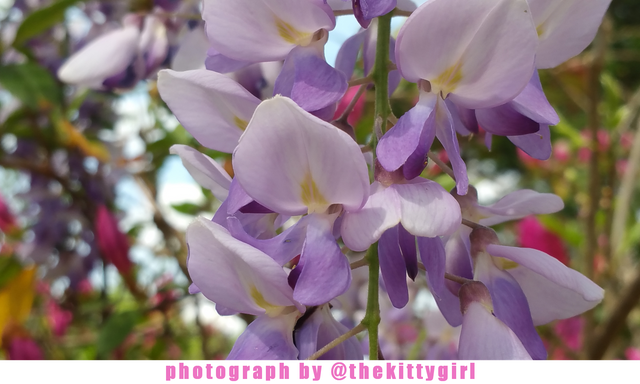 Wisteria flowers are very soft and delicate. Just touching them will often cause some of the individual flowers to fall from the racemes, which can quickly make a mess on the ground when the wind blows. They have a very sweet and lovely fragrance, though, which easily permeates the air around the plants. In fact, their fragrance as well as their beauty make them prized by gardeners.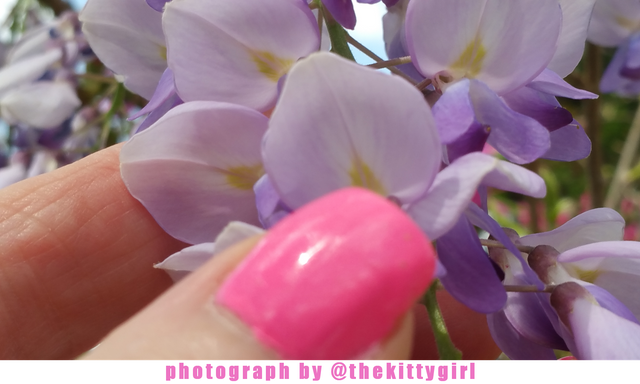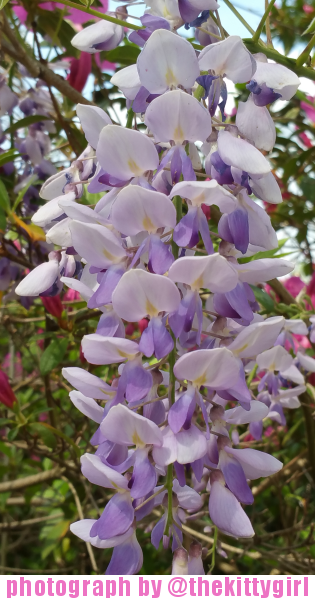 The only downside to the Asian (Chinese, Japanese) varieties of this plant is how prolifically they grow. It is a vine that reaches out to entangle and ensnare whatever is in its path. The vines will grow over entire trees and buildings, if allowed,
When I was a child and Mom wanted a Wisteria, my father got two or three vines for her. He put a wooden post into the ground and let them spiral up it. He kept them meticulously pruned and under control. Eventually, all the vines grew thicker until they took on the appearance of a tree with a twisted trunk, and produced flowers every year, which my mother loved.
Fast-forward a few decades and now wind and/or birds have spread the Wisteria to another section of the property where it grew out of control when my father lost his eyesight and ability to work as hard as he always did when he was younger. I have spent many an hour over the past few years cutting and pulling the rampant vines. They grew in-between azalea bushes, and even up into the canopy of a cedar tree nearby! That was a real chore getting all that out of the tree. They're coming back again, relentlessly.
So, if you think you want some Wisteria in your garden, carefully consider the vigilance and work that might be involved in keeping it under control. But, you will smell sweet if you do the work in the spring when the flowers are in bloom! 😁

 😊
SOURCES
   1 Wikipedia: Wisteria
   2 Wikipedia: Wisteria sinensis





13-Apr-2019