The secret to making it HAPPEN in the face of major challenges...
Everyday I strive to stay positive and persevere through these tough beginning stages of a new farm.
I've had market gardens in the past, but they were either partial income or I was working for a non-profit organization and getting a paycheck. Now it's all or nothing! However I am so down to make it happen.
I talked to a good farmer friend of mine today who is experienced but also in the beginning stages at his new spot. We don't ever complain to each other about how tough things are. We just share with each other how much we LOVE to farm and all of the trials and tribulations but always in a good way, always looking towards the future. We share information and techniques and then we always talk about how we should hang out and have a glass of mead, but in reality we are both just way too busy. So it goes for now...
Next I went to visit my old work, Red Willow Farm. The new farmer who I trained to take over my job is doing incredible. She is a natural and understands nature like the back of her hand. I could see so much pride in everything she was doing there, always with the help of the other volunteers and employees. They deal with all SORTS of crazy drama and adversity over there, just like most non profits do. But they ALWAYS keep it positive and work hard, and focus on the good and let the negativity just roll right off their backs. It works great for them. They are respected and looked up to by many. And they change lives daily.
My point is, that positivity is key to actualizing your own dreams. It's key to becoming self starting and necessary to keep things rolling forward in the face of adversity. NEVER let anyone strip that power away from you! Often times you can't control what happens around you, ONLY your reaction to what is happening. If you stay positive, resolute, and focus on the prize, you will make it through. Don't give the negative forces in your life any unnecessary significance or energy and they will likely just fade into the past. Just watch them roll on by, and be happy when they are gone!
I want to give a big THANKS to everyone for reading my posts and supporting me on this new journey! I really appreciate you all.
Also, the sunset was beautiful up here yesterday evening. Check it out: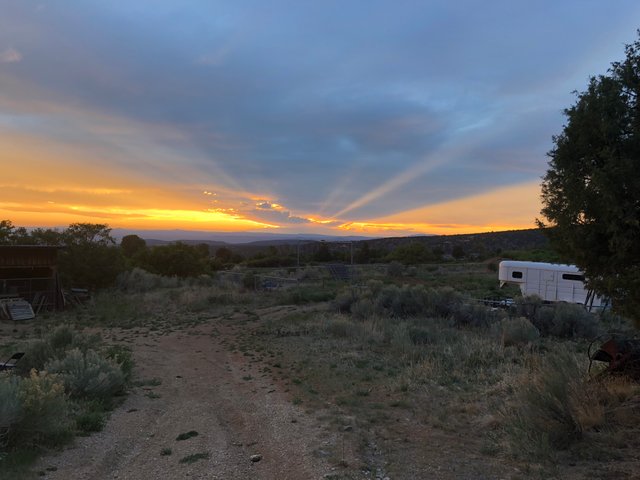 Talk to you next time my friends....