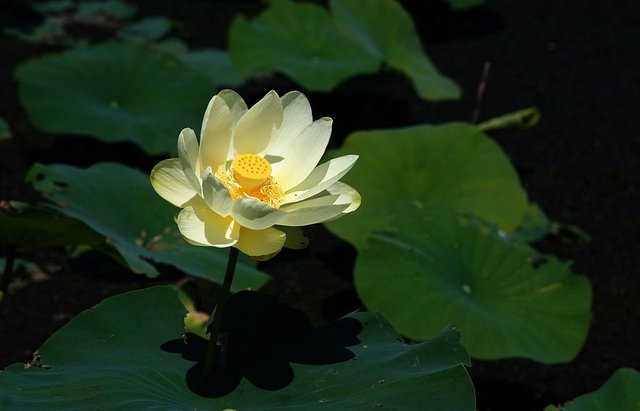 American Lotus (image source)
Many of you have followed our journey in making a pocket pond within our food forest. A pocket pond is a term for a little body of water tucked into the landscape bringing in all of the goodness water features do!
Here are 3 previous posts on the process. Cool to see what we've made from a hole in the ground!
Pocket Ponds In the Homestead Food Forest
Looks Like A Pond! Concrete Liner Finished
DIY Pocket Pond: Catching Water on the Homestead
The space has gone from this: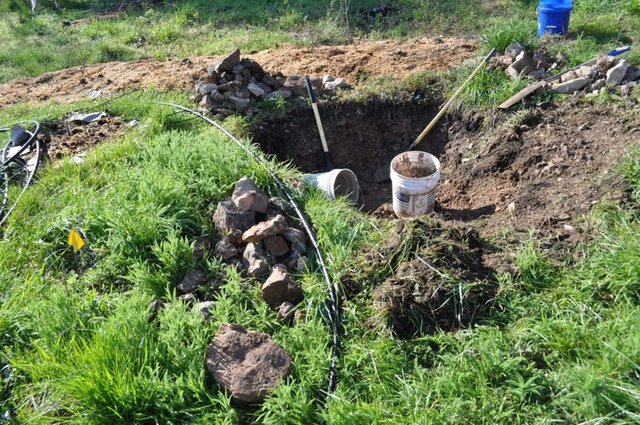 Beginning of digging the hole for the pond
To this: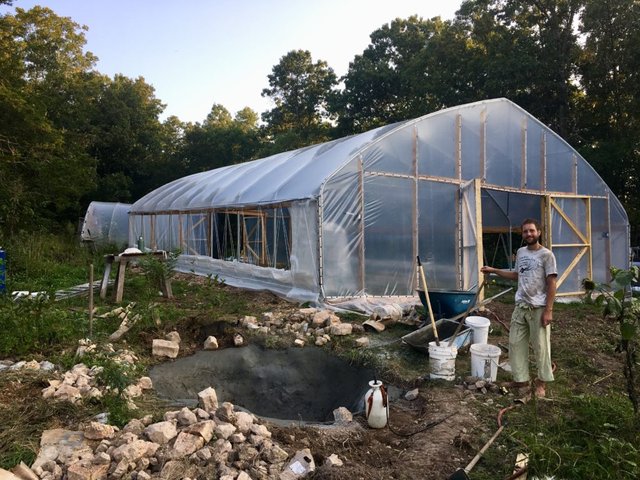 Pond after we laid chicken wire inside and began the cement work
To this: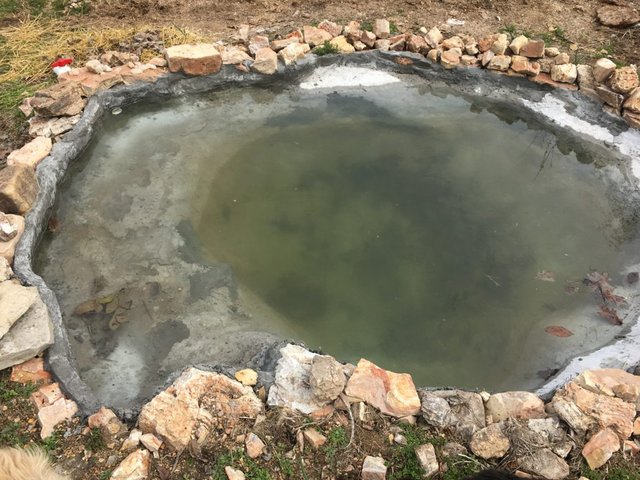 Pond is 3 ft deep in the deepest area, and is 7 x 10 ft roughly in a kidney bean shape. It has a water shelf that is 1.5 ft deep and I was thinking I could put cinder blocks in the deepest part of the pond to act as a plant stand for the floating plants.

Now that spring is nearly here we've finished the body of the pond and have planted out the berm, it is time to find some plants for the pond!
The Berm & Surrounding Food Forest
One of the most delicious things about this pond is that it nestles right in the middle of some pretty rich biodiversity and will provide habitat and water for pollinators, frogs, other winged ones and other creatures! As it's winter, I don't have any stellar photos to show. Right now it looks just like a bunch of mulch with a few sticks poking out of the ground, but rest assured that it will be amazing & fruitful with each year's growth!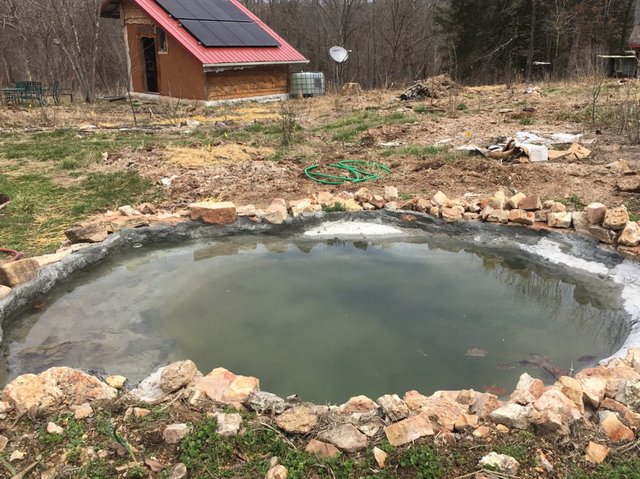 Pond with a view of the Solar Shed. On the other side of the pond is the food forest.
As I detailed in a post I put on permies.com,
I also sowed echinacea, our native wild skullcap, agastache, clover and we planted a lingonberry in the berm.
Concerning the food forest,
Aronias and wild false indigo are in a hedge to the north of the pond and the food forest mentioned earlier is to the northwest. It has a paw paw, asparagus, hazelnuts, blueberries, agastache, currants, serviceberries, mulberries, apple, nettle, yaupon, walking onion and strawberries. to the west we have raspberries, lavender, wild false indigo
In the post I mentioned that I was looking to trade thornless blackberries (Chester, Triple Crown), boysenberries, Jerusalem Artichokes, Heritage Raspberries, loganberries for awesome permaculture pond plants! I am currently trading someone thornless blackberries for Chinese water chestnuts and Louisana Iris - awesome!!! Do you have some pond plants you'd like to trade for the plants I've listed above? If so, contact me!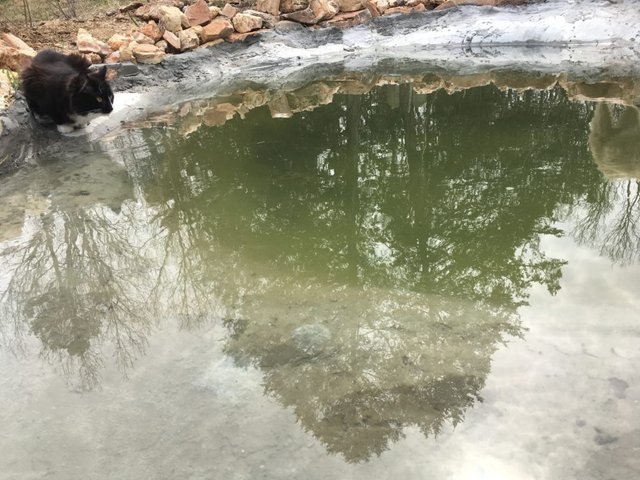 Our cats and dog love drinking from the pond. The gently and varied sloping sides allow them to perch there and also provide the gradual sloped needed by frogs.
Permaculture Pond Plants
Along with those two plants, I have my sights on a few others. I have been doing some research and will distill some of the information here.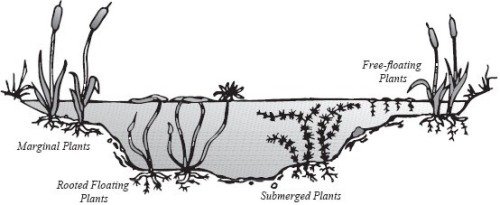 Image source: Virginia Cooperative Extension article, Urban Water-Quality Management: Purchasing Aquatic Plants. ID 426-044
I found a great resource in Deep Green Permaculture's Building a Small Water Garden.
As seen in the diagram above, there are varying levels and functions of pond plants. Plants I am focusing on getting from each category are:
Rooted floating plants like the Water lily or American lotus.
Submerged (Oxygenating) plants like the Coontail aka Hornwort.
Floating plants like fairy moss (azolla) or water hyacinth
Marginal plants like Aquatic mint, chinese water chestnut, cattail, Louisiana Iris and others.
From all of my research, these are the plants I'm going to focus on getting to start. Below I'll walk through some of the reasons I've focused on these plants out of the sea of plants that fill each of these categories! If you're looking for a larger list, the website I linked above is a great place to start.
A good rule of thumb also from the site above:
For coverage of the water's surface:
One third to one-half of the water's surface should be covered with free floating and rooted floating plants. 
Or, conversely, no more than half of the water's surface should ever be covered with floating plants
Water Lily
I am choosing the water lily (Nymphaeaceae) because I've always thought they are so beautiful! There are also many frost hardy varieties and that's important to me when choosing plants. I want plants that aren't picky and will thrive without my doing a lot and that will come back year after year. There is a float in a local river where I spied some water lily and I may go there to get some for my pond.
American Water Lotus
I am excited about the American Water Lotus (Nelumbo lutea), also known as Macoupin by Miami-Illinois Native Americans, is a native water plant with a laudable edible tuber! The seeds are also edible and known as "alligator corn" - with 2 edible parts and beauty, hardiness and lotus flowers this one is really a no-brainer. I have long wanted to grow and be around this plant!
Coontail
I chose the Coontail as I think I spotted it in a local spring so it will be very easy to get and will be hardy in our area. If possible, I want to get plants that are native to the area because they're guaranteed to be adapted. This plant oxygenates the water while providing nice cover and food for fish.
Azolla
Azolla is a plant I did a lot of research on yesterday and I find myself increasingly excited by it! Many people may be more familiar with another surface plant, duckweed, that is used for fast growing animal fodder or an easy to grow biofertiliser. Azolla seems to be getting more popular and I was happy to learn more about it. I've known people who grow duckweed and I haven't heard things that make me want to grow it! Azolla, on the other hand, has some fascinating characteristics and is also a popular fast growing fodder and biofertiliser.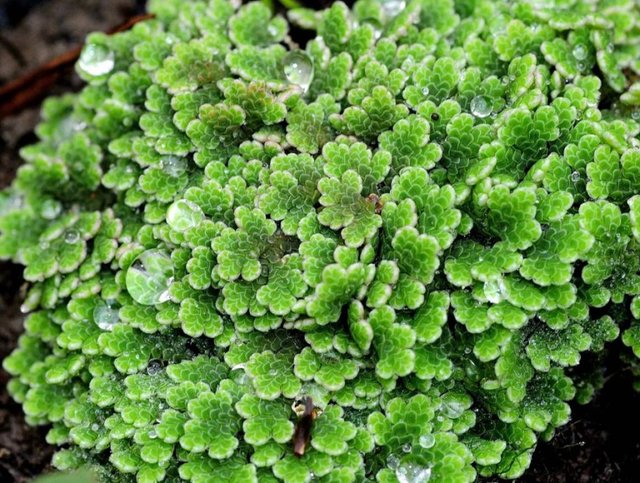 You can see why they call it water fern (image source)
Check out this awesome info from Satavic Farms:
Azolla is a free-floating water fern that fixes nitrogen in association with a specific species of cyanobacteria. Azolla is a renewable biofertiliser and can be mass-produced on the farm like blue-green algae. It is a good source of nitrogen and on decomposition, a source of various micronutrients as well. Its ability to multiply fast means it can stifle and control weeds in (flooded) rice fields. Azolla is also used as a green manure and a high-quality feed for cattle and poultry.



This news about its "association with a specific species of cyanobacteria" is what really perked my ears because it turns out azolla, over millions of years, has developed a symbiotic relationship with this bacteria (a type of algae) and fixes nitrogen as an offshoot of their relationship! So I get rid of algae in my pond and get a nitrogen rich prolific water fern out of the deal? I'm in! Let's see how this goes, but if it is prolific, I'll be able to skim it off the top of the water if it gets too excessive and compost it or feed it to our earthworms (it makes great earthworm food!)
Water Hyacinth
I will foremost caution that in many places this plant has the potential to become seriously invasive! With our hard frosts, it's not a worry in our zone 6b in Missouri, but you should be aware of this and be careful about "disposing" of it in local waterways in your area.
This plant is prolific! It has a lovely purple flower and floats on top of the water with a little balloon like sack. It purifies the water while being beautiful- a winner! It can also be used a biofertilizer or animal fodder.
Chinese Water Chestnut
Lastly I will talk a bit about this plant. I have heard that the fresh taste of one of these is nothing like the canned ones most of us have tried!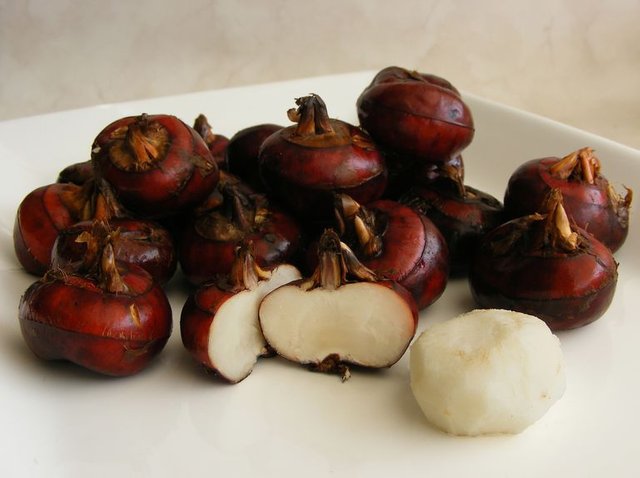 (image source)
A tropical/sub-tropical sedge (like a grass with a long green stalk), the Chinese water chestnut produces a delicious corm that spreads and expands each year! This one, as with other marginal plants, needs to be grown in a bit of "muck" or a shallow bed of soil and I made the shelf for just this thing. We may also put some of these into a bathtub with shallow soil and water and see if we can propagate a lot of them. You can find more info here.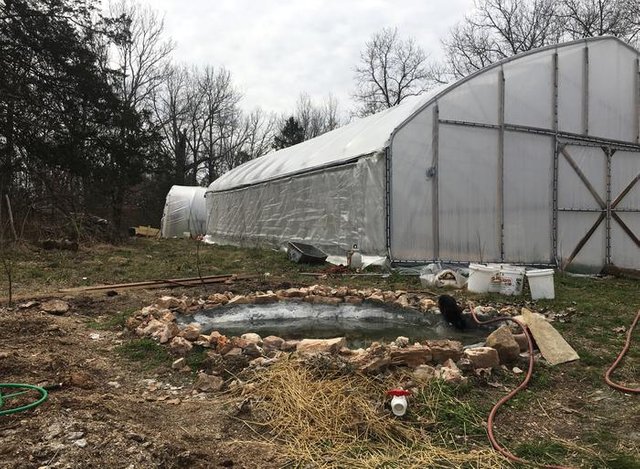 As you can see I am totally excited about these water plants and I've had so much fun learning about this whole new world of water gardening. The sky is the limit and I can't wait to see how this area fills out and becomes so lively!!!
What are some favorite water plants that you've cultivated or are must-haves in your pond/future pond?
---
Posted from my blog with SteemPress : http://www.ozarkmountainjewel.com/2019/03/21/permaculture-plants-for-water-gardens-zone-6b-ozarks/
---