It would be nice to write that the gardening season is on but that would be a lie. We're not there yet, the weather is still cold and it could get even colder.
Till then we can do some planning and seeds can be bought as well. We have a lot of seeds from last year but there are a few missing.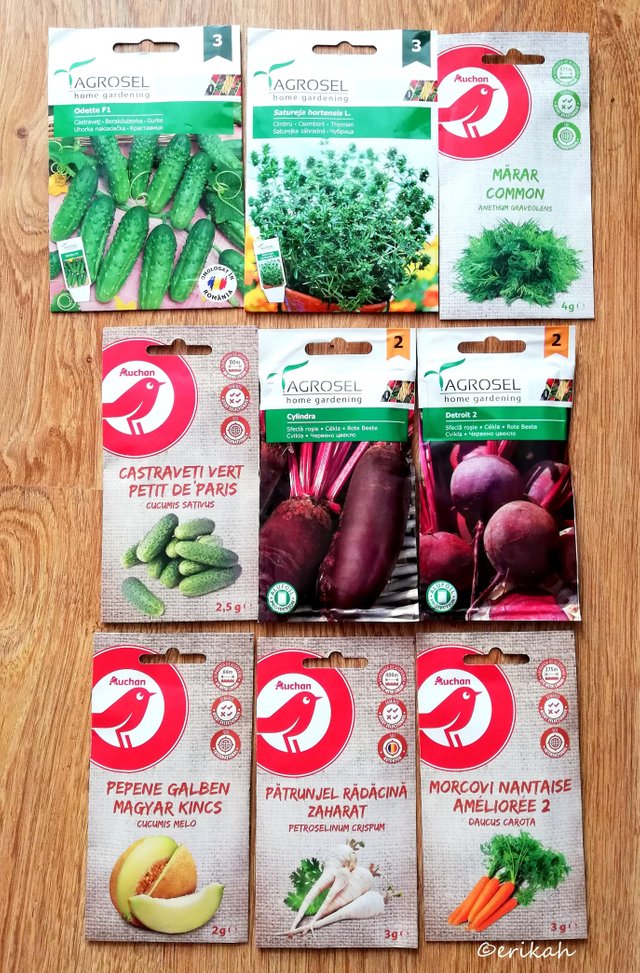 The first is cucumber, which is very important, we grow it every year, eat it fresh and make pickles as well. I also use it to hydrate my skin.
Next in line is Summer savory which is needed when I make pickled cucumber and also for soups and pottage.
Dill is also a must.
Two different type of beetroot which is my favorite as salad during winter.
Honeydew (melon), there's no summer without it. I just love to go out in the morning, pick one and have it for breakfast. It's the best breakfast during summer.
Carrots and parsley are also necessary for cooking.
So this is it for now but I want to buy some black tomato seeds and mint. Mint is something I've been dreaming of planting and now is the time. Tomorrow is shopping day, let's see if I can find what I need.

Check out my #SevenDaysOutside Challenge!

These are the days and the categories:
#WindowMonday – Windows
#DoorTuesday – Doors
#RustArtWednesday – Rust
#GateThursday – Gates
#StatueFriday – Statues
#BrickSaturday – Bricks (bricks only, no pavement elements or cobblestones please)
#StreetlampSunday – Street Lamps
Make sure you write a description of the photo you are posting. Share as much details as you can, like where that statue is placed (in a park, at a museum), what it represents etc. Make it enjoyable.
Use the #sevendaysoutside tag along with the daily tag and tag me, @erikah!
Goes without saying that you can only use your own photos. No paintings, no drawings, no digital art please! There is no prize here, this is just for fun.


Do you use eSteem?
eSteem is a Mobile📱& PC💻 app. for Steem with great features. Also, you get Incentives posting through eSteem apps.
eSteem Spotlight; eSteem provides rewards for it top users in Leader Board with most Posts, Comments and Highest Earners.
Download eSteem for your Mobile📱
Android devices Google Play Store
IOS devices Apple Store
Download eSteem Surfer for your PC💻
Available for all OS Github
---

Proud to be a member of The Steemians Directory