A Little Sad Face, So Back Out Into The Storm I go.
As I walked into the house my little lad was upset that I had left him in the house while I was out sowing seeds, he is only 2 going on 3 but he was so upset that I had gone out with out him.
My wife told me that he had done nothing but ask for me so I decided to take him out to the greenhouse to cheer him up.
Now the wind had calmed down and the rain was no more than a shower, it seemed like the perfect time to take the little lad across my garden to my greenhouse.
Once inside he wanted to see what I had been doing so I showed him, he kept asking to sow some seeds and I couldn't say no, there is something about showing a child how to grow things that makes me happy.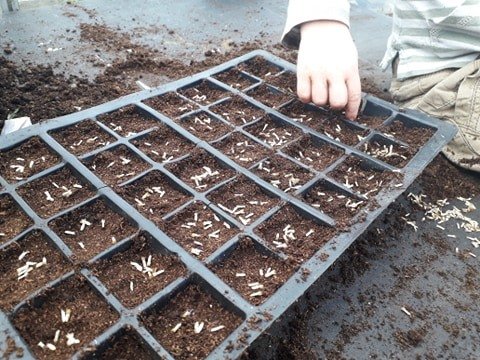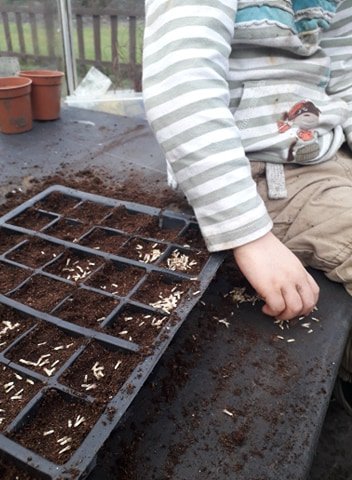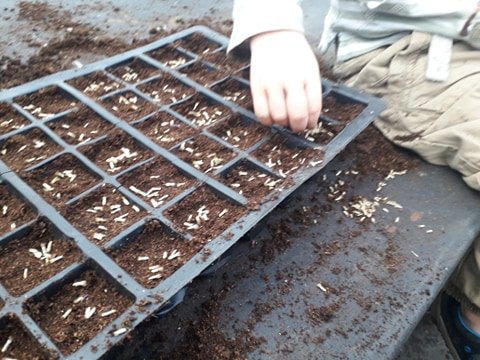 The only thing that I had left to sow was some cornflower seeds, these I bought from an eBay seller who sent me loads more that what I had paid for.
The seller was a nice guy and when I bought from him I had explained that I was planting these in my butterfly/ bee garden and he wanted to know more.
I told him about all the work that I had put in to make this garden come to life, from clearing the land to sowing and digging and he wanted to help me.
I bought 350 seeds but he sent me 3000 seeds.
My lad was so excited about sowing these seeds, he got into the compost and laid it in the seed trays, I opened the packed and away he went putting the seeds in the tray.
He even covered the seeds with more compost before watering them in, his biggest smile was when he put the cover over them, he knows the next time he looks in the tray there will be seedlings popping up.
Last year he did the same and he seemed to remember doing it and did the same this year too.
It's nice to show someone else what I am doing and it makes me very happy to see a happy boy who I think one day will have his own garden.
Once we had finished it was a quick run back to the house as the storm had returned, he laughed as I slipped on the mud and got a dirty bum. Kids hay, didn't even ask if I was alright.
bath for me and him and a nice hot drink to warm the cockles.
happy steeming guys :D