Starting the Tomato Seeds For the Garden
Hello, steemies!
About 2 weeks ago, I decided to start my first batch of tomato plants for my garden. I plant several different varieties every year, so I have 7 different seed types to start this year. The first thing I had to do was to get the seeds. Some of the seed packets were bought locally, but I had to order 2 different types because they were not available locally.
The varieties are, Amish Paste heirloom, Blue Beech heirloom, Roma VF, Black Krim heirloom, Amana Orange heirloom, Better Boy hybrid, and Big Mama hybrid.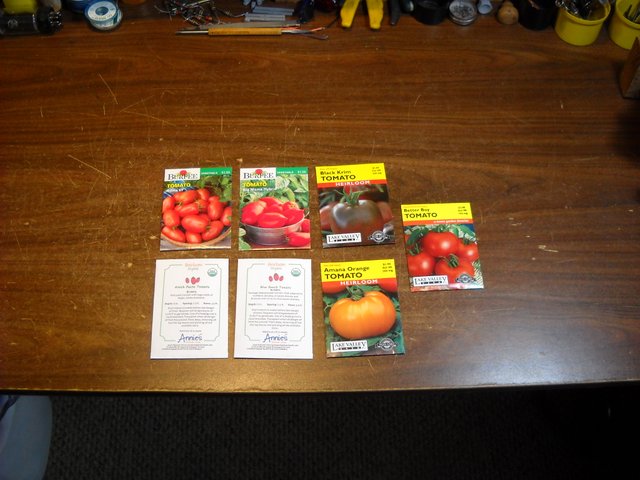 The next thing to do was to prepare the seed tray for planting. I have a seed tray that holds 18 seed starting pots. Those all had to be filled with seed starting soil mix. I used a combination of these 2 bags mixed together. I had about a half a bag of the Miracle Gro left over from last year, and I added the contents of the blue bag to that and mixed them up.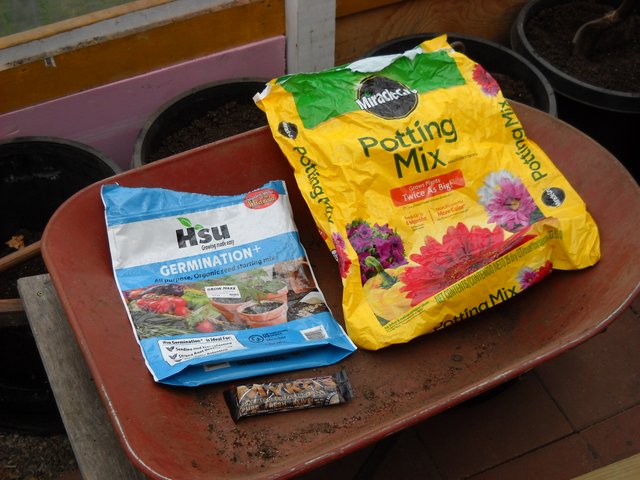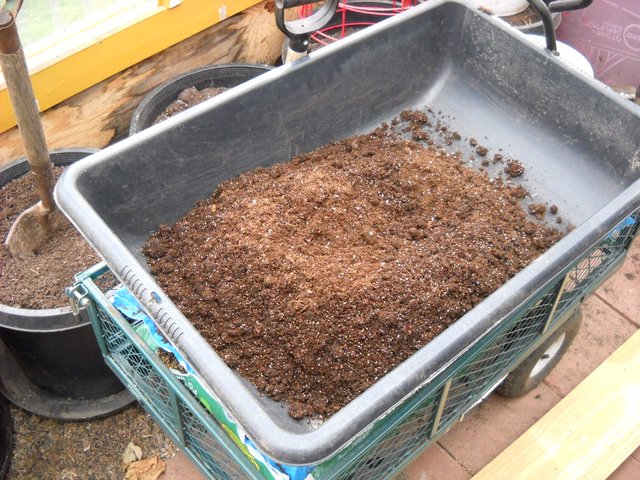 Then I got my seed starter tray and filled up all the little pots.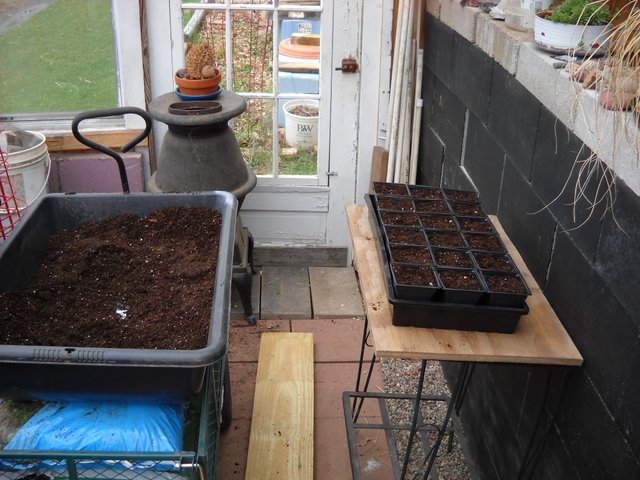 Once I had all the little pots full, I brought the tray into the house and prepared to plant the seeds. I have a seed starting heat mat that I use to speed up the germination process for the seeds, and to get better results with the seeds.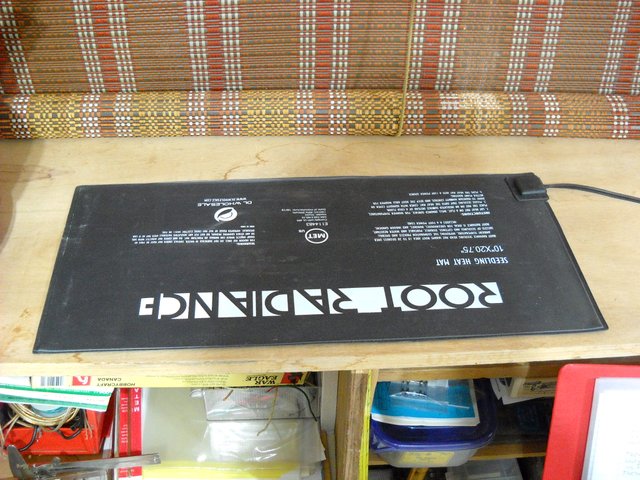 The seed starting tray just sits on top of the heating mat, and that warms up the soil for more reliable germination.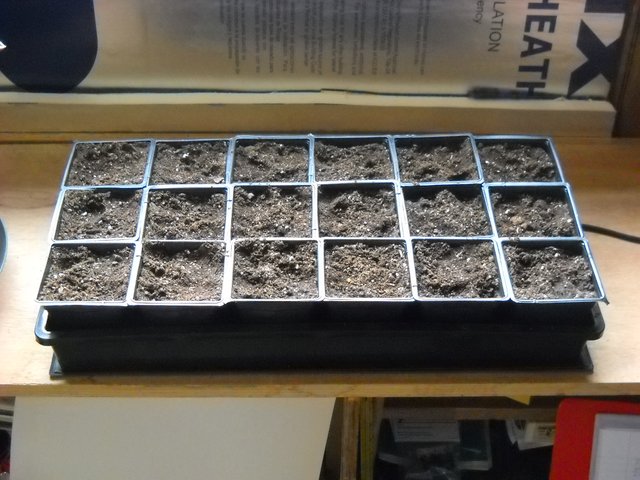 I chose to plant the paste tomato seeds first. From left to right, Amish Paste, Blue Beech, and Roma VF.
I planted 6 pots of each seed type, one seed per pot.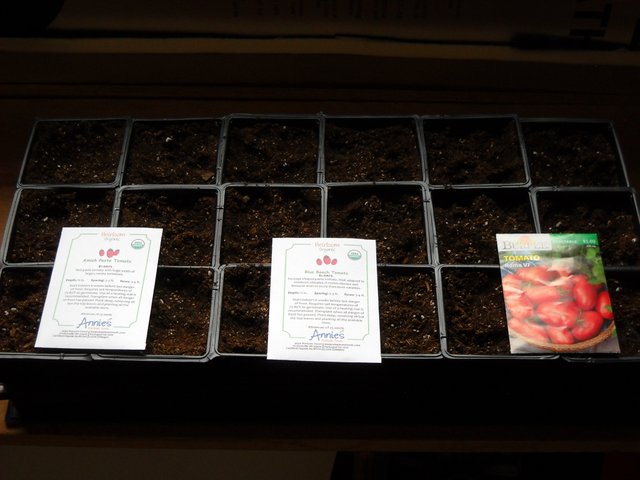 The seed tray has a clear cover which lets in the light, but holds in the moisture so the soil won't dry out too fast. The cover collects the moisture condensation.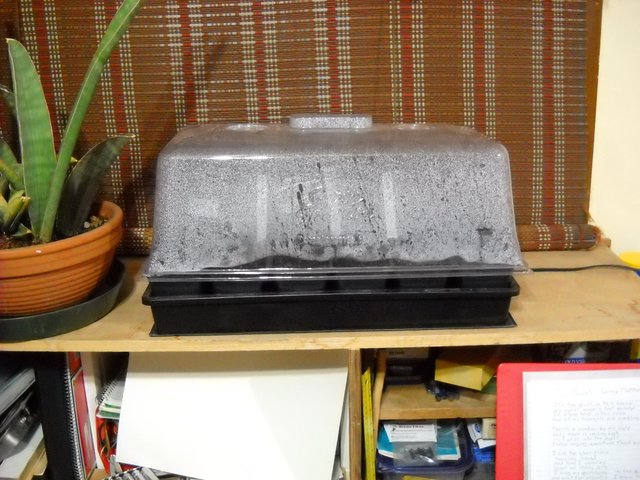 It took less than a week for the seeds to come up. Surprising to me was that all the seeds came up this time. Once the seeds were up, I hung my little seedling plant light over the plants to give them enough light to grow properly. This picture was from 3 days ago.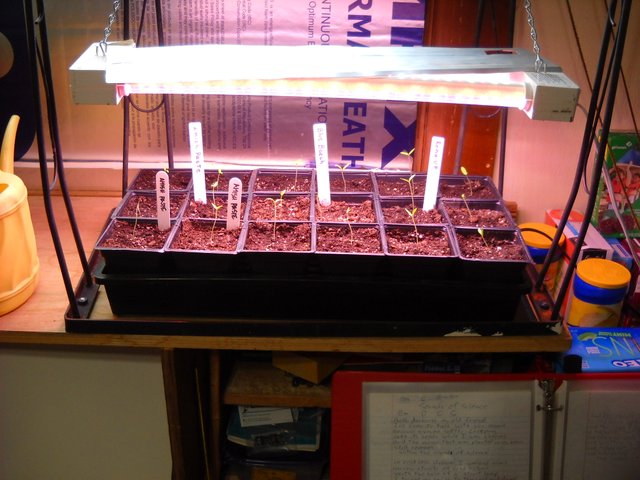 Yesterday was a nice sunny day, so I took the seed tray out to the greenhouse for the day to give the tomato seedling some real sunlight.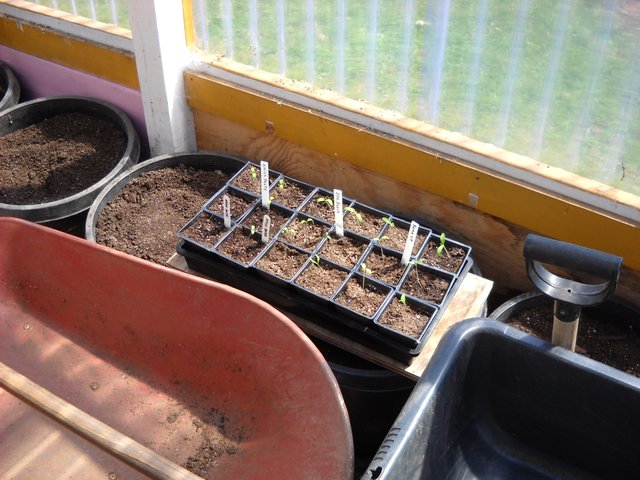 I can't leave them in the greenhouse overnight yet because the nights here still get below freezing, and I don't want to risk damaging the small plants. I should be able to leave the plants in the greenhouse in another week or 2. The greenhouse does provide some protection from the cold at night, but I want the plants to be a bit bigger before I risk leaving them out there.
That's all I have for this post, thanks for stopping by to check it out!