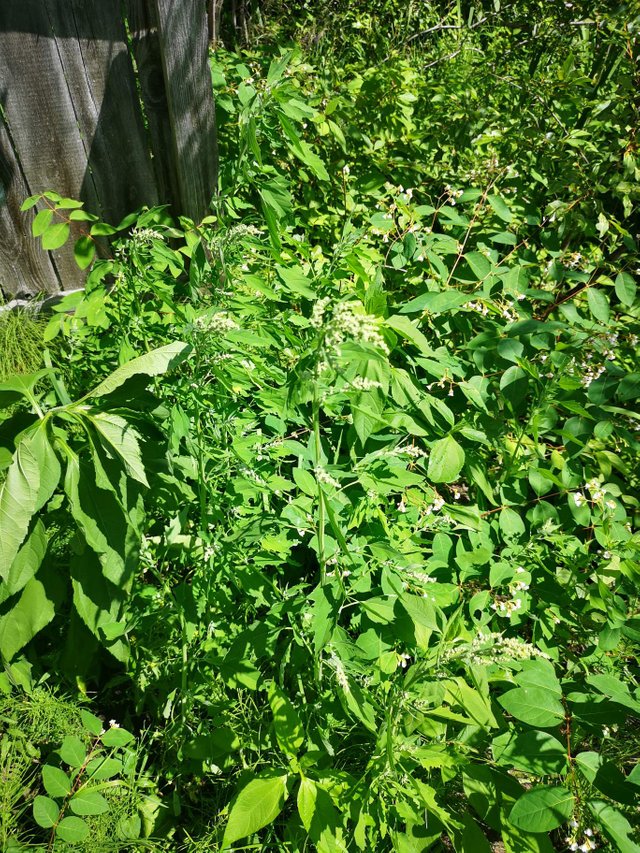 Can you see what's happening here? Neither can I. This is the result of having such a busy summer and not having enough time to tend the garden on a regular basis.
So somewhere in there might be potatoes. I used an app called Picture This and it identifies it as Jerusalem artichoke and I did plant that last year but I forgot that I did and tilled the land in the spring. So I'm hoping that it somehow got saved but I'm also hoping it's potato. See if you can spot it lol.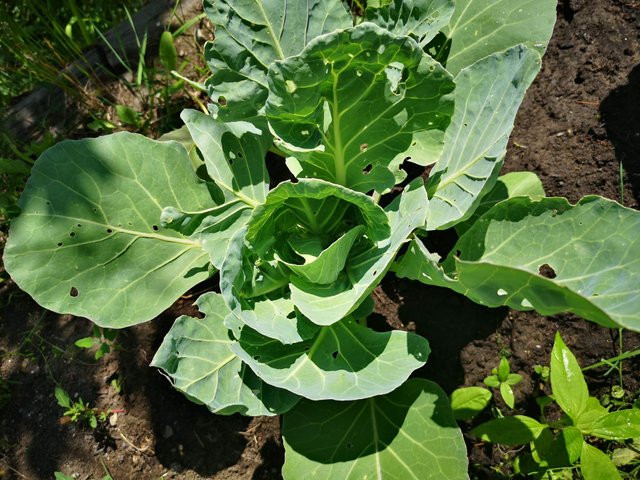 Good thing that the jungle part is in the back section. When I have been able to tend to the garden I cleared up as much as I could around the smaller crops growing. This here is my cabbage, I got 2 growing as I wasn't sure if I would be successful in growing it. There isn't a lot of growing time left, maybe a month and if we are lucky we can add 2 weeks to that. Hoping it forms and grows more so I can harvest from it. I know it doesn't help the fact the bugs are eating away at it.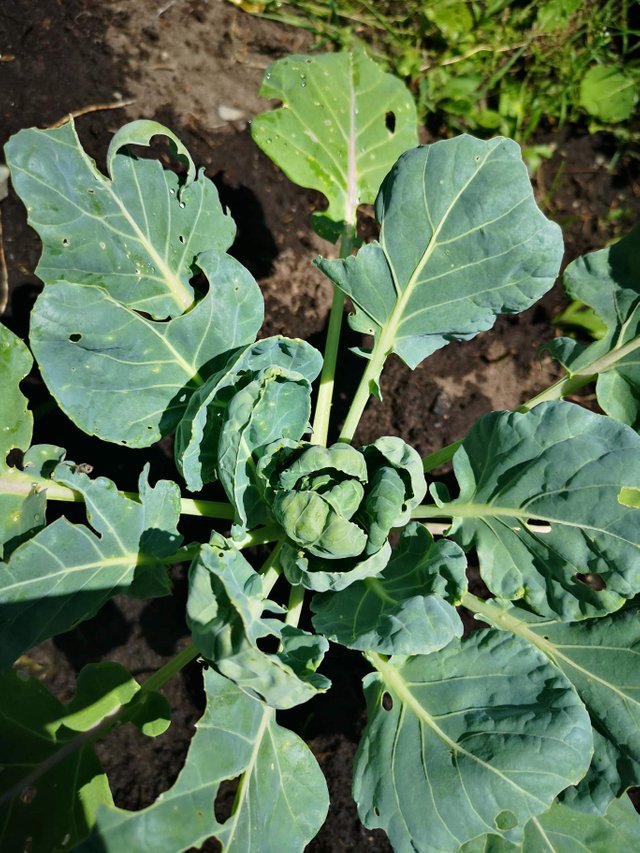 My brussel sprouts is looking promising but I don't know enough about growing this one either. I only grew 1 just incase I am not successful. Being in a northern part of the world with long winters, we have to experiment a lot to see what works.
For example, I can't get carrots growing. 2nd season trying and nope, nothing sprouted.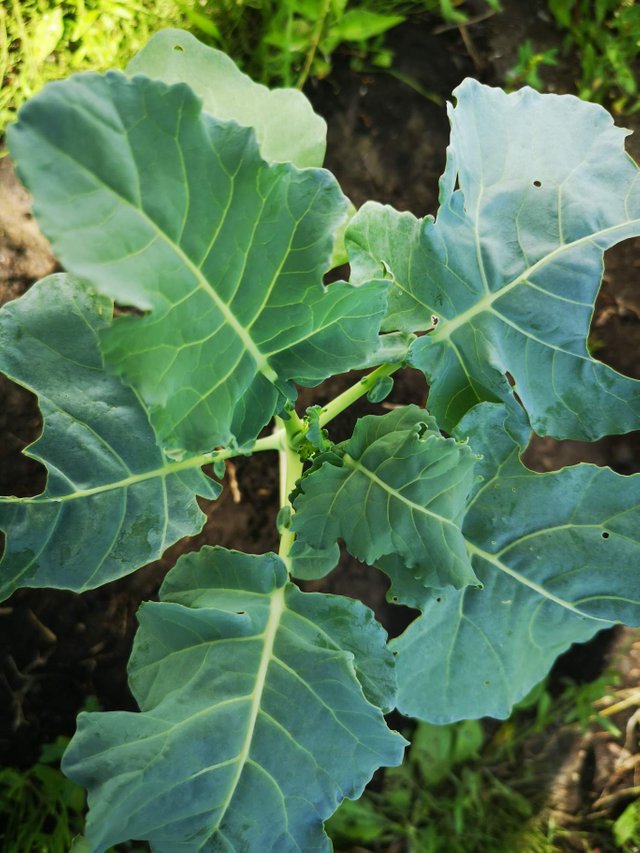 This one is either broccoli or cauliflower. I grew a few of each hoping to god that I can get something out of it because these two plants have become ridiculously expensive. $5 for a small thing of broccoli! I realize it could be more expensive in other areas of the world but this proves my point on how important it is to grow our own food.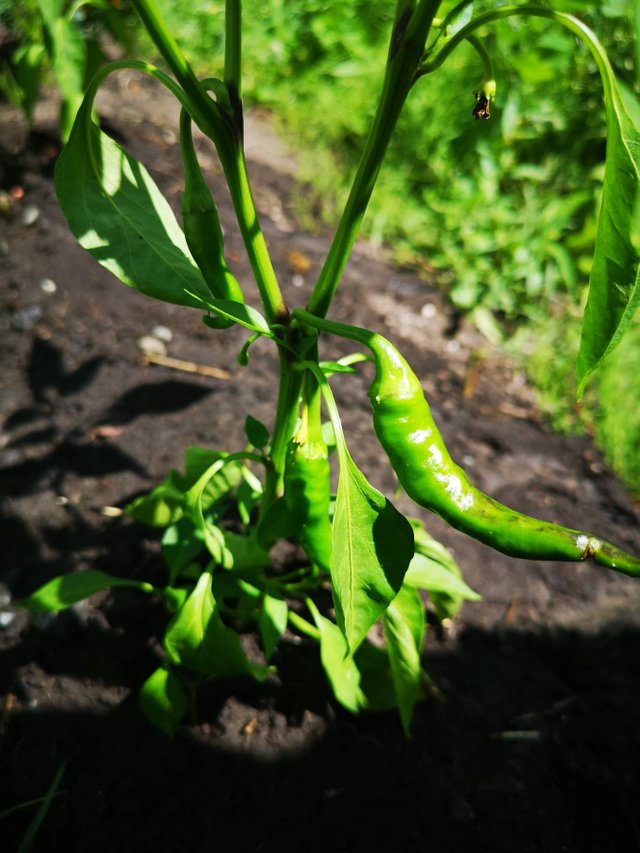 Ring of fire pepper plant. Ok so, yay, there's peppers growing from it! Now what?
I went online to find out when it's good for picking. Do I pick while it's green? Do I pick when it's red? If I pick when it's green, how do I know it's ready to be picked or if it's not done growing yet?
And I found nothing. The only I formation that I did get were more about jalapenos and green peppers. Is it safe to go about it the same way? No clue! So I turn to you my awesome fellow Steemit gardeners! Can you share some information with me about this one?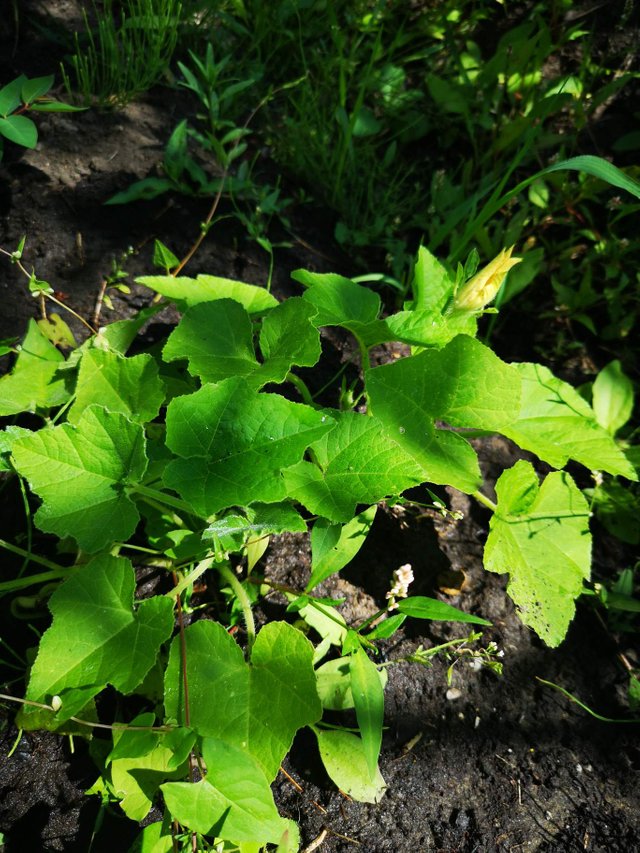 This is the smallest pumpkin plant I have ever had! I was beginning to think that it was a still plant, doing nothing but sitting there but look! A flower! Perhaps I bought a dwarf plant? But nonetheless I think it's too late for this one, not enough time to grow the fruit. Last year I was more successful, I was able to get 3 awesome pumpkins. Not this time I guess.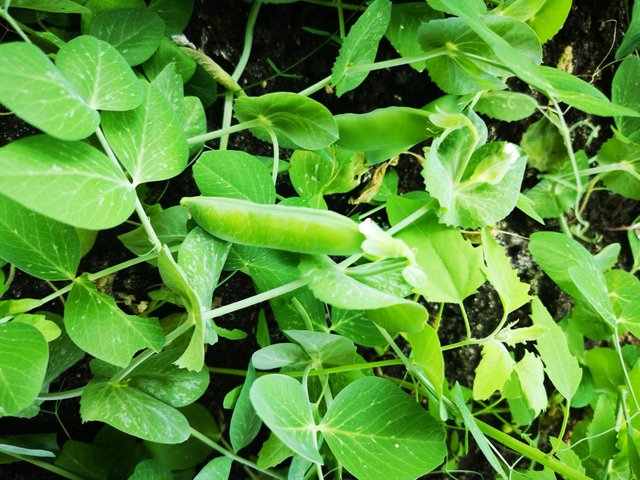 Heading inside the greenhouse, we have beans and peas. Later to find out these grow better outside with other plants. This is where I see I lack the knowledge of pairing plants with other plants. I found out not long ago that these are good for the soil. They produce their own nitrogen and so other plants can benefit from it. So next year calls for better planting arrangements with this new found knowledge.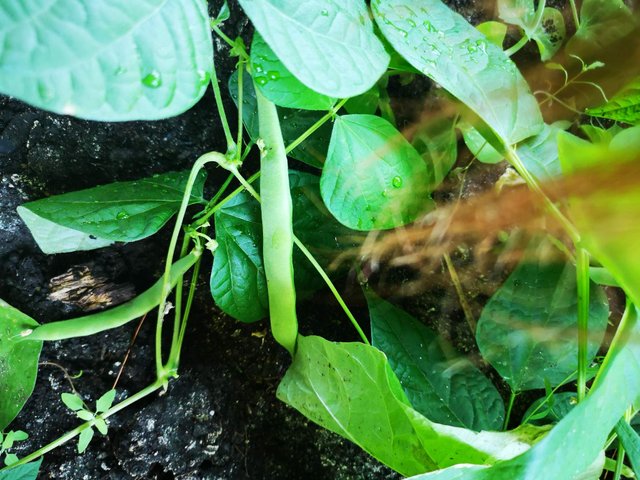 My beans and my hair 😅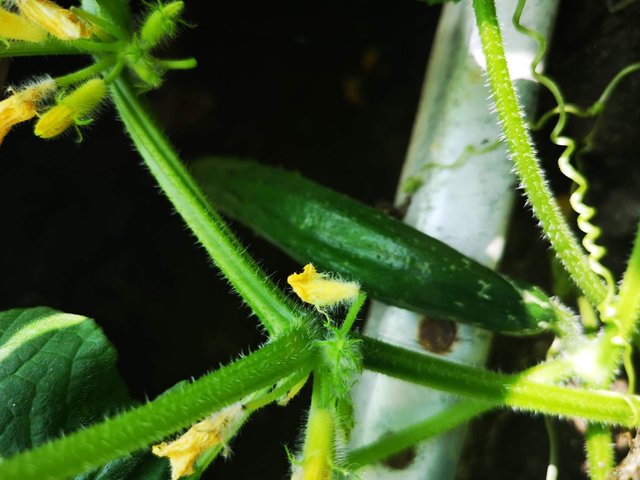 Cucumber!!!! Yay I'm getting long green things growing!! I love seeing things grow from plants like this. It gives a good feeling, being successful with plants is a great achievement. This year is definitely looking better than last year.
I am also growing tomatoes which I didn't take a picture of for some reason. Along with beets and onions. It's the 2nd time I try growing beets and onions, last year wasn't too successful and for the beets even less this year. But a lot of people are saying that it is a weird year for growing and so I might give it another go next year given that it did sprout late even though it was planted during the right time. Beets are cold hearty so they are one of the first to plant. And planting with the pull of the full moon gives a great advantage. Just not this year for some reason.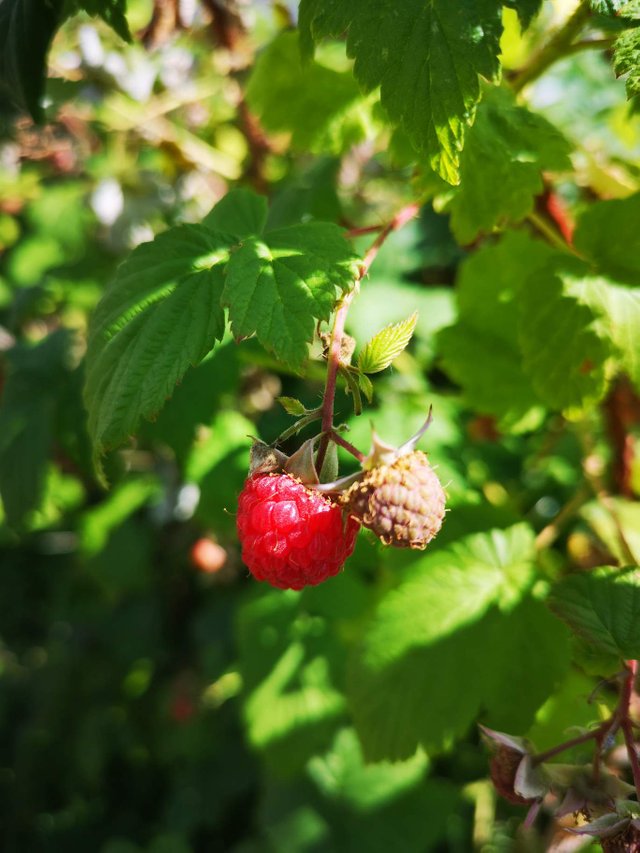 Every year we get a good amount of raspberries and I do have a few bushes in my back yard but what's weird about it is I can only pick a handful at a time, where last year I was able to pick a yogurt size container full. I was able to pick 4-5 times with that amount.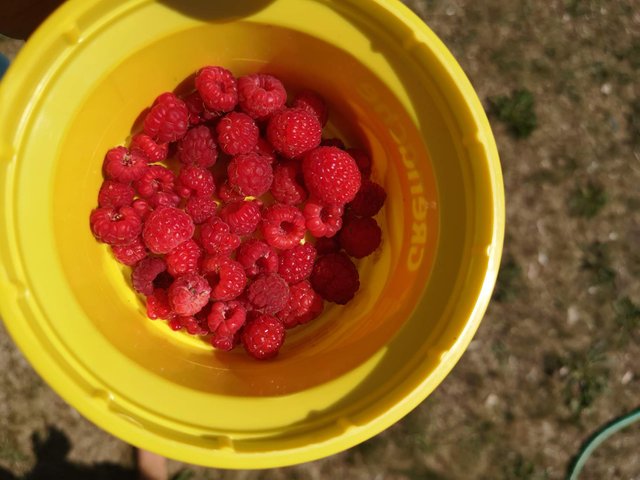 Hoping with the few days of rain that we are getting will help make the pickings get better. The kids can't wait.
So this summer is making it hard for me to figure out what can grow and what can't grow because of it being a weird growing season. Even some animal took off with my zucchini plants before it even began to flower!
Oh! Talking about animals taking plants... I looked up ways to get rid of pesky animals in a good way, thinking what we have are moles, I read that they don't like marigolds. They hate the smell! Understandably as they don't give off a great sent. So I planted a few in the garden hoping it would do the trick, and you know what? It did! No more Nile holes! That there makes me very happy.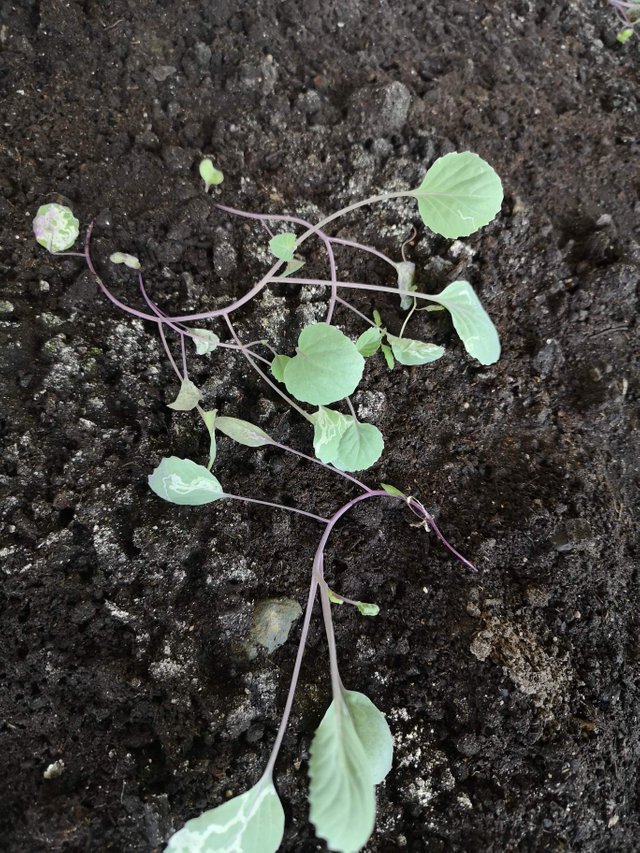 Oh one more thing before I end this post. I have this thing here growing and also...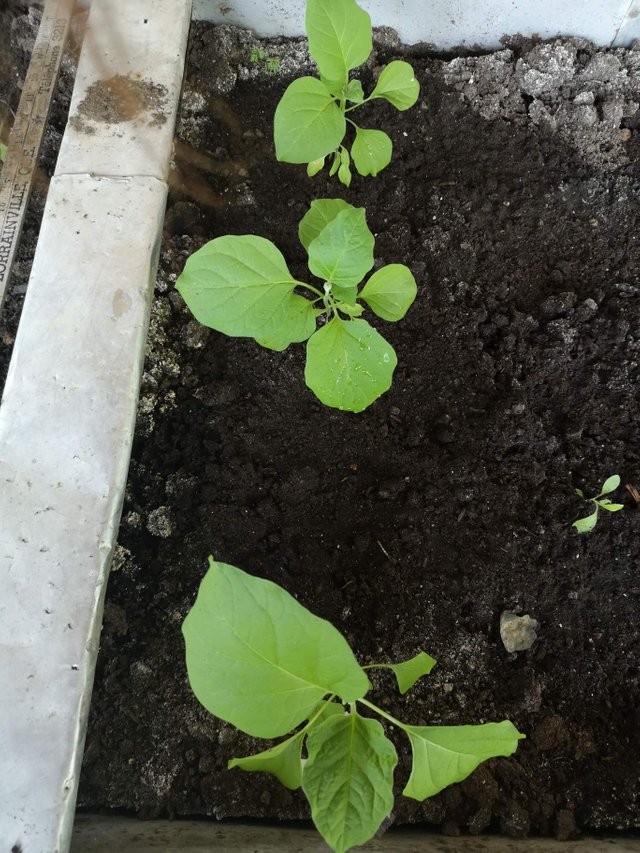 ... this. The app can't tell me what it is so I'm hoping one of you might now?
I doubt anything great will happen as they are still quite small. And please don't pay attention to the soil. Remember I've not been home a lot 😉
Hoping that those who grow are successful this year and that you get great amounts of fruit and veggies in return of your hard work! Keep it up guys!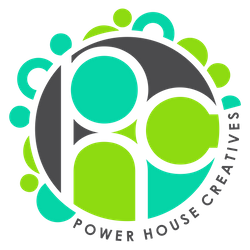 Posted using Partiko Android