Hey Steemit.
I visited my childhood home recently to see my Mum. While I was there I was able to check on the progress of my mulberry tree that I planted as a child. Mulberry trees in Australia enter their growing season over the next 2-3 months as we go from winter into spring.
This year I am expecting a bumper crop with the tree shooting it's leaves and flowering quite nicely.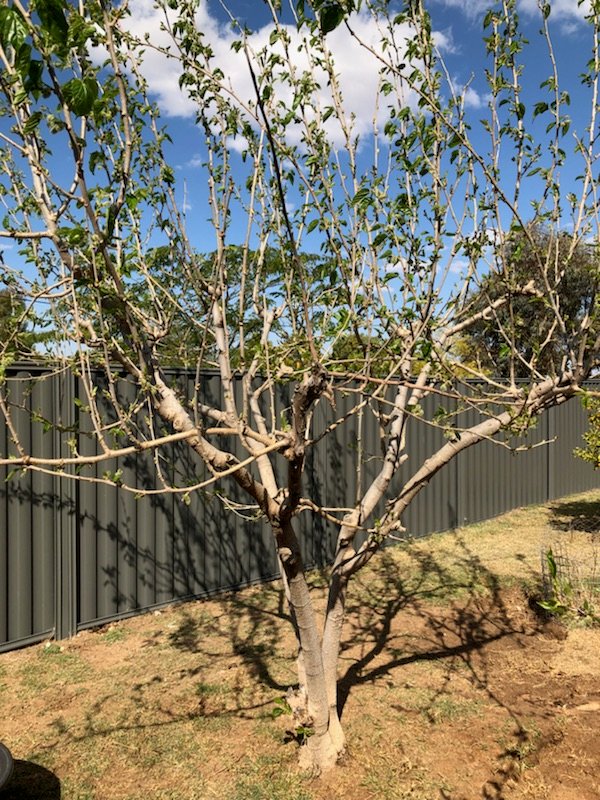 As you can see the branches are quite high yielding with the branch lengths covered in bunches of berries every few inches.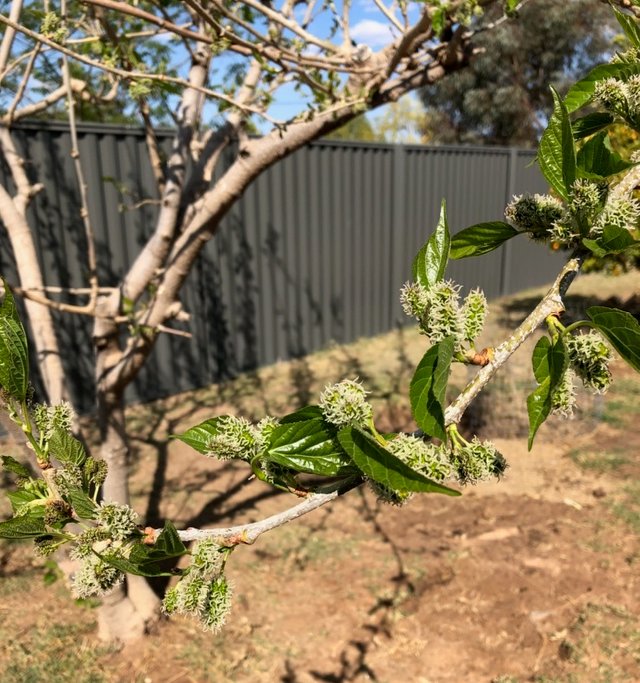 Mulberry trees are very drought resistant. Once they're established you barely need to water them. The only disadvantage of them is that they can grow to be quite tall (sometimes 10m - 15m) and their root system is quite large. [1] For Australians who live on small city sized blocks it might be hard to sustain them in your backyards due to their height, the leaves that they dump in Autumn and their root systems that grow far away from the tree drip line.
Mulberry trees are a staple of Australian farms. As a child, it was a real treat to visit my Grandma's property, or my friend's property and to eat mulberries straight off the tree.
I planted my tree sometime in late 2005 if I remember correctly. It took a few seasons to hit it stride and since about 2008-2009 it has provided my Mum with good fruit each August-September.
Due to the fact that they only produce fruit for a couple of months per year it is a good idea to preserve any surplus supply either in the freezer or to make them into a delicious preserve or jam. Hopefully my Mum will make a mulberry preserve or pie when our little crop is harvested and I will be able to share that you as well!
Thanks for reading. Please leave us an upvote and follow if you like.
Apsis.
Sources:
Morus (plant) - Wikipedia.
Source: https://en.wikipedia.org/wiki/Morus_(plant)