Hi there peeps! It's ya boyyyyyyyyyyyyyyyyyyyyyyyyyyyyyy @volderhein coming back at you guys with a new post! Yaaay! It's been such a long time that I even forgot what writing felt like! Woosh, I was helping a friend getting a job done and wham, 2 days (MORE LIKE 2 WEEKS BY NOW) flew by and I had forgotten how I should write OR EVEN START writing this post. But here we are now, I've finally organized my ideas and written a sort of script in my mind of how and in what direction this will flow around. (Note that I was planning to write and post this BEFORE the game came out on January 11th but whatever, I'll make do.) So, let's just jump into it! Love Language Japanese, let's see what you have in store for us!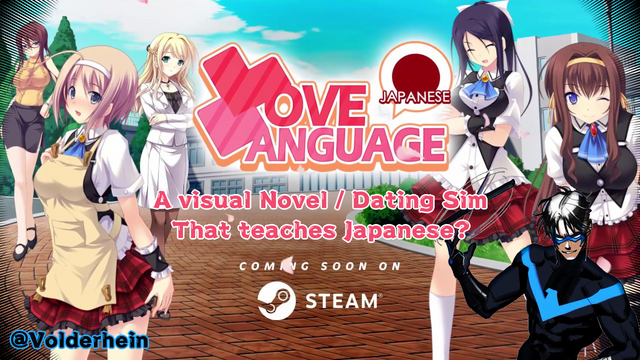 ---
I first got ahold of Love Language Japanese's existence by an ad through Facebook. It's not like my google searchs or the sites I visit influence what ads I get on my social media, mom! I swear!
But yeah, It seemed rather funny to me at first, why the hell was I getting an advertisement for a Visual Novel/Dating Sim/E-Learning experience with a very suggestively sexy dressed teacher in the thumbnail? I took a screenshot of the ad and showed it to @arknight and we started talking about the concept of the game and what we thought about it. We ended up with the conclusion that developers taking an interest on the usual gamers who play these games, and being invested for them to learn japanese accompanied with these concepts at the same time, was something pretty cute and rather wholeheartedly kind. Like... Has someone cared about you that much lately?... But there was something that was ticking me off in the wrong way... If this game was about learning Japanese and having a fun time at it while maybe dating some of the characters, why was the teacher in the thumbnail dressed so provocative? The first impression it left on me was that this game was marketing itself as a sort of Huniepop Dating Sim where you simply choose the right answer to see the girls getting undressed. And that really didn't entice me to try the product.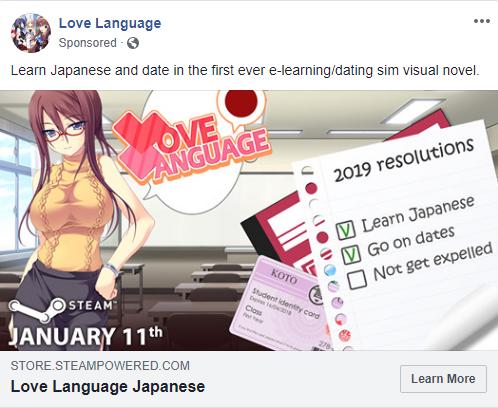 Love Language advertisement I got on my Facebook Profile
Giving the game some slack, I think back and remember someone telling me that people who usually play Dating Sims/Visual Novels more than any other genres is because those individuals are trying to fill some emptiness inside of their lives, (Aren't we all?) Maybe you feel better after a day of hard work when you get to date your virtual girlfriend everynight and whatever comes after that. So yeah, at first I thought the concept this game had was very cute and wholesome in some kindof way! Don't you think that as well? Imagine Learning a new skill by playing a game you enjoy, that's something not every game can boast about! Right? Or Imagine getting a virtual girlfriend that teaches you japanese, how cool is that? If I was someone who usually felt lonely and then some random guy came to me and told me about how I could learn Japanese while I met/dated new people and had a fun time overall with cute girls, I'd be sold instantly. Where do I sign up? But this in it's own way, got me thinking about what really is Love Language Japanese... Is it hiding something under it's adorable but sexy layered advertisement? Let's go investigate further.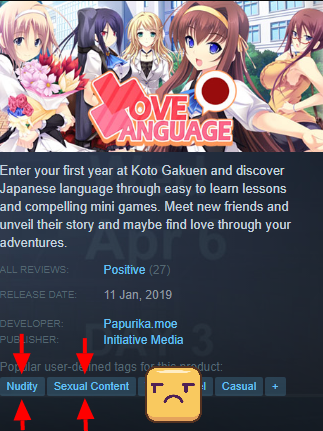 Love Language Japanese's Steam webpage
Clicking on the advertisement took me directly to Love Language Japanese's steam store page, and the first thing I noticed out of the whole page were the tags... And boy oh boy, did it give me the most sketchiest and bad vibe a visual novel has given me... I mean, I wanted to have some faith in this game but noticing those tags made me feel like this was a cheap cashgrab that included minimal "Japanese" lessons. Besides that, the first line of text in the game description states the following:
今日から一緒に日本語を勉強しましょう!
Disclaimer: All in game characters are 18 years old or older.
But I guess that if the game has at least one tiny bit of sexual content, they have to include that disclaimer. And you know, those tags I had highlighted before were "Popular user-defined tags for this product:" So I guess the blame is not to be put on only in fault of the developers.
Looking past the lecherous aspect of this game, I can say again that the concept of the game is rather wholeheartedly cute and awesome. It really tries to immerse the player (Or at least it gives the vibe) into the whole "You're entering a school in japan" thingie because of how the main gameplay works; from what is described, it consists of a 90 day trimester where as you progress through the game you'll learn japanese every week day while on your free time you can explore and find adventures while also meeting new people. How cool does that sound? I find it heartwarming that they focus so much on making the player feel like they're truly a foreigner entering a new school in japan. They've got some extra points with me right there since it feels like the sexually suggestive content is not the main focus of the game, so I believe them when they say that L.L.J. is really a blend between an e-learning experience and a visual novel.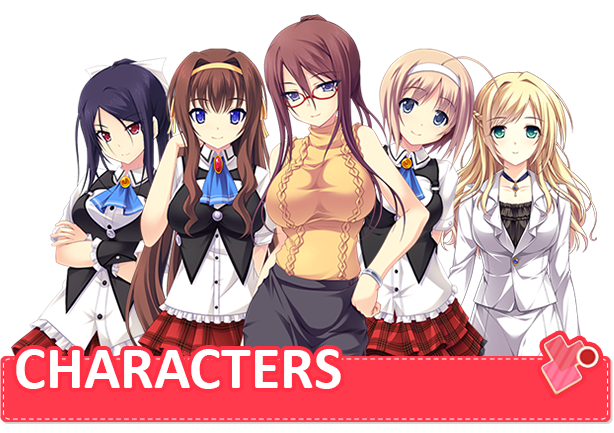 Miyuki, Helen, Prof Saito, Sarah and Dean Oyama respectively.
I eventually found out that L.L.J. was the first game made by Papurika.moe and that sparked my interest towards who were they and who was really behind this game, who were these people we had never heard about?
First I went over and found the original kickstarter for the game, dating back to 2016 when this game was supposedly going to release. Here I found some little details like how the game actually works since they go a lot more indepth in terms of the mechanics and how it will all pan out. It is also pointed out that the team behind this game, AKA: Papurika.moe is a group of junior and veteran developers who have always wanted to make their own game and now they've all joined together for this new project! Sounds cool, doesn't it? A line I really like about them in the about me section is "Truly we are but a bunch of bearded geeks who simply want to do what they like, making a game."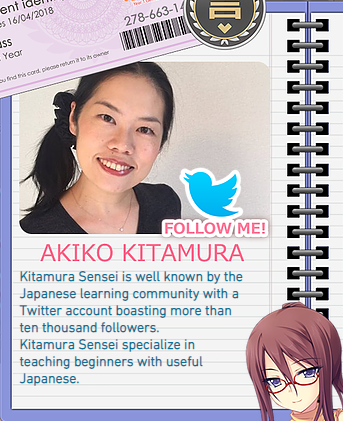 Akiko Kitamura, famous Japanese Teacher.
The Kickstarter also goes deeply into the lessons and who made them. Apparently they're made by a genuine japanese teacher, Akiko Kitamura, who's a renowned Japanese teacher, widely known for teaching useful beginner level japanese to her followers in social media. And hey isn't that why we're all here talking about this game? To learn japanese? The way they describe Kitamura sensei and why they chose her is exactly why a foreigner student would choose her as well as a teacher. Kindhearted japanese lessons from a native speaker of the language, amazing personality. She is also known for giving lessons not only to individuals but also to companies! Kitamura sensei is also known for being very active on twitter while teaching everyday knowledge to her followers. Is there really anything to critic in Akiko being chosen? If her charisma translates into the game, we'll be looking at some really enjoyable lessons. As for the art side of this story, in the kickstarter page, Papurika states they knew their team wasn't going to be able or weren't good enough to actually design all of the visual aspects of this game, so they stumbled and stumbled untill they managed to find themselves at Will Plus' doors.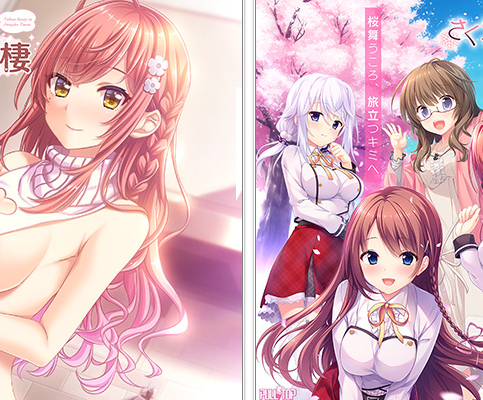 Will Plus Homepage... Warning, 18+ Content in there
From what I've gathered, Will Plus is a Japanese company who makes... Lewd products... to say the least. I had to look rather deep when I was trying to find their website and oh boy when I did... Let's just say I'm glad I do most of my research at late night and not when my parents are roaming the hallways.
From hentai games/novels to actual bodypillows and much more is what you could expect to find on Will Plus' website and all of it's derivatives. I tried scouring for something I could understand but since everything is in FREAKING JAPANESE I could barely do anything with the help of google translator.
But hey, that got me thinking... Will Plus has been doing this for maybe years? It looks to me like Papurika.moe actually made the right choice in pairing with a group of individuals who have years of experience before them, even if Love Language is not the same (Can't be sure till I play it.) as what exists inside of Will Plus' catalogue, it's still nice to see these sort of company deals where they get together and test the market for a volatile product such as a visual novel and dating sims. I would definitely like to see more bold attempts at mixing well known genres that people usually play with this new e-learning thing going on!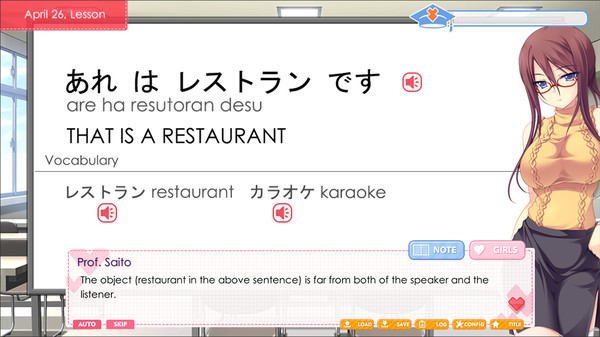 Lesson given by Prof Saito during Gameplay
So, all of this brings us to the grand finale of this post.
What really is Love Language Japanese trying to be? What's the real motive behind it?
And to this, my answer is the following:
For me, @volderhein, in my most truest and genuine opinion, I believe Love Language Japanese is trying its best to fit into the actual state of the visual novel genre while also trying to bring its own innovation into it. We all know how visual novels and dating sims have been slowly but steadily garnering a stronger and firmer position in today's gaming genres, and for someone to have the guts to decide to bring something new into an ever evolving commercial medium like this one, it's safe to say that it's good in my eyes both as game consumer and critic.
Some downsides to the concept of this game that a close someone brought to a discussion is the fact that some people may only be attracted to this game for its lewd content rather than the whole learning japanese part of it and I absolutely understand that there are some perverts out there who only want to watch anime tiddies all day, BUT in my opinion, the sexual content inside of Love Language Japanese is more of an afterthought than one of the main features of the game. Sure, they make it very clear in Steam that there IS sexual content in it but they also have to point it out for legal purposes; Besides, in advertisements and heck even in the kickstarter there is no mentioning of the sexual aspect of the game at all, so at least what I can gather from it is that they're not marketing their game as that kind of product. And that's what completely sells the concept to me. Sure, there may be anime tiddies in the game, but at least they're not gonna be what I play the game for.
Love Language Japanese is trying to achieve something I have not seen any other devs doing. They're trying to bring knowledge into your everyday gaming life and that's something I appreciate a lot. While there are some developers who only want you to give them your money without any real experience or something you can gain from, Papurika is trying to give you a similar course while at the same time you'll be gaining something from playing and enjoying the product. It's that care and attention that they're bringing to this game that makes me want to play it as soon as possible. That's what I believe Love Language Japanese is trying to accomplish and why i'm totally on board with supporting it.
---
Whew, this was a loooooooong ride. A lot of things happened while I was trying to finish this post and here I am, since January 9th writing on and off until I finally finished it. but anyways guys, I hope you guys enjoyed it and really understood what I was trying to convey in here. Notice that this is not a Love Language Review, this is more like an essay of why I think Love Language Japanese is great with the concept that it brings to the table. It was of my utmost pleasure to write about this game and my thoughts about its premise, but it would be an even greater experience to make a full fledged review about the game. Sadly, I don't have the funds to buy a key from steam since I live in Venezuela and blah blah blah, I bet you've heard that thousands of times already, lol. But anyways, it feels good to finish this post and now it'll feel better to post it. Let me know what you guys think in the comments down below! Don't forget to follow and upvote!
P-P-P-P-P-P-P-P-P-PEACE!
---

---

---