ICO Review: CryptoHIT, A Decentralized Ecosystem for Financial Games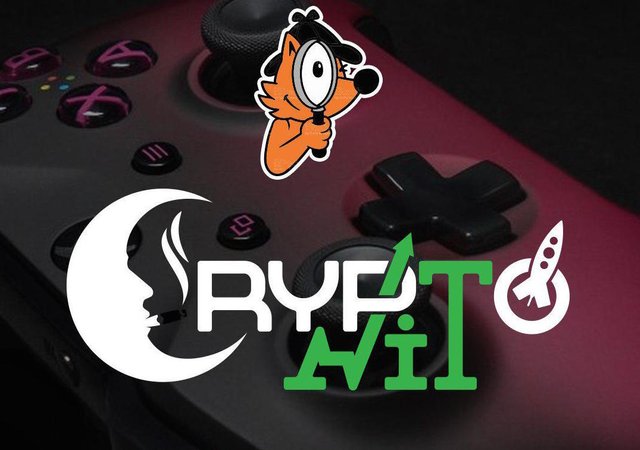 Some time ago I posted a NEXT Autonomous stats on historical ICO sector breakdown
Here is the main chart: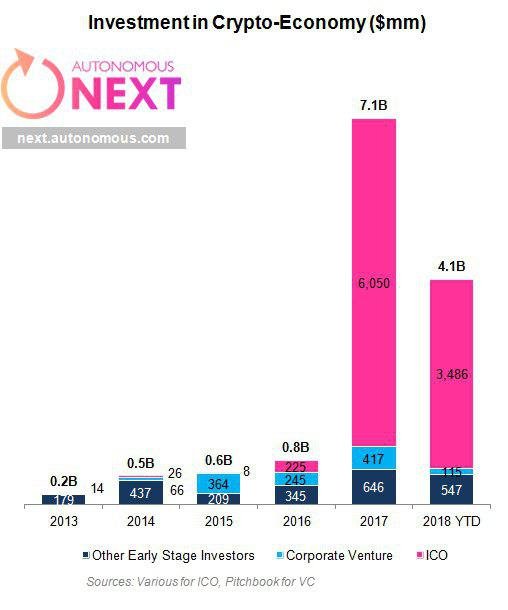 Everything looks quite logical. Over the four years of active ICO campaigns, the industry has structurally evolve: initially, core tech was dominating, then there was a wave of financial and payment solutions, followed by some consumer oriented segments that became big enough in 2016-2017. Those were gaming/gambling, media and internet of things. Nothing surprises me here: at the very first stage, gaming projects simply had no basis to work on, there was no technological foundation. In addition to that, last two years have created a crypto community big enough for consumer project to target. Today, there is audience for these projects to works with.
which I'm reviewing today is related to gaming.
General impression and investment summary: the project combines elements of an infrastructure solution for the gaming industry and a set of own tools (games) that it intends to implement using the fundraising proceeds.
The team has some experience in gaming industry, however, intentionally decided to abstain from pushing this. Cryptohitians consider gaming industry too orthodox and plans to build its work on new principles more popular in decentralized crypto community. Founders of the project are experienced in B2B segment and traffic management, which, in my view, increases their chances for successful project development.
What raised some questions is a pretty wide spread between pre-ICO and ICO soft and hard caps, they are announced as $1-5mn and $5.0-28.5mn, respectively. This forced me to discuss this with the team to understand actual sensitivity ratios for different articles in the budget.
The team is disclosing spending in different scenarios – there is an (interactive visualization applet on the project's web site, yet I didn't follow all re-grouping of the budget lines.
For example, legal differentiates 10 times, from $200K to $2mn in minimum and maximum fundraising scenarios. Typically, legal costs that big are seen in companies and project that aim deep offline and fiat representation, and are justified by a network of representative offices, or legal entities in many jurisdictions. This is not the case with CryptoHIT. The management explained the "max case" scenario will result in SEC compliance, many license agreements and heavy documentary base supporting the company's hundreds of employees. Similarly, infrastructure costs are $150K-5.1mn in min/max cases. This is explained by the company's expectations for traffic (CDN) support. What looks quite explainable is big portion of Marketing – it growth ahead of the others; the higher are the collections, the more is spent on promotion of the system, which sounds reasonable.
Resume on token buying strategy: if you feel inspired by the project and feel attracted to the gaming industry and decentralized decisions in it, buying GAC token will be logical for your portfolio. I would recommend step-by-step buying into the idea. Currently, the project has collected about $150k, and there is still a window for high-bonus buying. At this stage, I'd be spending about 30-35% of the total amount that you allocate for this project. The second 30-35% shall be bought as the fundraising breaks $1mn (pre-ICO soft cap), and the rest is to be bough after 50% pre-ICO threshold is passed. Feel free to decide on the main round of ICO as I personally favor early rounds. GAC tokens will employ deflationary model, i.e. will be burnt over time to increase their per unit value.
Project's web site: https://cryptohit.io

Current tokensale phase: pre-ICO to last for 44 days.

Key things to read on the project: White Paper

Groups and social channels

Bitcointalk

On a personal note: I'm a strong oppose to the BTT practice of buying full member accounts to launch your [ANN] thread. This type of cheating goes against the community fundraising spirit (and Bitcointalk forum clearly maintains old school tradition in discussing new initiatives and strat-ups). CryptoHIT made a fair move in starting their thread with a blank account. The team is actively answering to all the questions and there is visible activity.

Facebook (3.9K subscribers)

Twitter (3.1K subscribers)

LinkedIn of Yury Sotnikov, founder (7.6K readers) and his Medium.

Community activity is reasonably weak so far which is typical for the project in its early stage.

Team: СЕО Yury Sotnikov (Kokonut Group – digital marketing), Demid Chuntontov (business analyst, gaming sector), Igor Shokarov (Kokonut), CTO Sergey Bashkov.
Experience of the team if mainly in digital marketing, lead generation, traffic and development/analytics. In this respect, the company's games core is financial and probability based games (some details below).
Advisors: the team includes a full advisory board, however, they ar not attributed to any specific activities. Advisors' bio contain investment consulting, high-tech in general and blockchain in particular, SEO, SAMM and online marketing. I presume that the majority of the advising crew arising from the team's previous areas of activity and expertise.
Project core: CryptoHIT give the following general description of its plans and intentions: "We are poised to materialize our aspiration through this ICO with the intention to create a transparent and entirely decentralized platform for various gaming projects using the power of blockchain technology and smart-contracts on Ethereum. Our main goal is to create an ecosystem, where all of our users – both players and game developers – would receive more benefits utilizing our platform's capabilities as opposed to staying self-contained".

My view is that the game development industry, from creation to actual monetization these days offers a comprehensive set of mechanism. There are many ways for the developer to go, including integration in one of the very massive frameworks, e.g. Odnoklassniki, VK, Facebook and plenty of international platforms. They all have good standardized grounds for new games. The true problem is the other one stipulated by the project: "It is no secret that players often play different game projects simultaneously or wander from one game to another. All of today's modern games are based on simplistic, boring and repetitive actions to evolve the game character, taking many months or even years. When you switch to a different game, you lose all of your achievements, ranks and titles and you are forced to start off from scratch. On the CryptoHIT platform moving to another project within the system the player will be able to use tokens accumulated in one game to buy starter packets in another. In addition, participants will be given the opportunity to make money off the sale of resources and characters on internal exchanges, bet on other players and their game characters. "
Every gamer is familiar with this situation. You can work your game person up and up reaching level 90, you can kill the main game boss or complete a difficult labyrinth of riddles but this gives you no better start for the new different game. This, probably, is not a question of tech but rather a philosophical one: imagine a new game where all the players kick off from zero and begin collecting ammo and improving their skills slowly. Suddenly, an experienced gamer arrives carrying a set of attributes inherited from his previous gaming accomplishment. At once, he becomes an undefeatable leader. Would that be good anyway? I find it hard to answer. On the other hand, it may look fair that every newbie has to invest money in promoting his character, and experience games is paying in months and months spent in playing different games.

CryptoHIT has a different look on the small developer's situation. They claim that the existing ecosystem gives no chances to small and medium sized producers. Only leaders are granted access to some real income, and the rest get zero (not some proportionally smaller share). In other words, you can win or lose, there is no "in between". There are over 3mn game developers in the world, and majority of them have no chance of receiving any income at all.
CryptoHIT functionality is pretty straightforward and carries no surprises: sale and purchase of intra-game items, personal accounts, referral programs and reviews bonuses. The project's developers made a great homage to old gamers and called their tokens "galactic credits" which refers us to the Star Wars reality.
CryptoHIT own games . I will pass on discussing the system's infrastructure (which is rather traditional), internal UNIT currency (which is a purely technical matter) and want to move forward to the project's own game initiatives. This is an interesting development.

The team has scheduled three games to be launched. It is expected that the games will have strong users' interest and attention, and these expectations are based on a series of studies and user polls. Further development in this area (number of games produced and their marketing activity) is in connection with ICO progress. This looks smart as CryptoHIT forms a "Plan B" when initial audience is attracted to participate in the project's own games, and that helps to lure more game developers to join the ecosystem. The tea, plans to launch browser, mobile and client types of games to establish a multi-channel array of opportunities. This is smart.

GoldMiners: lottery type economic game where players win "galactic credits one from another".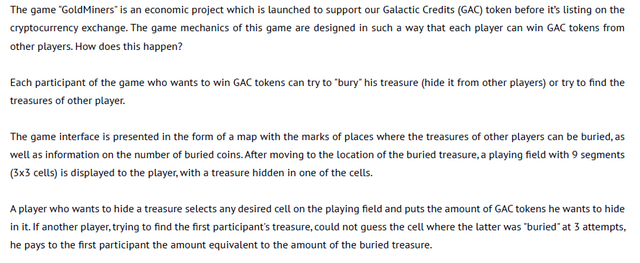 Scenario of the game. Source: CryptoHIT
SmartWar: probability game to develop the character.

This game looks great to me but too many parameters make it over complicated.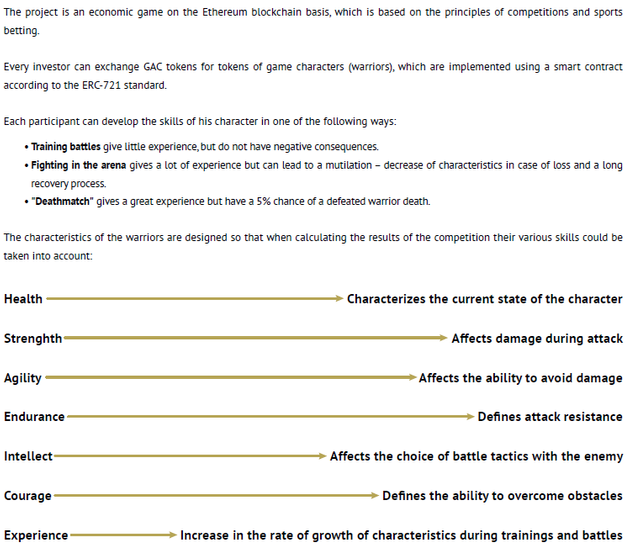 Scenario of the game. Source: CryptoHIT
The team compares this one to CryptoKitties openly and I see nothing bad in that. Improved clones can be even better than the initial product, however, CryptoBots and CryptoCelebs failed to perform in line with the prototype. War Band: not many details provided yet. The game will be stimulating players to fine tune their character via buying "chests" with uplifting elements. The game is intended to be based on the popular movie franchises. The fourth announce game is "The Scent of Freedom" RPG to be released within a year.
Token allocation and use of proceeds

I touched on the use of proceed earlier and see no big reason to go into it again.

Token distribution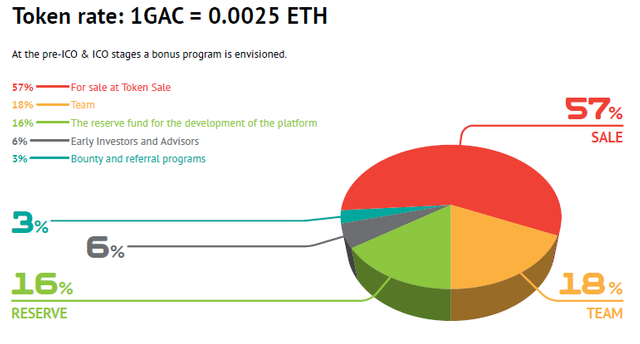 Key elements (share of the team, advisors and bounty) are pretty standard and are within the industry area of comfort. Reserve fund of 16% combined with an offering share of 57% effectively gives the management leverage to increase the budget by 28% on diluted basis. Whether this is a supply hanging on the market, or another level of flexibility for the team, this is for you to decided individually.

Vesting freezes are described in details: 75% of the team's GACs will be frozen for 2 months following the vesting, 50% for 4 months and 25% for half a year, and there will be total unfreeze afterwards. Founders' vesting lock-ups are good practice that I fully support.
Conclusion will, most likely, become a tradition in my reviews. I highly recommend you having a look at CryptoHIT, have a chat with the team and study the project's materials. You should always have your own opinion about the project and the product and keep in mind that blockchain is a new environment that contains multiple risks and surprises, and many of them will come from the regulatory side.
I wish you have strong Xses despite all the headwinds!
You can contact me via