"Veera The Soul Harvester"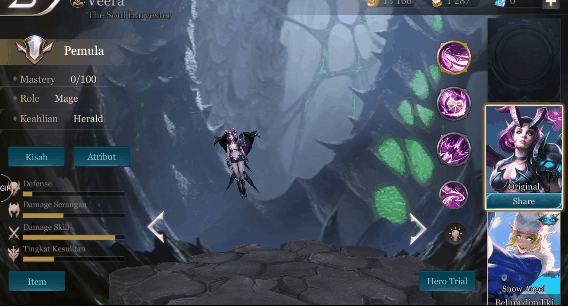 [ENG]
Hello Steemian back again with me @puangmuda93. As usual I will discuss the game Moba that I play at this time of course at the time of playing the game I often wear hero shooter. Just go ahead for my post I will explain to all steemian hero Veera The Soul Harvester.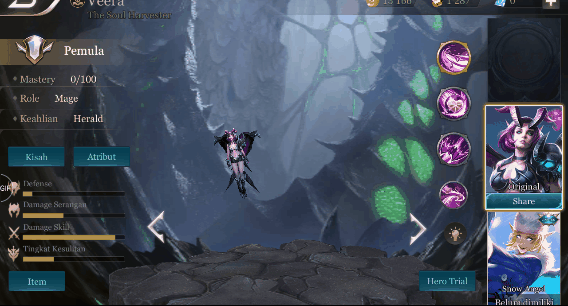 So before I introduce this hero I would like to tell the steemian about the past of this hero.
¥Veera past stories¥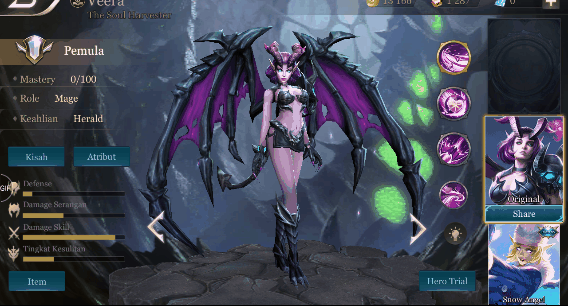 "I am the queen of the night my name is veera"




The ancient book tells the veera is the most obedient and powerful messenger of the great ones, he has long prayed for guidance but only the silence he received.




Determined to prove his courage, he tries to confront the ravagers by himself, of course if he succeeds in conquering them the great once will give him a glory, however, it seems that arrogance is not liked by the great once.




Though he fought bravely and persistently, in the end he was caught too, the torture he received could not be expressed with the definite words that the shining eye that once looked to heaven for clues was now tempered with hatred and the flames of darkness.




Maloch the leader of the ravagers personally tortures and from which a dark and terrible relationship exists between them ever since then he has always been beside him leading maloch troops and eliminating enemies of his enemy.but he always takes a personal approach, utilizing his ruse and charm to defeat the most powerful enemy.




The queen of the night is a patient man. She realizes that she will eventually get what she wants. She's the only one who can survive. But she's still thinking about the great ones.
¥Veera Skill In Arena Of Valor¥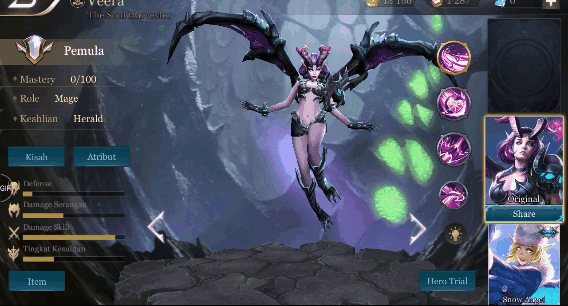 [Inverno Bats]


MAGIC
Cooldown : 18 Second
Mana Price : 120
Veera summoned 5 bats to attack nearby enemies, each bat resulted in 325 (+0) Magic DMG. if more than one bats attack the same enemy the next attack resulted in 50% Damage.

[Mesmerize]





MAGIC AND CONTROL
Cooldown : 10 Second
Mana Price : 90
Veera blowing kisses blowing attacks into enemies with 285 (+0) Magic DMG. and freeze them for 1.5 seconds.

[Hell Bat]





MAGIC
Cooldown : 12 Second
Mana Price : 80
Veera summoned a bat that glided and caused 520 (+0) Magic DMG to all enemies in its path.

[Come Hither]





Pasif
The veera skill attaches a stack come hither for each enemy hit by its skill steiap stack reduces the enemy DEF magic by 30-72.

¥Veera Built Item In Arena Of Valor¥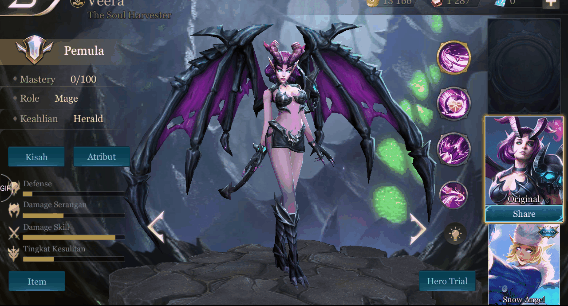 [Enchanted Kicks]

Pasif unik : MOv speed +60
Pasif : Magic Pierce +75
[Boomstick]


+240 magic power
Passive : Explotion : when the skill of the opponent will appear a small scale explosion that produces 50 (+ 50% Magic Bonus) Magic DMG
Cooldown 5 Seconds

[Berith's Agony]





+140 Magic power
+10% cooldon red
+270 Phys DEF
Passive - Tocture : Generate Magic DMG of 4% HP current target (Max DMG to monsters: 80)
colldown: 1.2 seconds.

[Hecate's Diadem]





+200Magic Power
Passive - Warlock : Magic Power + 35%
Passive : Magic Pierce +75

[Staff of Nuul]





+180 Magic power
+10% Cooldown Red
Unique Passive: Magic pierce + 40%.

[Holy Of Holies]





+400 Magic Power
Pasif - Enlighttenment : Get 1400 Max HP

¥Veera Atribut In Arena Of Valor¥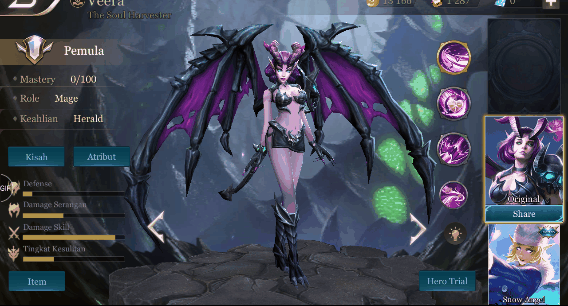 [Basic attributes]
Max Hp 3229
Phys DEF 86 | 12.5%
Phys ATK 170
Magic DEF 50 | 7.6%
Magic ATK 0
Max Mana 490
[Attack Attributes]
Mov Speed 360
ATK Speed 0%
Life Steal 0%
Armor Pierce 0 | 0%
Crit Rate 0%
Mana Syphon 0%
Magic Pierce 0 | 0%
Crit DMG 200%
Cooldown Red 0%
Attack distance - far
[Defence Attributes]
Resistence 0%
HP / 5 Seconds - 46
Mana / 5 Seconds - 18
If you like my post about game Arena Of Valor Also read :
1.Play Game Arena Of Valor In Android - Knowing Skill Hero Joker The Clown Prince Of Crime Vol : 4 [ENG/IND]
2.Play Game Arena Of Valor In Android - Knowing Learning Skill Hero Slimz The Trustworty Vol : 7 [ENG/IND]
Well only this information that I can give if steemian like with my article give upvote and resteem @puangmuda93 Thanks before :)

---
"Veera The Soul Harvester"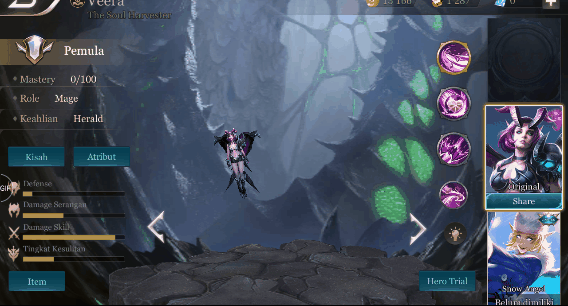 [IND]
Halo Steemian kembali lagi dengan saya @ puangmuda93. Seperti biasa saya akan membahas permainan Moba yang saya mainkan pada saat ini tentunya pada saat bermain game saya sering memakai hero shooter. Baiklah langsung saja untuk mengulas postingan saya, saya akan menjelaskan kepada semua teman - teman steemian yaitu hero Veera The Soul Harvester.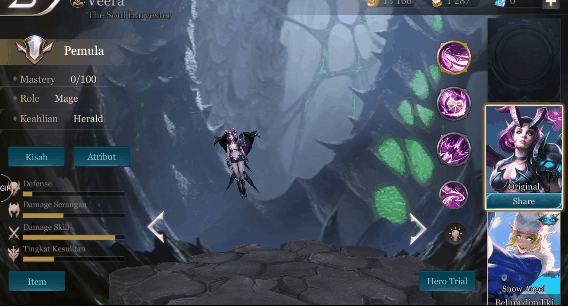 Jadi sebelum saya memperkenalkan hero ini, saya ingin memberi tahu kepada steemian tentang masa lalu hero ini.
¥Cerita masa lalu Veera¥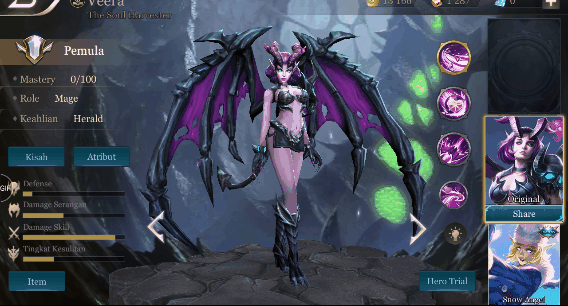 "Saya adalah ratu malam nama saya veera"




Buku kuno tersebut mengatakan bahwa veera adalah utusan yang paling taat dan tangguh dari orang-orang hebat, dia telah lama berdoa untuk bimbingan namun hanya keheningan yang dia terima.




Bertekad untuk membuktikan keberaniannya, dia mencoba untuk menghadapi para pemancing sendiri, tentu saja jika dia berhasil menaklukkan mereka hebat sekali akan memberinya kemuliaan, bagaimanapun, nampaknya arogansi tidak disukai oleh yang agung. sekali.




Meskipun dia bertempur dengan berani dan terus-menerus, pada akhirnya dia tertangkap juga, penyiksaan yang dia terima tidak dapat diungkapkan dengan kata-kata pasti bahwa mata bersinar yang pernah melihat ke surga karena petunjuk sekarang marah karena kebencian dan api kegelapan.




Maloch pemimpin penyiksaan pribadi dan dari mana ada hubungan gelap dan mengerikan di antara mereka sejak saat itu, dia selalu berada di sampingnya untuk memimpin pasukan malok dan menyingkirkan musuh musuhnya. Tetapi dia selalu mengambil keputusan pribadi. pendekatan, memanfaatkan tipu muslihat dan pesona untuk mengalahkan musuh yang paling kuat.




Ratu malam adalah orang yang sabar. Dia menyadari bahwa dia akhirnya akan mendapatkan apa yang dia inginkan. Dia satu-satunya yang bisa bertahan. Tapi dia masih memikirkan yang hebat.
¥ Veera Skill Di Arena Valor ¥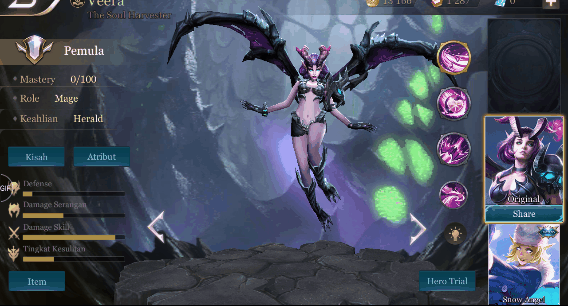 [Inverno Bats]


SIHIR
Cooldown: 18 detik
Mana Harga: 120
Veera memanggil 5 kelelawar untuk menyerang musuh di dekatnya, masing-masing kelelawar menghasilkan 325 (+0) Magic DMG. Jika lebih dari satu kelelawar menyerang musuh yang sama, serangan selanjutnya mengakibatkan Kerusakan sebesar 50%.


[Mesmerize]





SIHIR DAN PENGENDALIAN
Cooldown: 10 detik
Mana Harga: 90
Veera meniupkan ciuman yang meniup serangan ke musuh dengan 285 (+0) Magic DMG. dan membekukannya selama 1,5 detik.

[Neraka Kelelawar]





SIHIR
Cooldown: 12 detik
Mana Harga: 80
Veera memanggil seekor kelelawar yang melayang dan menyebabkan 520 (+0) Magic DMG ​​ke semua musuh di jalannya.

[Come Hither]





Pasif
Keterampilan veera menempel tumpukan datang kemari untuk setiap musuh yang dilanda keterampilan steiap stack mengurangi sihir DEF musuh dengan 30-72.

¥Item Veera Di Arena Valor¥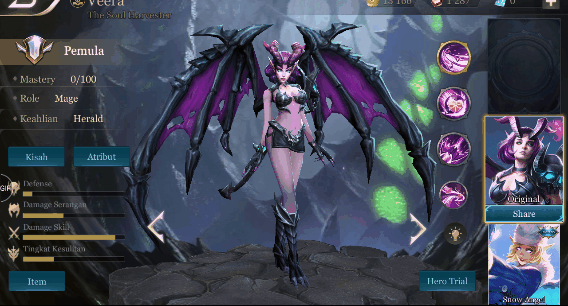 [Enchanted Kicks]

Pasif unik : kecepatan MOv + 60
Pasif : Magic Pierce + 75
[Boomstick]


+240 kekuatan sihir
Pasif : Explotion : bila skill lawan akan muncul sebuah ledakan berskala kecil yang menghasilkan 50 (+ 50% Magic Bonus) Magic DMG
Cooldown 5 Detik

[Berith's Agony]





+140 kekuatan sihir
+10% cooldon merah
+270 Phys DEF
Pasif - Tocture: Hasilkan Magic DMG target HP 4% saat ini (Max DMG ke monster: 80)
colldown: 1,2 detik.

[Hecate's Diadem]





+200 Magic Power
Pasif - Warlock : Magic Power + 35%
Pasif : Magic Pierce +75

[Staf Nuul]





+180 kekuatan sihir
+10% Cooldown Red
Unik Pasif : Magic menembus +40%.

[Holy Of Holies]





+400 Magic Power
Pasif - Enlighttenment: Dapatkan 1400 Max HP

¥Veera Atribut Di Arena Valor ¥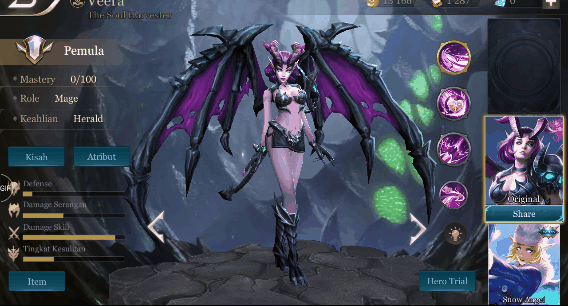 [Atribut dasar]
Max Hp 3229
Phys DEF 86 | 12,5%
Phys ATK 170
Magic DEF 50 | 7,6%
Magic ATK 0
Max Mana 490
[Attribut Serangan]
Bergerak Kecepatan 360
ATK Kecepatan 0%
Mencuri Hidup 0%
Armor Pierce 0 | 0%
Crit Rate 0%
Mana Siphon 0%
Magic Pierce 0 | 0%
Kritik DMG 200%
Cooldown Red 0%
Jarak tempuh - jauh
[Atribut Pertahanan]
Resistensi 0%
HP / 5 Detik - 46
Mana / 5 Detik - 18
Jika anda menyukai postingan saya tentang game Arena Of Valor Juga baca:
1.Play Game Arena Of Valor In Android - Knowing Skill Hero Joker The Clown Prince Of Crime Vol : 4 [ENG/IND]
2.Play Game Arena Of Valor In Android - Knowing Learning Skill Hero Slimz The Trustworty Vol : 7 [ENG/IND]
Baiklah Steemian semuanya hanya informasi ini yang bisa saya berikan jika steemian menyukai artikel saya berikan upvote dan resteem @puangmuda93 Terima kasih :)