SPLINTERLANDS VALIDATOR LICENSE PRESALE EVENT | DIAMOND LEAGUE UNLOCK | QUEST REWARDS
Hello Splinterland warriors!
How are you all guys hope you will be blessed and fine. In today's post, I will be sharing today's quest rewards along with yesterday's quest rewards and will talk about the validator license presale.
VALIDATOR LICENSE
Well, here is another big event from the splinterlands team which is about the Validator node license the presale phase will be starting in 21 hours for that you will need a minimum $2000 USD investment of 500 Vouchers and $1000 worth of SPS will need to buy one license node. So are you guys participating in this even though i am not interested in this event as i have lost $1500+ in another game so i will not participating in this event and will try to save some USD for the upcoming events as you know the price of vouchers is pumping along with the SPS price which is stable at 10 cents while i have sold some vouchers at 4 hive 5 hours ago and unfortunately sold 50+ vouchers a5 3 hive price :(.
LAST BATTLE OF QUEST

BATTLE LINK
It was a tough battle against Zaku summoner vs mimosa nightshade which reduce the range attack ability from the enemy team and also applied the affliction ability and gave the voidability to the friendly team that is why i won this game because of the range reduction and void ability watch the battle to know more about this battle
that's how i won this game.
QUEST REWARDS
Here is the quest rewards of today that i completed with the death splinter and in the diamond league while got these rewards worth nothing just got 4 chests for the DEC tokens total dec tokens are 27 from today's quest while 4 cards which includes 3 common and one rare card.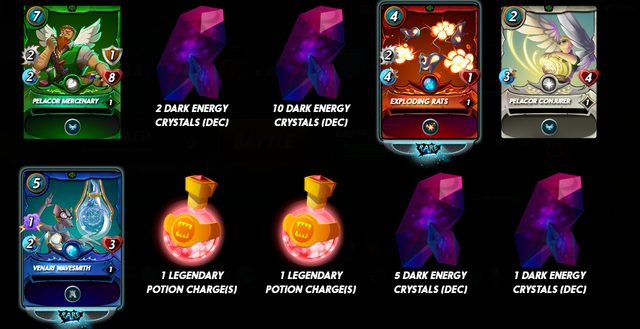 Well, yesterday i did not share the rewards because of the weekly battle challenge, and during the quest completion the diamond league unlocked for me, and then i claimed the quest rewards in the diamond league but got nothing just only two rare cards while some common cards with a little bit dec tokens and potion charges. Currently waiting for the next quest rewards which will be based on the higher league and rating so hope to get some good rewards from new quest updates.
All images are from the Splinterlands website
If you are new to this game then signup here to play the game click here for signup
---
---
Thanks For visiting my Blog
Best Regards @moeenali