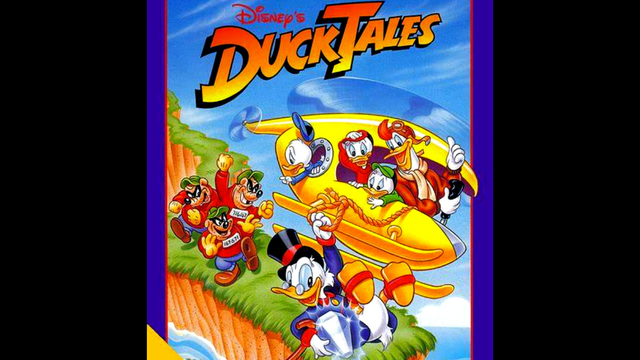 Hello everyone, hope you're all doing well and welcome to my Retro Review of Ducktales! This old classic was one of my go to's when I was a kid, providing me with countless hours of entertainment. Not only did I love video games, but I was also a huge fan of Disney's Ducktales in general, so this was a perfect match up for me that I took to like a duck to water. A lot of games that I tried to play back in those days were too difficult for someone that young and I would end up quitting out of frustration. This game had characters that I already knew and liked, but it also had just the right amount of challenge. It didn't matter how many times I finished it, I still enjoyed playing through the levels again and again regardless. So without further ado, let's dive in.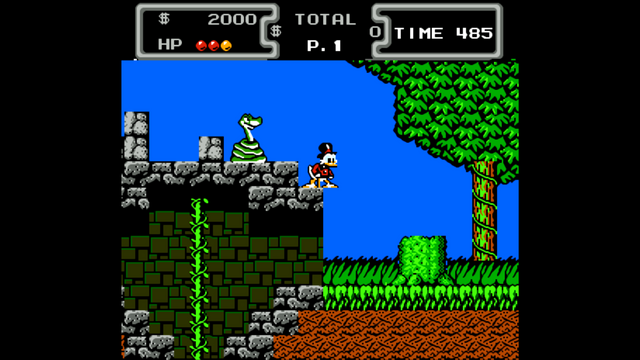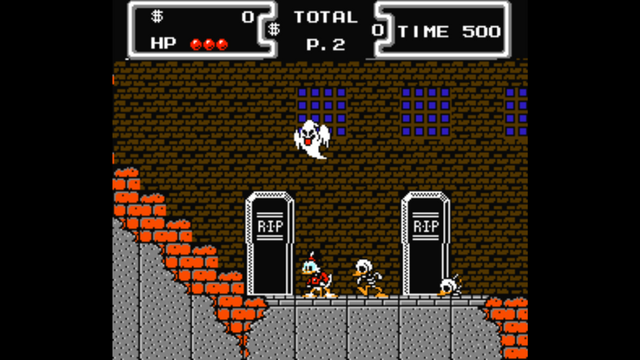 Ducktales is an action platformer developed by Capcom and was originally released for the Nintendo Entertainment System back in 1989. Capcom made a deal with Disney to create a series of games featuring some of their well known licensed characters. Anyone who's familiar with video games is probably already aware of the terrible track record that most licensed titles have earned for themselves. They're usually nothing more than a way to cash in on something that's already popular with some half-baked game that is ultimately disappointing. Ducktales was the exception to that rule though, going on to become one of Capcom's highest selling games for the system.
When the game was released it was widely praised as a perfect example of excellent game design, quickly turning into a staple of the NES library. It's success would allow Capcom to make other licensed Disney games such as, Chip and Dale's Rescue Rangers, Darkwing Duck, Talespin and The Little Mermaid. None would see the same level of critical acclaim as the original Ducktales though. There's something about the simplicity of the gameplay, coupled with the lovable characters, fantastic music and colorful art style that really makes it stand out from the rest. Going back and playing through this again recently I was surprised by how well everything still holds up.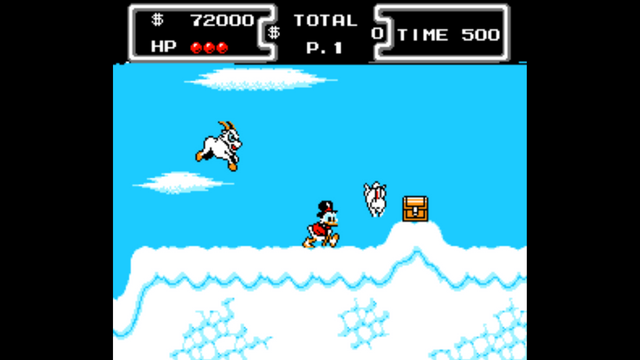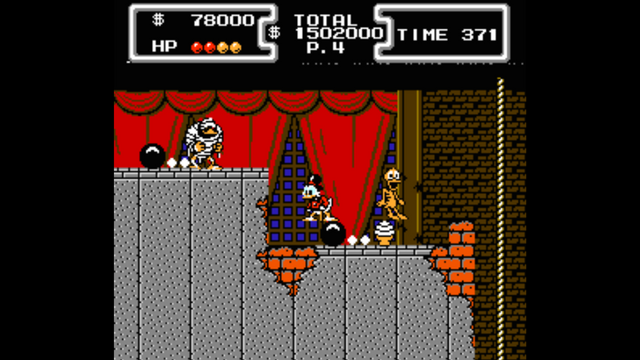 You play as Scrooge McDuck as he travels around the world in search of five secret treasures. The goal is to collect as many jewels and as much gold as you can to beat your rival Flintheart Glomgold and become the world's richest duck. It's your typical bare bones story that you'd expect to find in an old NES title, basically acting as a framework to pin the gameplay on. You'll also come across Scrooge's nephews Huey, Dewey and Louie, as well as Webby, Launchpad and even Gizmoduck. They don't play a big role, mainly popping up in levels to give you some dialog, but it's nice to see them included somehow.
The game is broken down into five different levels that you can choose from right at the start. You can play through The Amazon, Transylvania, The Himalayas, African Mines and The Moon in any order you want. As long as you complete each level, defeat the boss at the end of each one and find all five secret treasures, you'll move on to the final confrontation with Dracula Duck. Each stage has it's own unique feel to it, with distinct themes, different enemies, hidden areas to discover and some great retro music tracks. Some levels even have a specific game mechanic like getting stuck in the snow in The Himalayas, dealing with spike traps in The Amazon and mirrors that teleport you in Transylvania.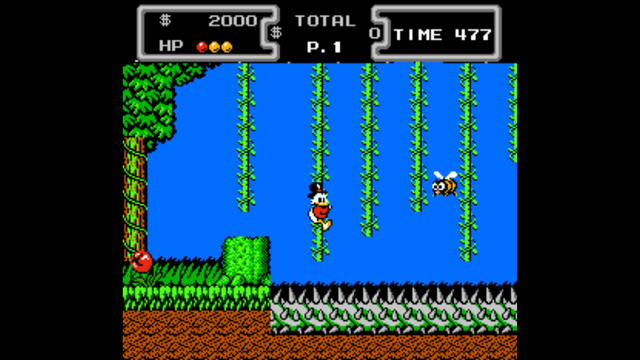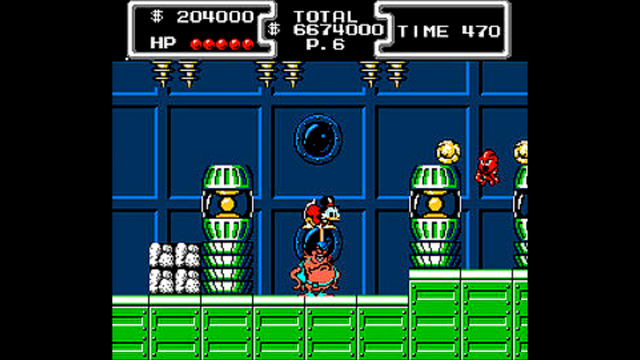 The game controls very well and is easy to figure out, but still provides a decent challenge in some areas. Playing as Scrooge McDuck you'll be exploring each level, collecting as much treasure as possible, solving a few puzzles and taking out any enemies that get in your way. The main platforming and combat mechanic is Scrooge's cane that can be used for just about everything you'll need. On the ground you can swing the cane at enemies, or use it to break open and throw certain objects. While jumping you can bounce on the cane just like a pogo stick. This will not only give you some extra added height to your jumps, but it will also let you attack enemies from above and bounce across hazardous areas that would otherwise hurt you.
When your not using the cane Scrooge moves at a slow pace, unable to run, which makes it an essential part of the gameplay. Bouncing around each level is extremely satisfying and remarkably simple. It gives the game a unique quality that makes everything from combat, to exploration, a fun experience that never gets old. The graphics are fantastic and beautifully detailed for an NES title, with bright colorful levels that still look awesome even today. There are lot's of references to the Ducktales TV show peppered throughout the game for anyone who's a big fan of the series. The only real complaint I have is that it's way too short in my opinion, especially if you're already familiar with it and can be finished in a couple of hours.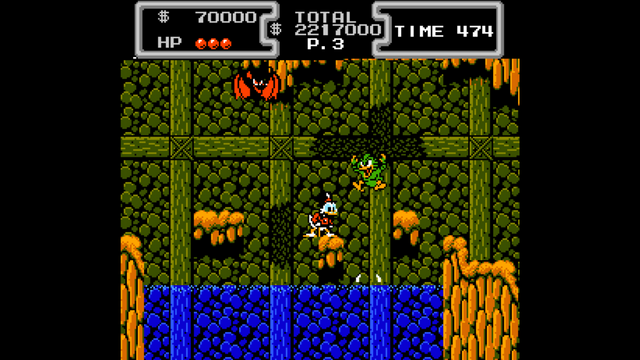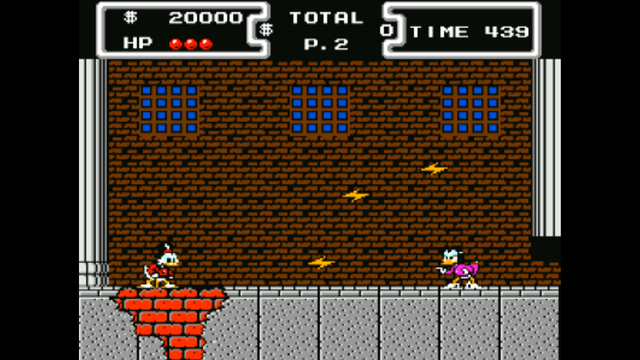 The fact that I still really enjoyed this game came as no surprise. Just the nostalgia I have from playing this as a kid was enough for me, but it's also a very well designed experience with some solid gameplay mechanics that are very easy to use. Even though it's short, the non-linear level layout, mild difficulty and multiple branching paths adds a lot of replay value that will keep you coming back for more. The characters, graphics and music give the game it's unique charm. Each level looks and feels completely different from the last and exploring each one while bouncing around on Scrooge's cane is just plain fun. This one holds up even better than I thought it would and I would highly recommend it to anyone who's a fan of platformers. I'm going to give Ducktales for the NES a grade of..............................
---
A
---
Thank you for reading my review of Ducktales, I hope you enjoyed it!