Confirmed the collector's edition of resident evil 2 remake for 2019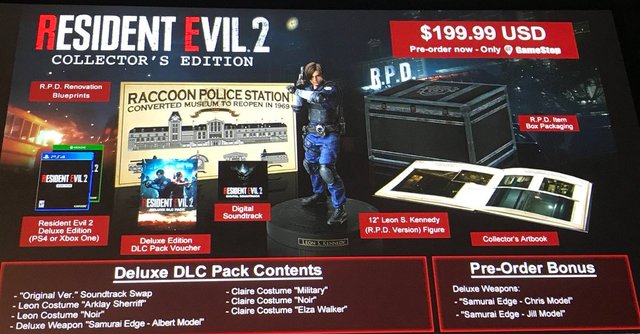 It is full of content with a marked nostalgic and chilling aspect, all housed inside an emblematic box of objects.
Capcom has announced the details of the Collector's Edition of Resident Evil 2 that will be launched in stores, along with the standard version for PlayStation 4 and Xbox One on January 25, 2019.
The Edition for Collectors of Resident Evil 2 is full of content with a Steelbook Edition and a Deluxe Downloadable Pack, all housed inside an iconic object box.
Contents:
· Steelbook Edition (Includes the complete set)
· Leon Kennedy figure of 30 centimeters
· Limited Edition of the keys R.P.D.
· Collector's Item Box
· Art Book & CD with the Soundtrack
· Pin 'Made in Heaven'
· Poster
· Deluxe Download Pack Card:
. Soundtrack in original version
. Vestments of Leon Kennedy: Sheriff Arklay and Noir
. Garments Claire Redfield: Military, Noir and Elza Walker
. Weapon Deluxe: Samurai Edge - Model Albert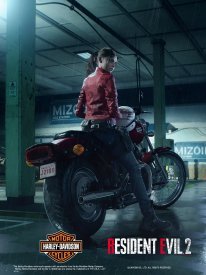 Fans who book in advance any of the physical versions of the game, in chain stores attached to the promotion, will receive the following downloadable content:
Deluxe Weapon: Samurai Edge - Model Chris
Deluxe Weapon: Samurai Edge - Jill Model

Released originally in 1998, Resident Evil 2, one of the most iconic games of all time, returns completely reinvented for modern platforms. Resident Evil 2 offers a version of the classic survival horror saga with an incredibly realistic visual section, a pulsating immersive audio, a new camera view over the shoulder and modernized controls in addition to the game modes of the original delivery as in the previous releases of Resident Evil Zero and 1 in HD released for the Playstation 3 and PC.
Without more to add here I leave the trailer