Introducing Warfield,
the worlds first crypto FPS (first person shooter).
Earning the title of Game of The Week On Reddit, War Field is an alternative to Counter Strike Go, a game popular with so many in the world of Esports.
WAR FIELD: a fully-functional alfa version, action-packed "first-person shooter" game that requires no downloading or installation and uses real, tradeable ERC20 based cryptocurrency called GOLDER (GLDR) for in-game purchases and winnings.
Online gaming and Esports are a major industry, and to assume that they would remain untouched by the world of crypto would be foolish!
What Is War Field?
War Field is an exciting FPS game that uses an ERC20 token called GLDR to complete transactions in game. Currently, players can use their GLDR to buy new weapons but will be able to purchase all kinds of in game products (skins, maps, etc) as the game progresses. Additionally, users can earn GLDR through game play, taking GLDR from opponents in the form of damage. Good players can earn an income just through playing War Field, let alone any streaming or sponsorhip opportunities they might have in addition to earning the GLDR token.

Game Play
WarField is an FPS similar to the ever so popular Counter Strike Go. Players begin games by wagering an amount of GLDR (currently between 1 and 100) and choosing their weapons. Players can purchase new and better weapons from in game stores. Currently weapons cost a few hundred GLDR each and there are only a few options. This will surely change in the future.
After you select your weapons you will spawn in game. Currently there is only one small map. It is set on a large container ship and has lots of neat obstacles to hide behind. While the graphics are by no means spectacular, it is a fully functioning game AND you can already earn GLDR tokens just by getting those sweet headshots.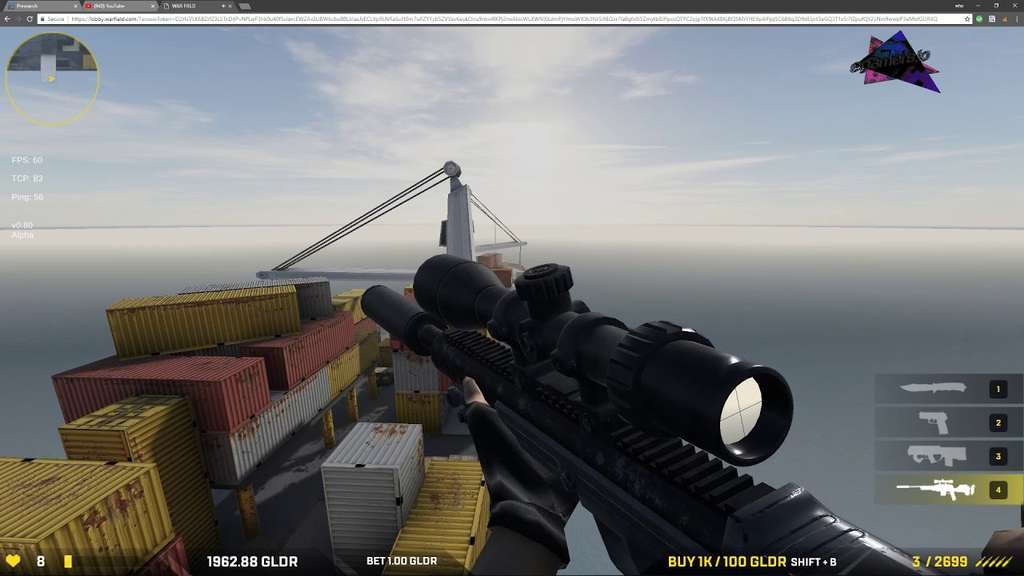 Footage from actual game play