For too long, I've been seduced by the idea of Dark Souls. It's a proper, hardcore video game, where unforgiving foes and tight timing is key to success. It feels like a game that belongs to a past era, yet has seen a resurgence of carefully balanced, well designed games that are actually challenging to players.
Dark Souls got its start on consoles. I've based these thoughts on the notions I obtained while playing the PC version. Remember, I'm playing this game in 2019, and not looking at it through the foggy welding helmet of nostalgia.
I'm looking at this as a fresh set of eyes. As someone who hasn't played a "souls" game, and while enraptured by the idea that it conjures, I'd like to take you on a journey through my thoughts about Dark Souls: Prepare to Die Edition.
I'll start with a simple screenshot.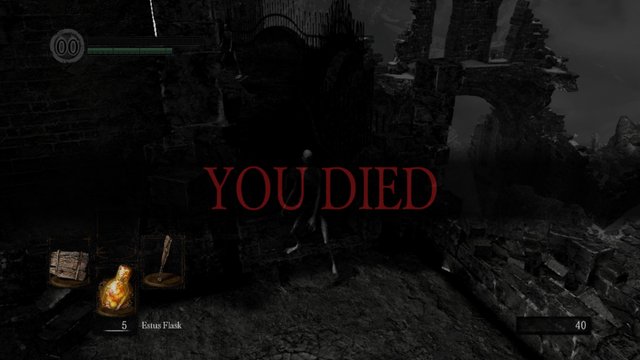 If you were to watch a film of me playing this game, at any time in history, and paused at any given frame, this is the most likely scene and text that you would see. The gameplay mechanics are fine, deep, and satisfying, if at first immensely frustrating.
Level design is clever, and the game design overall is pretty damn good.
But there's one thing for which Dark Souls can't be forgiven. The technology base that the game was built upon has not aged well, and as a result leaves you with a pixel-ridden mess, even with all the bells and whistles turned on in the graphics settings menu.
As a result, it is incredibly painful to try and play Dark Souls on the PC in 2019. It just... doesn't look nice. The control scheme on PC (unless you're using a controller) is woeful, and I hate to bring this up again, but I think Morrowind looks nicer. Not the online MMO.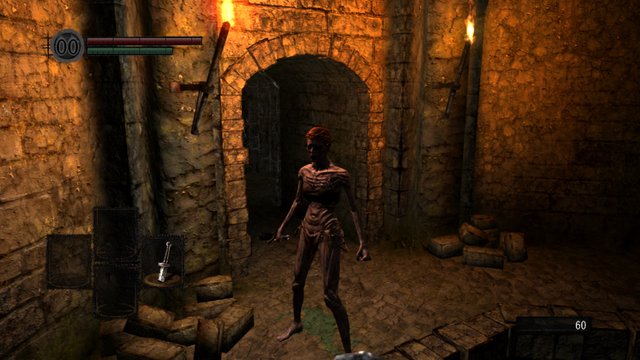 The original Morrowind. I choose to view Dark Souls on the PC as a pale imitation of the original title From Software envisaged and delivered on the PS3 and X360. This is not the remastered version of the game, and it shows.
Dark Souls has since been remastered for the modern day, and is now available on a vast swathe of platforms - including the Switch. This version, however, that I've talked about in this article - is just not worth your precious time.
If I was on a plane, with nothing else to do for seventeen hours (about the time it takes to get from Australia to anywhere else interesting in the world) - then I'd probably play this - ... on a Switch - but not on the PC.