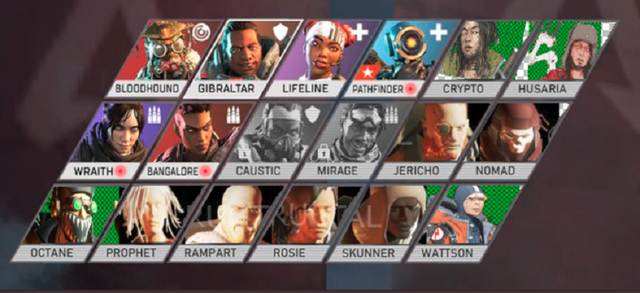 ---
Hey everyone!
This is not a click-bait title, I was a bit slow on this news but as you can see in the header picture we got some of the possible new characters.

They were leaked on the 11th of march by a dataminer.
Here is the tweet about it: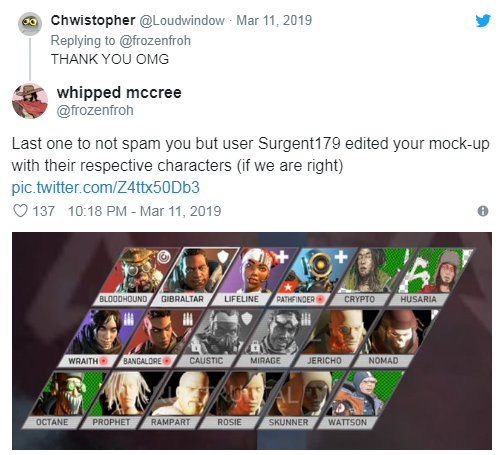 Back then Variety published the following lines:
One of the new characters, Octane, was the subject of a previous leak. His abilities reportedly include passive health regeneration, a speed boost that costs health, and a deployable launch pad. Another character called Wattson was also previously uncovered by dataminers, along with an electrical ability called Tesla Trap. A third hero, possibly called Crypto or Talchum, was reportedly featured in "Apex Legends" concept art.
Actually reading this now hypes me up! They were right about Octane!
So they might be right about the others too. Especially the recent two, Wattson and Crypto/Talchum.
1-2 weeks ago I read a dev blog on reddit in which they stated they are not happy with the dataminers because they also dig up some concepts which are old or not about to be released. These infos may be missleading, but the Octane leak was 100% legit. Even the abilities match exactly.
I am excited to see what the future brings and how many of these beta-legends will be actually put in game.
Thank you for reading my article!
Follow Upvote Resteem @goodguymate
---
If you like Apex Legends you might want to check out these articles as well:
[Apex Legends - Players lose progression after 1.1. update launch] | 3rd of April
[Shroud has to take a break from streaming because of his injury] | 2nd of April
[Who is your favorite Apex Legend?] | 1st of April
---

Steem Gaming Community


OP Gaming
<I suggest Partiko if you are browsing from Android/iOS and would like to earn extra $>
<In case you like resource-managing games try Drugwars and earn STEEM while palying it>
{Time spent editing this article: 20 minutes| Word count: 345}