I know the below image is a little hard to read, but here is how I did in the Fantasy league my friends and I have created. Riot just decided about a month before split that they weren't going to support Fantasy this split in hopes of releasing something better in the future with an announcement prior to the Summer split. I'm kinda baffled why they couldn't just keep the current system they have up while they are working on the new one, but I guess because it's too labor intensive.

Jumping back to my friend's league Mr. Dugas got first this week by 1 point followed by @morganaleflaye, then her husband @captenredbeard, then myself in 4th place. Unfortunately, @belcam came in second to last place. The system we're currently using isn't as fun as drafting a "real" fantasy team, but it at least makes watching the games more enjoyable then just watching them. Don't get me wrong I enjoy watching the games, but competing on the games with friends adds a nice little spice to it.
I did find a subreddit for fantasy LCS and they have some spreadsheets to help keep track of points every week. We may do a draft and get this set-up but doing everything manual is a pain and a lot of time when you have friends in 3 or 4 different states. Sigh . . . . maybe someone on Steem can set-up a Fantasy system on top of the blockchain for all different Esports and betting.
Breaking down the Games
Team Liquid (Game 1 and Game 8)
started the season off with a bang beating C9 and staying ahead in the long game against Counter Logic Gaming. I have to say the announcers were really impressed with Team Liquids new support CoreJJ. They called him the baby sitter of team liquid making sure his kids didn't do anything they were supposed to and protecting them when they did while barely making it out.
100 Thieves (Game 2 and Game 7)
One of the most disappointing teams of the weekend was 100 Thieves who started the weekend off 0 and 2 dropping a game against C9 and TSM. Really a tough schedule for them this weekend, but they didn't look good regardless. Especially when realize TSM lost to Clutch Gaming, but before that they beat 100 Thieves the day before. Bang was looking good, but Ssumday really needs to pull his game together as one if not the top lane of the previous season.
FlyQuest (Game 4 and Game 6)
I was not expecting FlyQuest to finish the weekend 1 and 1 let alone 2 and 0. I figured both Golden Guardians and Optic were going to have a free win this weekend, but I wasn't on Pobelter showing up and actually performing. Golden Guardians looked like a team full of single people all playing for themselves and not playing for a team. Optic, on the other hand, ended up playing most of there academy team even though I don't know if that's a very good excuse.
Echo Fox (Game 5 and Game 10)
Echo Fox loss to Clutch Gaming on Saturday and then beat Golden Guardians. I don't really remember these games, but they lost to a team that went 2 - 0 that weekend beating TSM and beat a team that went 0 - 2 losing the Echo Fox and Optic 2 teams I would consider lower middle tier. I'll have to keep a better eye on how Echo Fox does this weekend.
Team Solo Mid (Game 9)
I'm going to skip talking about game 3 as Optic beat the worse team in the league whoopee. I still can't believe that Clutch was able to take a game off TSM who looked really good when they were playing 100 Thieves and started the game off in such a strong manner.
Week 2 Perdictions and Thoughts

Week 2 Power Rankings
Team Liquid
Cloud 9
Team Solo Mid
100 Thieves
Clutch Gaming
Fly Quest
Echo Fox
Optic Gaming
Golden Guardians
Counter Logic Gaming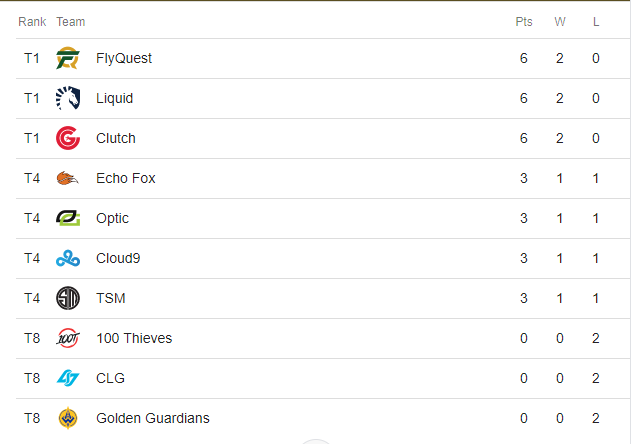 I'm thinking Golden Guardians will finish the season higher than 9th and can potentially be a playoff team, but I don't have much faith in them until they show us that they can play together as a team. I had them ranked a lot lower when I was originally putting my Week 1 power rankings together but had a few friends that hyped them up and after taking a second look at there roster, I decided to move them up. I would like to see them upset either C9 (which I doubt will happen) or 100 Thieves (which is a possibility) and finish the week 1 and 1.
I'm hoping TSM and 100 Thieves don't disappoint me this week as I feel both teams are stronger then what they showed last week, but they need to show up this week. Bang for 100 Thieves and TSMs top in Broken Blade and jungle Akaadian had great games last week if they can get help from the rest of their team. 100 Thieves will probably go 1 and 1 this weekend loosing to Team Liquid, but TSM going 2 - 0 could help solidify them as a top 5 team.
Clutch Gaming has an important week this weekend as well. If they can beat Optic, I think they solidify themselves as an early favorite for making it into playoffs for the spring split. I know this is still really in the season to tell and almost anything can happen from trades, teams falling apart, or a player getting injured but playoffs at the end of the season will look something like this. TL, C9, TSM, 100T, and Clutch Gaming.
After week 1 what are your top 5 teams in the LCS this split.