Flagship Microsoft Store Sydney to host Gaming Day for Fortnite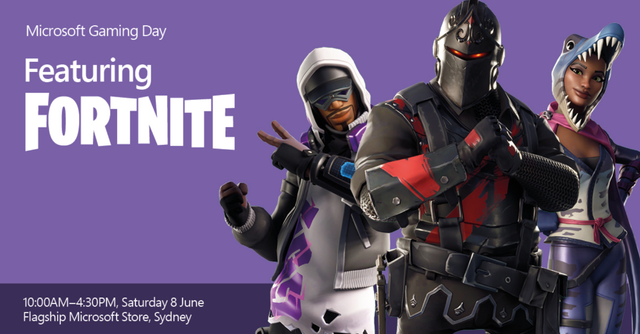 For those in Sydney (Or Australia) the Flagship Microsoft Store Sydney is hosting another Fornite event on Saturday, 8th June!
Whether its a dance off or straight up battle, you can find it at this event which is accompanied by many prizes and giveaways on the day (Who doesn't like free stuff?). Cosplayer Airheart will be there on the day also so if your liking the opportunity to meet after fortniters and catch up with the community then pencil this in your calendar! Oh, I've also been told there are some surprises related to Fortnite being announced on the day also!
Both new and seasoned gamers are encouraged to get involved and share in the fun throughout the day, as they experience Fortnite in a supportive and inclusive environment.
More details on the event below:
· What: Microsoft Store Gaming Day – Ft. Fortnite
· When: Saturday, 8 June | 10:00AM – 4:30PM
· Where: Flagship Microsoft Store 188 Pitt Street, Sydney
· Register: Here
· Note: all those under 17 years old must be accompanied by a parent or guardian
Please note, the day is made up of 1-hour long heats. Registering to the event does not guarantee a position in the heats. Signups are taken in person on the day of the event and open 1 hour prior to each heat start time. There will be free play zones and other activities throughout the day to ensure everyone has the chance to participate.

Vien To @gamersclassified
---
---