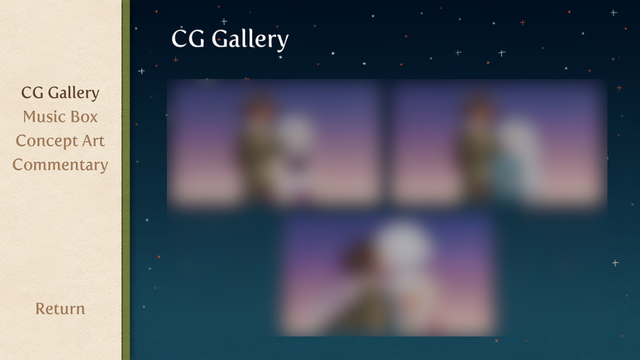 Put this file inside the "game" folder to unlock the concept art gallery/commentary section and all content from the cg gallery.
To install, put the file "unlocker_sf1.0_gamemods.rpy" inside the "game" folder.
Tested on version from itch.io.
---
Support the development of new mods by following gamemods on SteemAuto or donating STEEM/SBD and other cryptocurrencies.
BTC
1FWGoTJWQy265eWR7UwU7FamjadzjoFnh2 bc1q39n8uc7g0wqaflnucpp6rr5kmx5kj5vdu6arkl
ETH/Tokens
0xbF76A97623f04b5e3E3A0bCbc46Edd726A00218b
BCH
1BDh1gqaDdwJo25ZH4mAXL4iUy318qxjPb bitcoincash:qpcp0fjtz5092ht29l9694r4anktqr666yg5248c5v
DASH
XdgtQSFidc7dBoJRf6ucetCY5eLPBS12uq
XMR
47dWPCJp3Rie2Qdo2brGzNZ55xrZsSWC3i3P58YfyfvuLaFWSHU2e3h2qzkTZbo4uabaAGAYZf2MBXU7JcwHxwNnVsJ4Tss
LTC
LNHcsUXadZwp8HxreQuiAU6TBrTE9HpB1F ltc1qyx0lsa3t540sl00flztu7kg80dqqz9fh7u2kmc
DOGE
DB8sDZssswpBcoEtLBFEo8TaxaGo8o8YeU