ADSactly Game Review - Call of Duty WWII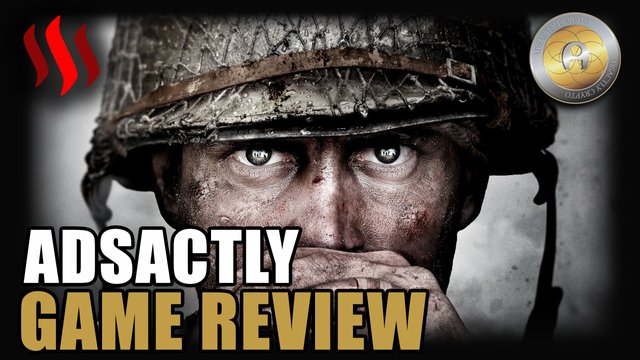 Call of Duty: WWII
Welcome back fellow Steemians, this week we travel back in time to Nazi-occupied Europe, to do one thing and one thing only... killin' Nazis.
The Call of Duty franchise has gone back to it's roots, and this is pretty much how I remembered it growing up.
This was also at the beginning of the new game revolution, where the technology and the limitations of what developers could accomplish become infinite. The original first three games all took place in and around the second world war, with the player's perspective as a lone solider in each of the armies of the British, Americans, and Soviets. However with the 2006 Call of Duty 3, they scrapped the Soviets and replaced them with a Polish and Canadian campaign. I know what you are thinking, can Canadians even fight? Well, at least here they can pretend to. After that the franchise moved more towards a futuristic and modern day military styled theme, ironically named Modern Warfare, as well as the Black Ops series.
To be completely honest, I did enjoy the newer versions with all the high tech gadgets and gear, it just wasn't as exciting as the first three installments of the franchise. Personally here is just something epic and far more intriguing about taking part in events that actually happened in our recent history, rather than playing something that is completely fictional.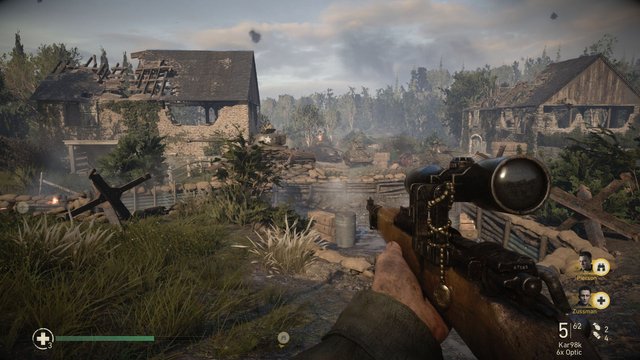 source
Our story begins on June 6, 1944, when U.S. Army Private First Class Ronald Daniels, also known as "Red" of the 1st Infantry Division takes part in the Normandy landings.
The historical day that will become known as D-Day is where Red along with his platoon, consisting of Private First Class Robert Zussman, Private Drew Stiles, Technician Fifth Grade Frank Aiello, Technical Sergeant William Pierson and First Lieutenant Joseph Turner meet.
During what is probably one of the most bloody battles in recent history, Zussman is stabbed by a German soldier, resulting in his hospitalization for several weeks. When he has finally recovered from his injuries and returns to duty, just in time for Operation Cobra, where American forces successfully push to reclaim the town of Marigny.
The platoon is then ordered by Colonel Davis to conduct an operation with the British Special Forces to intercept a German armored train, which is carrying the world's first long-range guided ballistic missile V2 rockets. Interestingly the rockets were designed by Wernher von Braun, who was secretly moved to the United States as part of Operation Paperclip, and then he went on to be one of the founders of NASA.
Back to our story, Daniels and Zussman successfully derail the train transporting the V2 rockets, before being escorted back to their squad by a French Resistance leader. A week later two members of the platoon, Rousseau and Crowley infiltrate a German garrison in Paris to retrieve explosives in preparation for the platoon's assault upon it. They successfully places explosives on the garrison's gates after a lengthy shootout with small army protecting it, but finally blowing the gate and allowing the platoon to liberate Paris.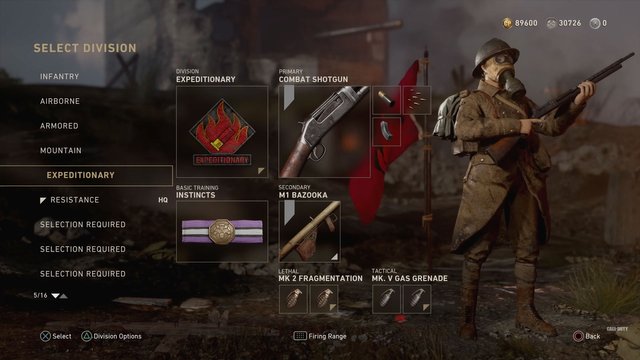 source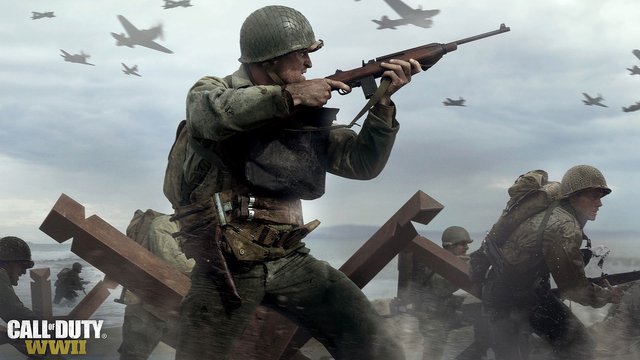 source
---
"I'm a schoolteacher. I teach English composition... in this little town called Adley, Pennsylvania. The last eleven years, I've been at Thomas Alva Edison High School. I was a coach of the baseball team in the springtime. Back home, I tell people what I do for a living and they think well, now that figures. But over here, it's a big, a big mystery. So, I guess I've changed some. Sometimes I wonder if I've changed so much my wife is even going to recognize me, whenever it is that I get back to her. And how I'll ever be able to tell her about days like today. Ah, Ryan. I don't know anything about Ryan. I don't care. The man means nothing to me. It's just a name. But if... You know if going to Rumelle and finding him so that he can go home. If that earns me the right to get back to my wife, then that's my mission." - Captain Miller
---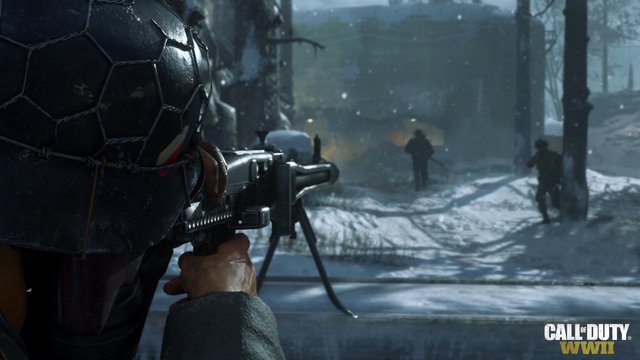 source
Call of Duty is a surprisingly fast-paced rendition on their old classic setting, with an awesome campaign and solid updated multiplayer.
The story of Daniels and his squad has some great character development and you as a viewer can connect with each of them as the tension build between members of the platoon and as the story unfolds. The best way to describe the emotional atmosphere would be something similar to Saving Private Ryan, it's not about these guys being all that they can be heroes, it's more of a human story about these young men just trying to survive the situation they are in and get back home. Although Daniels is the main protagonist, you also get to play with some other rather interesting characters as you progress through the game.
When it comes to the multiplayer, make sure to play the campaign first to get your bearings, because die you will, and faster than you expect, you die fast, respawn fast, and kill fast. I unfortunately didn't get too deep into the mutiplayer to give you an honest opinion, as I only played three or four rounds. All in all, this was a super fun game, and I just loved that the developers listened to the fans and went back to their origins and built it with today's technology. My personal favorite part of Call of Duty WWII, was the four-player co-op zombies mode, it basically a much darker version where you need to survive waves of Nazi Zombies, it's loads of fun.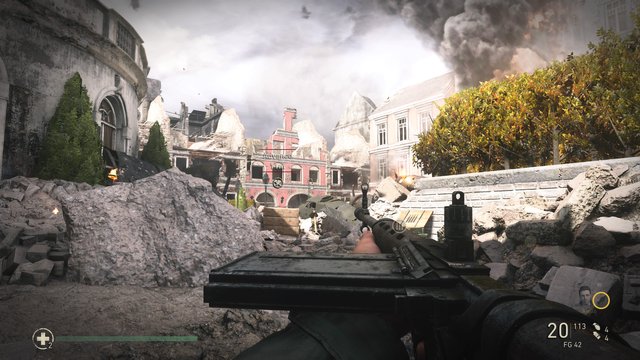 source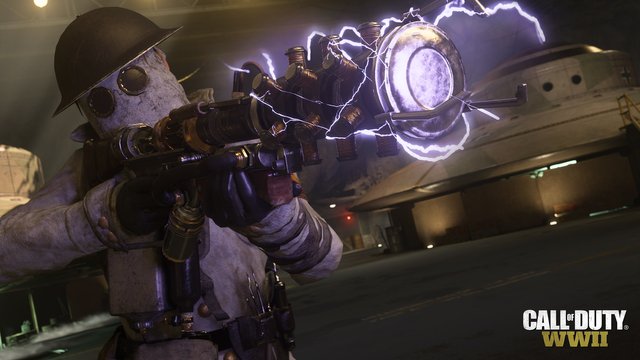 source
Call of Duty: WWII is a first-person shooter video game developed by good folks at Sledgehammer Games and published by Activision.
Sledgehammer is basically the new face of COD, who pretty much took over the franchise since 2011, and who brought us Modern Warfare 3 as well as Advanced Warfare. The game was released worldwide in November 2017 on your usual suspects, Microsoft Windows, PlayStation 4 and Xbox One. It is the fourteenth main installment in the Call of Duty series and the first title in the series to be set primarily during World War II since Call of Duty: World at War in 2008. The game is still fairly new, so the best place to find a deal on this would be the pre-played route at your local games store or online. There was some mixed feelings when was announced, as most fans of the series was pretty happy with the return to the franchise's World War II roots, other not so much and preferred the more modern look and feel. The game did amazing with $500 million of revenue within just three days of its release.
I'm giving Call of Duty WWII a rating of 8/10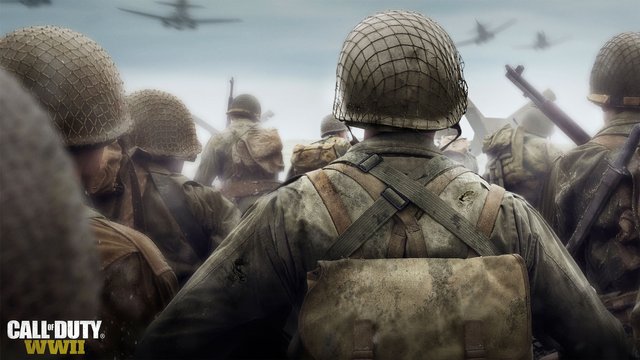 source
In case you missed it, here is the previous game review

Thanks for popping in, hope you liked the post. Please leave me your thoughts and or opinions in the comments below, have a beautiful day.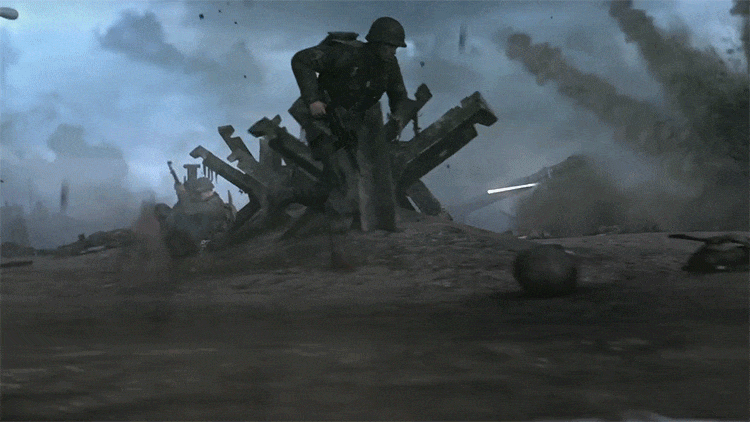 Game review for ADSactly by MorkRock
The views and opinions expressed in this article are those of the author and do not
necessarily reflect the official policy or position of ADSactly
✯ ✯ ✯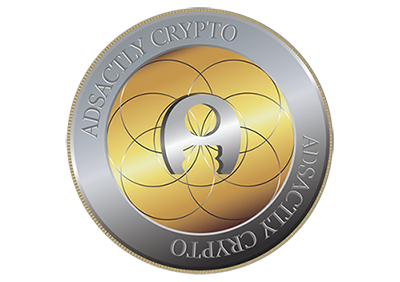 ---
Vote @adsactly-witness for Steem witness!

Witness proposal is here:

Go To Steem Witness Page

In the bottom of the page type: adsactly-witness and press vote.

Thank You