I am writing this now because I just received an update from Steam that this game is on sale for $2.99. It was already cheap before at $15 but this sort of a price reduction requires urgency.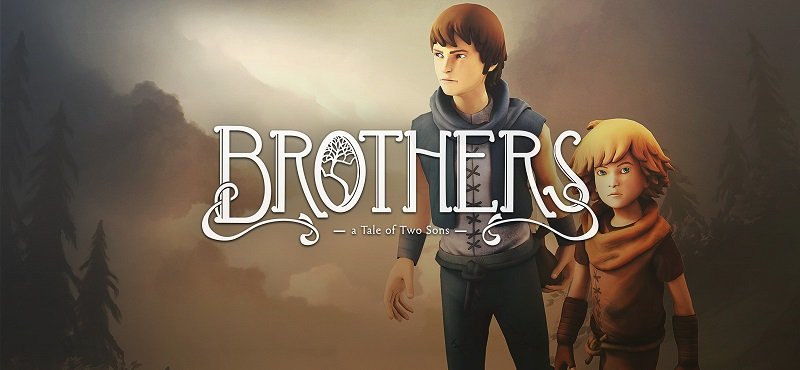 Brothers is an adventure game that involves puzzles, none of which are terribly difficult. The game is played from a "roaming camera" point of view, always in the 3rd person. The gameplay involves just a few buttons and the artwork is pretty incredible.
The game, unless I am remembering something incorrectly doesn't involve a great deal of spoken dialogue and instead there are just gestures from other characters met along the way. It becomes evident what is necessary to be done simply by the pantomime that other beings present them with once met. I really enjoy this aspect of the game because as you might remember me mentioning about "Ys," the long, drawn out spoken scenes really grind my gears and I end up skipping through them as fast as I can, often times not even reading them.
There are many incidents in the game where the two brothers have to do certain actions together in order to pass a certain part of the game. This brings about an interesting (and sometimes challenging) situation where both of the control pads must be used at the same time such as is displayed in the pic below.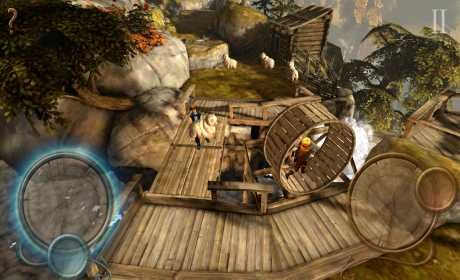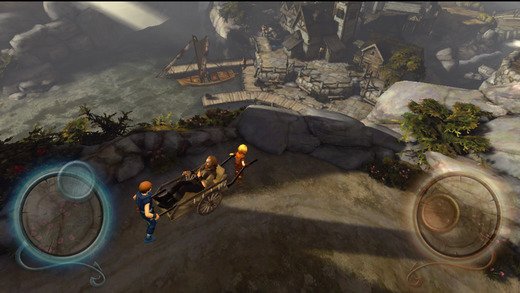 Nothing about the game is terribly difficult. I am a casual gamer and it only took me a day or so to complete it. If i remember correctly I didn't even need to take to the internet to help solve any of the puzzles either.
The story is quite touching, and I am not going to tell you why because it would be a massive spoiler. Let's just say that this game does a great job of sucking you into the story and you are genuinely engrossed in the it as it carries on. They do a good job of making you "care" about the brothers and finding their relationship endearing.
That trailer alone inspired me to reinstall it on Steam today.
I give the game an 8 /10 overall
Enjoy!