I had actually been thinking of doing some posts about gadgets I own. I do not buy them that often, but I may have something of interest to others. Then I saw this contest from @stemgeeks, so that spurred me on to get something out.
My chosen gadget is the Zoom G3X #guitar multi-effects. Electric guitarists have access to a massive range of equipment to shape their sound. You will see players with huge pedal boards on stage, but these can cost a fortune and be difficult to control. Digital multi-effects units offer an alternative, but there are generally compromises to be made. I wanted access to various types of effects, but was not sure which to get. I looked at various multi-effects and the G3X seemed to offer the best selection of features. It has:
22 amplifier models and associated speaker emulation
94 effects. Up to 6 simultaneously
100 patch memories
Looper of up to 40 seconds
Tuner
Drum machine
Built in expression pedal
USB audio interface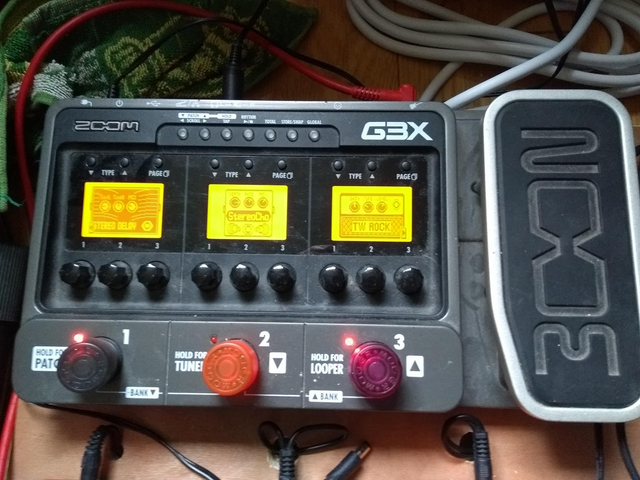 To buy all these separately would cost thousands, but I paid about £130 for this unit. It is probably much cheaper second hand now as there are newer models out. The main compromise is going to be in the actual sound. There are higher end digital effects (e.g. Axe FX, Kemper, Line 6 Helix) that have more processing power and can be hard to tell from the real thing, but this Zoom has a more basic signal processor that can result in some effects lacking that special something.
That said, it can be a very useful tool for those who just play at home and has applications on stage or in the studio. Many professional players have used it (including Ace Frehley and Vernon Reid according to Equipboard).
I will go through the features and give my experience of them. I will admit that I have not fully explored everything it does. When I first got it I went through all the presets. Many of these are just to show off the effects and are a little extreme for real use. I have tended to use a limited set of effects and amplifier models that suit my needs.
I tend to find a preset that is close to what I want and then change various settings. This is pretty easy to do. You have three small screens that show a graphic representing the amplifier or effect. There are three knobs below each screen to control the main settings, so it is a lot like having real pedals there. A button gives access to further 'pages' of settings. Other buttons allow you to select a different effect for that slot. This can involve a lot of scrolling and it is useful to have the instructions to hand to see which way you need to scroll for the one you want.
You may have noticed that I said you can have six effects. You can access them all by using the scroll buttons or by pressing two of the footswitches at the same time. These switches are very sturdy and the whole case is made of metal, so it should stand up to (ab)use. I have added some footswitch covers that make them easier to use at home when I have no shoes on. As the base is metal too I am able to attach it to my pedal board with strong magnets.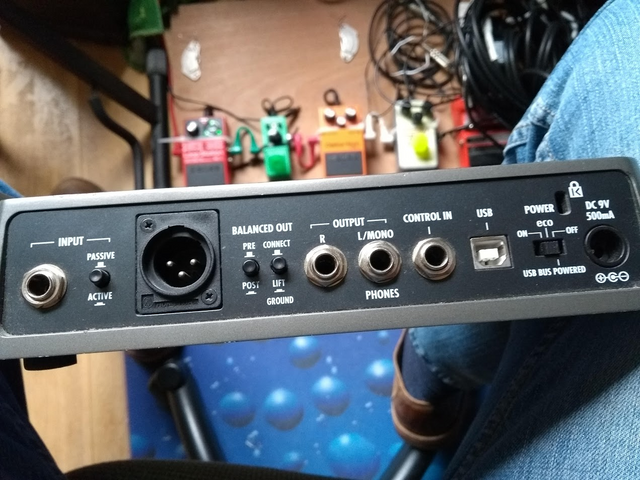 I do need to play around more with delays and reverbs, but these sound good to my ears. The distortions are more a matter of taste, but when mixed in with other effects they can work well. Some of the amplifiers are very usable too. Some effects are stereo and some need more processing power, so in some cases you may not be able to use all six slots. There are some 'two in one' effects (e.g. distortion and compression) that only take one slot. Given the size and price of the unit I think these are reasonable compromises.
Setting up combinations of pedals and naming them can be a little fiddly, but there is Windows and Mac software available that allows you to do it on your computer screen via the USB connection. I think in general the controls are more intuitive than other budget multi-effects I have seen. Any changes you make affect the current preset, but you can save a copy and the PC software allows you to make a complete backup. There are sites where you can download sound patches created by others. With so many options you can spend a lot of time tweaking to get your sound.
It is always useful to have a tuner available. This one has options to adjust the frequency and to cut the output whilst tuning. The audience do not need to hear that. This can also be useful to mute the unit when you are not playing. One screen shows the current note and coloured LEDs make it clear when you are in tune. There is generally very little audio noise and it has a noise gate to deal with any you get. Whenever you have high gain effects there will be some noise.
The looper is a useful practice tool as you can record yourself playing some backing and then solo over it. You can record multiple layers of loop. There is a mode that allows you to undo the last loop, but this halves the recording time. One of the best features is that you can synchronise the loop with the drum machine. You set how many beats it should last and recording starts at the same time as the drum pattern. If you stop the loop when doing this and want to start it again you have to synchronise it yourself. The drum patterns are very basic and probably not something you would use on a recording, but they are adequate for practice. I have found that 40 seconds is a little short for some chord progressions. I now have a separate looper pedal that can go on much longer.
There is a model without the expression pedal that is slightly cheaper, but I wanted access to wah and so paid the extra You can assign it to different effects, but it will commonly be used for volume or wah. It has a switch built in to disable that effect, but it needs a firm press and it can be hard to tell if you actually activated the switch. You can also plug in another expression pedal or switch for more control.
I have used the USB audio interface on some of my recordings. It works with Linux as a generic audio device at CD quality (16 bit at 44kHz). The unit can be powered by the USB cable or you can run it from batteries if it is not convenient to use the mains adaptor on stage.
Some people have expanded the capabilities of the unit by attaching extra switches that make it more usable on stage. This site has lots of suggestions. I have not tried this myself yet.
In conclusion I would say this is a very useful gadget for any guitarist who wants more variety to their sounds without spending a fortune. If it lacks a specific effect or the audio quality is not adequate then you can always add other conventional pedal although you cannot insert those in between the internal effects. I have since bought a few overdrive and distortion pedal that I have used with it. I am thinking the Zoom can manage the modulation and delay effects as well as amplifier models when I need them.
Here is an example of me using it at an open mic. It was easier to take the Zoom and my guitar rather than bringing an amplifier as well, especially as I walked there. I just plugged into the PA system.
Other Steemians I know of who are reviewing guitar gear include @molometer and @melbookermusic.
Rock on!
The geeky guitarist and facilitator of the 10K Minnows Project.