Yesterday, I wrote an article about Pundi X and how I thought this coin will moon towards the end of June. The reason was simple, according to Coinmarketcal, there will be a mainnet/testnet launch and XPhones will be made available to the average consumer. Well, if that is true, then it would for sure boom. So, I started to write the article and was very happy about it.
Before you read on, I have got to tell you that Pundi X is one of the most interesting projects in the cryptosphere and one of my personal favorites. In other words, I am a hodler of this token, with or without moon coming up within shortly.
So, I had a feeling NPXS would moon in June. But, then I thought I should look further on to see with the community, and then I quickly discovered that you shouldn't always entirely trust the Coin Market Calendar. The sources mentioned are true, but since these Q2 dates were mentioned, things have been changed/delayed, and it is now a well-known fact that the testnet is delayed and it might be released sometime in Q3. And with the testnet/mainnet coming up later, there is no platform on which the XPhone can run, and thus, the second moon reason also disappeared.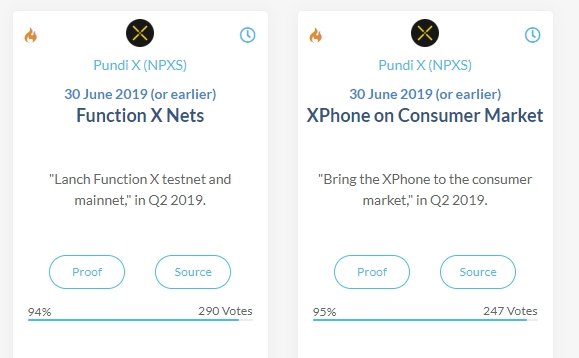 June events for Pundi X according to Coinmarketcal...
But, I have got to say that I am still very bullish and happy about Pundi X. I just stored some tokens in my XWallet and now I am staking then and earning FX tokens (the main token of the future platform). And I also know that with time, this will be a revolutionary token that will bring joy to its investors as the mainnet will finally be launched and thus result in the XPhone reaching the mainstream audience.
What to do in June?
Well, I always consider Pundi X to be a great investment, but if you want to look for short-term gain, you might want to look somewhere else. It is always hard to predict the market, and especially considering how Bitcoin is currently moving around 8000 USD. If Bitcoin suddenly drops (something that can easily happen), it will make you lose Dollar value of your tokens no matter what. But, it is also easy to imagine that people discuss Bitcoin during their summer holiday, get FOMO, and suddenly the price will rise towards 10,000 USD. So, who knows?
Do you have any coins you believe will perform well towards the end of June? Fusion is interesting, and so is Litecoin, but considering how both have already enjoyed a nice run, it is risky to put money into such projects.