why the birddog NDI method is the right starting price point if you have a HDMI camera!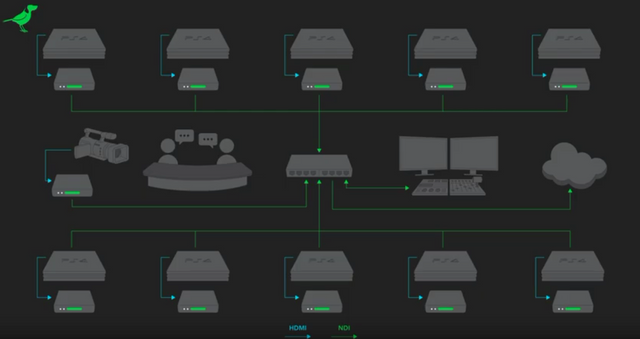 NDI HX cameras are fucking expensive, straight out the gate just saying it how it is — they might be an all in one camera with great optics and zoom and ethernet POE and 'all in one' solution but they cost a lot, too much if you ask me and so I've been looking at other solutions that work better for someone like me on a budget.
I'm looking to go blackmagic cinema camera 4k with hdmi/sdi output and use that as my main vlogging and outdoor camera (cinemagraph & filmmaking) and yet I wanted to use that with a variety of glass with ideally a streaming setup as well using the easier to deploy methods of NDI in the bargain, luckily birddog have got you covered for around £600 for a box to do encode and decoding of whatever input you provide it.
I came across this great video where a company was using birddog in a e-sports setting for call of duty where they just have to have one network input from a super fast local network, they just have the cameras and screens as 'sources' in software thus 1 cable, less messing around and each input is easy to then use and mix as a source — jumping to different players and recording all of them at the same time as a proxy (super neat solution)
The other upside for me is that I've been looking into ways to 'extend' a local network globally across the internet as if it was in the same room and this really brings up an interesting method to literally play games, talk, do podcasts together even if you are thousands of miles apart away from older codecs and poor performing software and older protocols — this really opens things up for real interactivity as well.
Now that the pricing is HALF of what I though it was this means we can start executing on some of our plans and start testing this out on a smaller scale by using the latest gopro's and the birddog device to get that signal, this should make for interesting future programming for @steemcasting and something innovative to offer to grow a niche condenser frontend like I had already envisioned.
Watch this space! :)













pinterest epic wins pinboard → brand advocate for nokia, 1000heads, verisign → won vloggie for node666 (san fran 2006) → television for time team history hunters 1999 → sold me.dm to evan williams in april 2011 → went to phil campbell, alabama to help raise money after tornado (was on sky news, bbc news)→ CNN for sxsw 2013 about austin sxsw → video chat with robert scoble → music video can you spot me?